First of all, welcome back!
Since we have last talked about half a year ago, you have made quite a few movies ... how on earth do you keep up your pace?
Ironically, compared the pace in the 90s and early 2000s, I've actually slowed down quite a bit. I have 4 more movies nearing completion as well, each only needing a scene or two shot to be able to edit them and get them out for sale.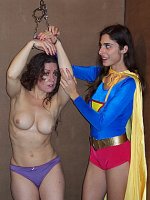 Debbie D, Violetta Storms
Let's talk about Codename: D.O.L.L. Squad - The Super Heroine Murders first: In a few words, what's the film about?
This is actually a sequel to the Firebrand movies as well as the original D.O.L.L. Squad movie from the mid 90s. Superheroines are being killed off by a secret crime syndicate. Two of the characters have been around for a while. They are Firebrand (Laura Giglio) and Ravenwing (Tracey Lixx). A follow-up feature is three-fourths completed and introduces a new villain and a new superheroine, who also meets a gruesome end. This one has even more special effects, low budget as they are.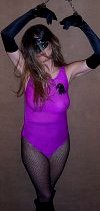 Tracey Lixx
Normally, superheroine-movies demand vast budgets, yet you have made yours on, and excuse my saying so, a shoestring. What inspired you to make the film despite budgetary restraints, and how did you manage to pull it off that well?
Luckily special effects software has become available to almost everyone and I've been able to use it to create some nifty effects. I've always been interested in superheroes, having read comics since the late 50s and have shot a few low budget superheroine movies in the past, but without many of the effects that I can now include. I'm a big fan of special effects and love doing these kinds of movies, despite it taking a lot longer to edit than the normal feature does.
Codename: D.O.L.L. Squad - The Super Heroine Murders ends on the words "to be continued ..." - are you actually planning a sequel or already making one, and if so, can you tell us what it holds in store?
I answered that a bit in a previous answer, but I haven't actually decided how the movie will end. My original idea was that everything that happened in the just released movie wasn't real. But I've changed that now and everything was real and will lead to new characters being introduced. One thing you can count on is that the Dark Witch will get what she deserves.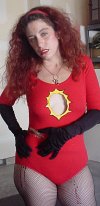 Laura Giglio
Codename: D.O.L.L. Squad - The Super Heroine Murders isn't your first superheroine-movie. Do you have a special fondness for superheroines or even for comicbooks as such?
As I mentioned earlier, comics have been a part of my life since the late 50s having been a big fan of DC and Marvel comics since that time. I've dabbled in drawing, but could never get to the level I wanted to. Movies let me make my own video comics, as I call them.
Your film is very much reminiscent of the serials of old. An intended hommage?
I was a big fan of the old serials and the shows like The Man From Uncle and Lost in Space, both of which used cliffhangers to lure viewers back either after the commercial or to next week's episode.
Codename: D.O.L.L. Squad - The Super Heroine Murders is itself a sequel of the movie Codename D.O.L.L. Squad you made back in 2001, and also follows several films you made about the new film's lead character Firebrand, and even Ravenwing & Cybercop vs Spellbynder from 1998. How does the new movie compare to the old movies, and is there some kind of continuity in them?
The continuity remains consistent throughout, although at the time, I hadn't planned on Laura's character from the original D.O.L.L. Squad movie to be the character of Firebrand. It just made sense to the storyline that she is one and the same.
Your opinion about superheroines in recent cinema?
I enjoyed the Black Widow in the 2nd Iron Man movie and some of the female heroines on Smallville. And I would have liked to seen a Wonder Woman movie, but in her regular costume, not the one they may be planning to use that has her in pants.
You have also recently released The Blind Date Strangler 2 - in a few words, what is this film about?
The idea was suggested by one of our customers. He thought a candle that knocked the girls out and made them helpless to their date would make a good storyline. I agreed and wrote a script based on a guy seeking out dates via the internet and then giving them a gift of a candle, which when lit, causes the women to pass out and allow him to break into their homes without any problem. Since he's also a murderer, he strangles each of his victims to death and moves on to his next date.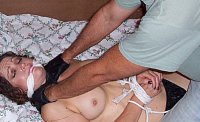 Debbie D, David Lee
Compared to other WAVE-movies, I found The Blind Date Strangler 2 almost too dead serious. Why did you go for such a serious, sombre tone?
Ironically, I think all our movies are serious and somber, but they turn out less so sometimes. I think it depends on the storyline and how true it could be. And it depends on how the actors portray their characters. Dean, who played the Strangler in the first one, has a tendency to make his characters over the top so it makes things less serious. Dave, on the other hand, plays the character straight up. And it is a bit more somber when you think about how each girl liked him and he turns around and murders them. It's tough not to make that somber.
The ending of The Blind Date Strangler 2 seems to almot demand a sequel. Anything in the works?
Not yet, but I'm sure as we get new actresses, there will be a third film.
As the title suggests, The Blind Date Strangler 2 is already a sequel itself. How does the movie compare to the first Blind Date Strangler from 2003?
It's similar, with each of the 2 girls going on a blind date and then being kidnapped by the killer and, in this case, taken to his dungeon together, and murdered there.
A few words about Cannibal Sacrifice 2?
This is a follow-up to a video we did 6 years ago. Laura plays a hospital administrator who removes the name of Debbie's sister from a heart transplant list because she's been paid off to replace it with a man's daughter. Debbie, who just happens to be a cannibal, comes after Laura for revenege and ends up killing and eating her. Part 2 starts where the first one did and shows that Tracey Lixx is Laura's accomplice. When Laura turns up missing, Tracey tries to find out what happened, only to fall prey to Debbie. Tracey is also knocked out and made unable to move while she's be prepared to be cooked and then barbecuedThere is more nudity in in the new film though.
Cannibal Sacrifice 2 has many a hilarious moment, but my favourite is a piece of dialogue between Laura Giglio and Debbie D: "Are you crazy?" - "No, I'm just a cannibal!" Was this in the original script or was it improvised, and who came up with this line?
I think it was improvided by Debbie. She's good that way.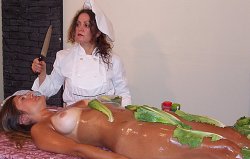 Debbie D, Tracey Lixx
Cannibalism pops up time and again in your movies. Why is that?
It seems to be a popular storyline for some of our customers because it's not something you see very often in a mainstream movie. We've done a number of movies with this subject matter.
Codename: D.O.L.L. Squad - The Super Heroine Murders, The Blind Date Strangler 2 and Cannibal Sacrifice 2 all end unhappily. Is that just a coincidence or is there a deeper meaning to this?
There's no deeper meaning except to say that our audience usually prefers that no one escapes. I do think our latest movies do tend toward that type of ending where the movies from the 90s and early 2000s usually had at least one female survivor.
All three films, as diverse as they are genrewise, were written by Luis Garson. A few words about him?
A talented guy who prefers to stay in the shadows.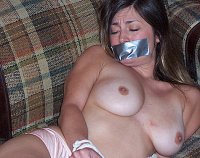 Tracey Lixx
Another thing that these three movies have in common is that they all star Debbie D [Debbie D interview - click here], Tracey Lixx and Laura Giglio in bigger or smaller roles. What can you tell us about these three ladies?
Debbie has worked with WAVE since 1995 and Laura has been with us off and on since 1994. Each of them has appeared in over 80 movies. Tracey just started in 2009 although some of our older customers might disagree with that timeline. Tracey has appeared in at least 8 different movies with The Bikini Girl Killer, Slaughtered Real Estate Agents, and Pumpkin Eyes to be released by the end of the year.
As mentioned above, Codename: D.O.L.L. Squad - The Super Heroine Murders, The Blind Date Strangler 2 and Cannibal Sacrifice 2 are all sequels, all to films that were made quite some time ago. Why did you deem these old films worthy of sequels now, and your opinion about sequels as such?
I like sequels because it lets you revisit past characters and storylines. Cannibal Sacrifice was written with a sequel in mind when Laura's character talks to an unseen person who just happens to be Tracey in Part 2. A sequel to D.O.L.L. Squad was so I could play around with the effects I had access to which I didn't have in the past. And sequels usuall sell pretty well.
The 64 Dollar question is of course: Where can these films be obtained?
All the movies can be found at www.wavemovies.com
Any future projects you'd like to talk about?

Feeling lucky ?
Want to
search
any of my partnershops yourself
for more, better results ?

The links below
will take you
just there!!!

Find Gary Whitson
at the amazons ...

amazon.com

amazon.co.uk

amazon.de
Looking for imports ?
Find Gary Whitson here ...
Something naughty ?
(Must be over 18 to go there !)

Besides the titles mentioned above, ones that have not started shooting yet, but will soon, include The Edgar Allan Poe Murders and The Blood Covered Bride (tentative title). The Poe Murders is a more traditional horror movie containing supernatural elements along with murders that are similar to those found in Poe's short stories. The Blood Covered Bride has a woma murdering her husband and then finding herself haunted by her husband's ghost and forced to kill herself over and over again until she's driven mad. In other words, two more happy films. :)
Anything else you are dying to mention and I have merely forgotten to ask?
We have another site that delves into the older movies and has some clips people can either download for free or on PPV. It's In Dire Straits (www.indirestraits.net)
Oh, we also do custom tapes where we'll shoot someone's script or storyline exactly as they want it. We've been offering this service since 1988.
People can e-mail me at waveids@aol.com should they have any questions.
Thanks for the interview!