Your new movie Beasts of the Field - in a few words, what is it about?
It's a survival drama about a bunch of folks who go on an expedition to find evidence of a mythological beast. But they're ill-prepared (in more ways than one) and suffer tragic and savage consequences.
How did you get involved with the project in the first place, and how did you end up both lead actor and co-writer on the film?
It's a long story, actually, but the short version is, the original cast Chase put together had me in a different role and, when things had to be shuffled around due to the changing shoot schedule and shifting availability of various players, Chase asked me if I'd play the lead instead.I told him I would… if I could rewrite the script to give the character more layers and make him a better match for my brand. He agreed and that's how it came about.
What can you tell us about your co-writer Brentt Slabchuck, and what was your collaboration like?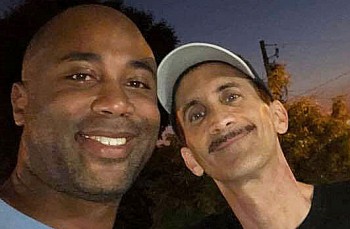 Gregory with Chase Dudley
Brentt wrote the original draft and I wrote the shooting script. So we didn't actually work together at all. In essence, he crafted the story, the main plot elements and the characters. Then I finessed all of that: shaping the plot more to Chase's liking, giving the characters a little more color, tweaking dialogue and so on. The character of Lester wasn't very likeable in the original and I felt the audience would never care what happens to him, so that was my main goal for him: to make him charming and sympathetic enough to make up for his negative qualities.
What were your sources of inspiration when writing Beasts of the Field, and since the film is about cryptozoology in a roundabout way, did you do any research on the subject?
I didn't have to do too much research, because the cryptozoology element was one of the things Brentt set up nicely in the original.My main focus was on tightening the action and dialogue, augmenting the characters and refashioning details to make the story flow in a way that Chase could capture on film. Those kinds of things inspire me on their own.
Do talk about Beasts of the Field's approach to both humour and horror for a bit!
That ties into what I wanted for Lester and what Chase wanted for the film. I knew that if Lester made people laugh, they'd fall for him enough to care about him. Comedy, unless it's cruel, is almost always endearing. And almost every film benefits from comic relief.I also noticed everyone whines a lot in the film (with good reason) so I wanted to give them sarcastic edges to make that more fun and palatable. As for the horror element, Chase always saw the film with that lens, so I was mindful to keep the horrific elements peppered throughout—even though it's not a traditional horror film.I mean, sure, it gets bloody and there's a body count but, despite the humor and the horror, it's really a drama about people dealing with extreme circumstances and personalities.
You also play the lead in Beasts of the Field - so what can you tell us about your character, and what did you draw upon to bring him to life? And how much Gregory Blair can we find in Lester?
I think the key to what makes Lester work is that he's a bit of a goofy, sad-sack underdog that you just can't help but root for. And I totally relate to all that, having often seen myself that way—especially in adolescence.But, endearing as that is in the film, it's offset by the fact that he's also mired in deception; not just deceiving others, but deceiving himself as well. Refusing to see how unqualified he is for the expedition, refusing to see he's married to a narcissistic psychopath, and so on. So deception is his tragic flaw…right up to the end, which makes the final moment of the film so painfully ironic.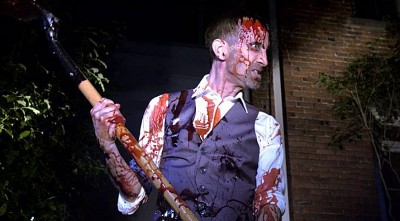 Fang
Again: that whole "goofy, sad-sack underdog" element is something I've felt at times in my life. When Lester is at his lowest point and he reveals that he used to go by "Les"… until he learned people called him "Less Than"… that's like the dark place I've been when I'm really down. The "I'm not good enough" place I think we all go to at times. I would say Lester's childlike heart is very much a part of me. For good or bad.
Do talk about Beasts of the Field's director Chase Dudley [Chase Dudley interview - click here], and what was your collaboration like?
Chase is fiercely hard-working director. What I admire about him is that he is the quintessential low-budget indie filmmaker: Doing everything he can to make the best movie out of the resources he can get. Sometimes magic happens and sometimes you get less than what you wanted, but Chase always keeps going and aims to make each film better than the last. He also is very easy to collaborate with; he's a great listener and values the input of the people he surrounds himself with.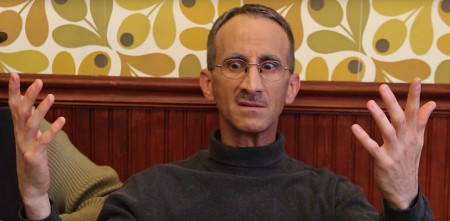 A Regular Afternoon in 1967
A few words about the shoot as such, and the on-set atmosphere?
Well, we shot the film in the middle of a passing hurricane, so it wasn't the easiest, smoothest shoot (he said with great understatement!) - we got delayed, waiting for torrential downpours to ease up, we needed special equipment to get us across resulting marshland one day (another delay) and so on. So we had less time to shoot everything. And the rain never came down at the same volume, so we knew sound was going to be a nightmare.It got very stressful a few times, but overall, everyone was the epitome of what makes low-budget indie films so memorable: motivated, focused, determined and glad to be there, making a film. Mother Nature be damned!
We haven't had the chance to sit down for a talk since you've released Garden Party Massacre back when [click here], and you seem to have been pretty busy since - so do talk about some of the projects you've worked on in the last 4+ years?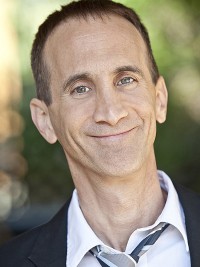 Feeling lucky ?
Want to
search
any of my partnershops yourself
for more, better results ?

The links below
will take you
just there!!!


Where to start? Couldn't possibly mention them all, but Garden Party Massacre made three "Top Ten" lists and has won a slew of awards and is now on VOD everywhere. I also helmed two short films (Attack of the Capsidians and It Ain't All Black and White… Unless It Is).I'm also working on the 10-year anniversary edition of Deadly Revisions: a brand new cut with new features as well as bonus interviews for those who get the DVD or Blu-ray.
As a writer, Heretiks (based on my original screenplay) came out last year and my screenplay BEHIND THE SMILE: The Story of Hattie McDaniel was sold to Hillionaire Productions and begins filming early next year.
As an actor, highlights include an episode of Escape the Night, two Adam Steigert films (Fang and The Horrific Evil Monsters), Heroic Age Studios' Trick and Treats, Adam Schaudenecker's A Regular Afternoon in 1967, Leonardo Corbucci's Cyborg's Universe (https://www.amazon.com/Dreams-of-the-past/dp/B0823YL42G/) [Leonardo Corbucci interview - click here], Aaron Mento's 16 Bits [Aaron Mento interview - click here] and Romane Simon's The Family Man. I'm also slated to appear live, on stage as Roy Cohn in Angels in America in Hollywood this coming April/May.
Your website, social media, whatever else?
Website: www.gregoryblair.info
IMDb: www.imdb.me/gregoryblair
Facebook: https://www.facebook.com/gregory.blair.entertainment/
TikTok: www.tiktok.com/@thegregoryblair
Twitter: www.twitter.com/TheGregoryBlair
Instagram: www.instagram.com/thegregoryblair
Pinterest: www.pinterest.com/pinupgregory
Thanks for the interview!