Your new movie Lachrymose Primrose - in a few words, what is it about?
As the running theme to all of my films Lachrymose Primrose examines the human psyche. It is undoubtedly the topic which I find most fascinating. And the fact that we began production during the plague (if you will), where everyone's psyche was challenged to some degree, it just elevated that fascination of mine even further.
I was actually scheduled and on track to work on an entirely different film (Art Of Defiance) prior to the pandemic. However, Covid came along and I had to re-examine my next film and ultimately change course. The intended film had numerous locations and actors. Roughly dozens of locations and perhaps a hundred or more actors. With the Covid restrictions and lock-downs, it was no longer feasible to work on the originally slated film. Lachrymose Primrose was a short story that I had written several years prior. The story revolved around one location and only two principle characters. It became all the more apparent that the story needed to be adapted into a screenplay. I expanded on the characters, as it was needed to successfully convey they story in a cinematic fashion, but like many of my favorite psychological thrillers, The Shining, Misery, The Mist, and Psycho, I kept the locations to a minimum. And that really helped to achieve the tense atmosphere of the story. Lachrymose Primrose has a very claustrophobic feel, which I quite like. And it is also very ironic given the fact that I personally suffer from claustrophobia.
What were your sources of inspiration when writing Lachrymose Primrose, and is any of it based on personal experience?
I am not necessarily sure that there is an inspiration behind the film. At least not that I am aware of. I am not one of those filmmakers who observe the world around me and then think to myself "I need to make an artistic statement on said observation." The world is very bleak right now. And I feel quite sad when I look at the state of the human race. It is just a coincidence that my films are also very stark, and very bleak. But even in the darkness of my films, there is always that sliver of light. Usually. There was redemption and hope in my last film Somnambulist. But now that I think more in depth about Lachrymose Primrose, it may not be as optimistic. And in regards to "personal experience", there is always a bit of personal experience in all of my films. The examples may be subtle, they may be embellished, but they are always present.
Now for Lachrymose Primrose you have changed your name from Johnny Daggers back to your birth name J.D. Ellenberger - now what triggered that change, and why now?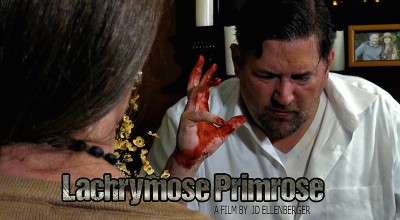 When I entered the world of filmmaking - which I had never intended to do, it just happened - I started off as a "guerrilla-style" filmmaker. I had no sense of direction. And I had no set style. My nickname at the time was "Daggers". I had been in some bands where "Daggers" had been my stage name and I thought that the name suited my style of "guerrilla" filmmaking. Which it did. I never expected to have any longevity as a filmmaker. I foresaw my career lasting five years at best. Oddly enough, just as I was entering my fifth year as a filmmaker, I got signed to a major distribution deal with SGL Entertainment. I was still green, if you will. Still growing. And still learning, as I continue to do. This was also a time of some rather serious introspection. I examined my fortitude as an artist. Did I want to continue in film? Did I want to get back to music? Did I want to continue as an author, since writing was always my first love? What was my ultimate goal? And if I were to stay in the world of filmmaking, which direction did I want to go? It was at this time I began giving serious thought to changing my name, as I was beginning to take myself more professionally. And although I had heavily entertained the notion, I also feared losing recognition with my fanbase by changing my name. So ultimately and quite reluctantly I stuck with the "Daggers" moniker for my first two major releases, Blood On The Reel and Noctambulist, but the name change still weighed heavily in the back of my mind.
In 2019, I believe, I was having a conversation with a fellow indie-filmmaker friend of mine, C.M. Talkington (writer & director of Love and A .45). I explained to him that I no longer felt that the "Daggers" moniker was indicative to my new style of filmmaking. I was much more serious about my craft. I carried myself more professionally. I felt as though I had outgrown what I perceived to be a childish nickname. And most
importantly, I wanted my family to take pride in seeing that family name on the big screen. To me, that is what mattered the most. Leaving a family legacy behind and having the name on screen as proof of that. C.M. heavily encouraged me to go with the name change, if that were my desire, as he too felt that going by my surname was a much better suit for my new found direction as an artist. And it was also a fitting name to coincide with my new change in personal aesthetics. I went from being a leather-clad punk rocker, to more dapper gentlemen, who grew a beard and began wearing three-piece suits.
Do talk about your movie's approach to horror!
My approach is fairly selfish. I simply make what I would want to see. No disrespect to other filmmakers, especially other indie filmmakers, but I am not into graphic violence or gore, although I do come very close to that line at times with Lachrymose Primrose. More so than any of my previous films. And I am not into needless sex or nudity. That is not to say that I am by any means a "prude". For me, the number one fear factor has always been psychology. The human mind. And that is a constant theme in my work. Perhaps it is because I grew up on reading Edgar Allan Poe? But the tormented soul, the trappings of past demons, regrets, the battle of fighting to retain your sense of humanity in a world gone mad, those are the things that appeal to me.
A few words about your overall directorial approach to your story at hand?
My directorial style is rather contradictory. On one hand, I am a "control freak", from the story to the DVD and poster art. I have a very distinct vision. But on the other hand, how I work with my team and my cast is quite liberal. For example, I do not expect my actors to deliver their lines verbatim. In fact, I prefer that they don't. I encourage method acting, and I encourage the actors to put themselves into their characters' approach and delivery. I feel that anything other than that, and it becomes apparent that it is an actor acting and delivering their lines as instructed. It doesn't feel believable. As long as the actors deliver the proper feeling and intended message to the scene, I let them have the freedom to meander about and untimely come back to the intended point at hand and drive the message home. And I am also very open to suggestions. We often film a lot of scenes or angles of a scene that were not scripted. Someone may say, "What if we were to do this...? Or lets try that!" And my reply is always "Lets go for it! Lets see how it plays out in the editing room." I believe that you should film anything and everything. Quite often the impromptu, spontaneous suggestions are what make it in to the final cut. If something doesn't work, at least you tried it. It is better to go into post-production with three times more footage than needed than it is to be left short-handed.
What can you tell us about Lachrymose Primrose's key cast, and why exactly these people?
I could not be more pleased with the cast and crew. Many indie-filmmakers do what they can to bring celebrities into their films. I prefer to work with smaller, lesser known actors. Even theater actors, which I prefer. With unknown or lesser known actors, there is no ego, no sense of entitlement. And we all get on like a family. Plus, I like the idea of giving the "underdogs" a voice. An opportunity to star in a film that they may otherwise not be granted.
I base all of my casting decisions on gut instinct. When I am casting an actor, I secretly observe their mannerisms. I observe their facial expressions. I look to see if thay have any nervous ticks. This is more important to me than seeing the actors' prior work. And I feel that this is because I do truly love to see my actors put themselves into the character. Sure, the applicant may be able to deliver their lines, but if they are boring in real life, they are going to be boring on the screen. So the more eccentric the actors' personalities, the more unique they are in their daily life, the more I want to work with them.
Tedd Bodnar, who plays the lead of Caleb McCallum, is very much a method actor. I literally get chills watching him work. Caleb, the character, is a chain-smoking alcoholic. And in order to properly play Caleb, Tedd would drink a bottle of whiskey, smoke a pack of cigarettes, and literally embody the persona of Caleb to the umpteenth degree. He never studied his lines. And if he did, he didn't memorize them. I would pull him aside before each take, explain to him what was needed, and turn him loose. He was literally a mad man on set. There were countless times where I had to turn away from the camera because I was smiling the biggest grin you have ever seen and I did not want to become a distraction. Tedd is very much a physical actor. Just brilliant.
Our supporting actress Michelle Mullins plays Caleb's wife Elizabeth. Michelles' style of acting is polar opposite of Tedd's. Michelle is much more studious. She learned her lines. And she stuck to the script. But with that said, what Michelle is excellent at bringing to the scene is something that many actors have difficulties with. And that is that she can deliver an entire scene with nothing more than her facial expressions and body language. She would make an incredible silent movie actress.
Then we have our youngest actor Chloe Ruth, who plays the role of the McCallums' daughter Annie. Chloe has a very impressive future ahead of her, should she desire to carry on in film. Not only is she a natural talent, but she has a keen mind. She remembers not only her lines, but all of the other actors' lines as well. Which is quite impressive.
The most well known actor that we have in the film is Michael Spedden. Michael has been in numerous productions, but may be best know for his role as Dale in the hit Fox sitcom Gotham. Michael and I have known each other for years now, and I was beyond excited to finally work with him.
The other supporting actors, Debbie Starr, Alfred Guy, John Cestone, Donna Madison, Bernard Madison, were equally fantastic to work with. Debbie plays the nosy next door neighbor. Initially her role was rather small. But upon seeing her talent, her one small scene turned into several scenes. And her character (Amanda) became an integral character to the story.
Do talk about the shoot as such, and the on-set atmosphere?
The atmosphere on set is very much like a family gathering. Except more functional and more fun than most families are in real life. After many a long days of filming the cast and crew would stay and we would drink together. We would laugh about any bloopers that transpired on set. Or we would boast about what we loved most about the day. It is very important to me that the people who you surround yourself with on set are also people that you would choose to hang out with in your spare time. There has to be a family bond. There has to be trust. And there has to be a sense of comfort. No one is above the other. We are all equals. And we all trust one another. And when you put that all together, you get a very conducive work environment. And this is how you get the best out of your team.
As far as I know, Lachrymose Primrose is still in post production as we speak - so what's the exact status, and any idea when and where the movie might be released yet, however tentatively?
Correct. We are in post-production. Essentially all that is left is voice-over work. I hope to have the film completely finished and sent over to my distribution company by the end of fall, at the very latest. However, it takes the distribution many months to get everything ready for the brick and mortar stores, as well as the online VOD companies, so at this time I have no exact date. But I can safely say that there will be a 2023 release.
Any future projects beyond Lachrymose Primrose?
Many future projects, but I am keeping those under wraps. When I first started filmmaking I would hype up all of my projects. And many times, due to lack of budget, the film would never see fruition. With age comes wisdom, and I have learned to keep my mouth shut until the project is well underway or completed. In fact, I have been so tight-lipped about Lachrymose Primrose, even as I do this interview with you, that my distribution company still knows very little about it. Actions speak louder than words. And the older and wiser me prefers to let the actions speak more than the words.
Your/your movie's website, social media, whatever else?
Those who know me well know that I am an introvert in many regards and I despise social media, however... I suppose it is a necessary evil for us artists:
Facebook at /officialjdellenberger
Facebook at /LachrymosePrimrose
Facebook at /SeafaringPictures
Facebook at /TheNoctambulist
Twitter at /SeafaringP
Instagram at /jd_ellenberger
Instagram at /lachrymose_primrose
Anything else you're dying to mention and I have merely forgotten to ask?

Feeling lucky ?
Want to
search
any of my partnershops yourself
for more, better results ?

The links below
will take you
just there!!!


I would just like to thank you from the very bottom of my heart. It is always a pleasure speaking with you. You have always been very kind and supporting of my work. And to your readers, please keep an eye out for Lachrymose Primrose. We have just released a teaser which is available on our social media pages as well as our (Sefaring Pictures) YouTube and Vimeo channels. And when I say teaser, I do mean tease. It is quite short. Quite creepy. And intentionally vague as to not give anything away. But hopefully is intriguing enough to make you want to watch more.
Thanks for the interview!