About your recent photoshoot: Why did you pick the iconic A Nightmare on Elm Street as its theme, and what does A Nightmare on Elm Street mean to you, both personally and professionally?
In my home office right now in front of me is an autographed picture of Robert Englund as Freddy Kruger [Robert Englund bio - click here], a Freddy Kruger poster, and a Freddy Kruger toy. A Nightmare on Elm Street was a series I grew up on. My family had TV time at night and one of the shows we never missed was Freddy's Nightmares. Anytime one of the movies was on TV we made an entire night out of watching it. Years later when I was an outcast teen living in a small rural religious town I had no friends and a ton of time on my hands. I spent a lot of that time in a comic book store that sold movie memorabilia. One day they put out a bunch of old screenplays one of which was A Nightmare On Elm Street. I had to have it. Since I was a child of a poor single mother, I did not have the means to afford it. With a little wheeling and dealing I scrapped up the money to buy it. I read the entire script in one day. That script is what opened my eyes to becoming a director. In a lot of ways I owe what I've become to that series.
In your shoot, how close did you remain to the actual A Nightmare on Elm Street-aesthetics, style-wise?
Very close. It was surprisingly easy for me too. Growing up with the series it was really easy for me to just close my eyes and put myself in that place. It was kind of like a guitar player paying tribute to one of their favorite guitarist. You know all of the notes and have even lifted them for your own material.
Speaking of the series, your favourite and least favourite A Nightmare on Elm Street-movies?
My favorite story wise is A Nightmare on Elm Street 3: Dream Warriors. That one started as Wes Craven's story and the script was reworked by Frank Darabont and Chuck Russell. Put that in perspective. You have a horror icon forming the frame work, an academy award winning filmmaker reworking the dialog and a top level movie director telling the story. I'm also a huge fan of A Nightmare on Elm Street 4: The Dream Master. There is a great story about Renny Harlin being borderline homeless when he took that movie. When it came out it was the number 1 movie that weekend and the first call he got on Monday was Steven Spielberg. My least favorite, other than the remake, is probably A Nightmare on Elm Street 5: The Dream Child. It really is a good example of rushing into production on a movie that has major script issues. They tried to overcome the script issues with a very strong visual director but the outcome was a confusing movie full of visual effects. My wife is more forgiving than me so she still likes that one but I have to pass.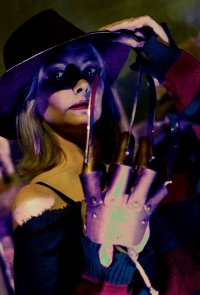 Carly Capra
Your Freddy Krueger is portrayed by Carly Capra - why her, and why did you pick a woman for the role in the first place?
Carly is fantastic. She is an award winning actress that has deep roots in horror. We've known of each other for a while and we finally got to meet at Texas Frightmare Weekend. She was very humble and nice to talk to. This shoot was originally just going to be done for the fun of it and kept a secret. I picked a few people that would be more low key out for various reasons. The funny thing is they dropped out and more high profile models came forward including Carly and the shoot became what it is now. I had some amazing choices to pick from but what set Carly apart was her roots in horror. My actor cancelling policy is stricter than ever but I am still happy it worked out the way it did.
The idea behind a female Freddy Kruger came years ago. I was listening to Lacuna Coil - Heavens A Lie. It got me thinking about the idea. Freddy has always been more tempting than the other icons. He loves the foreplay of the kill. It just seemed like a natural fit to do something kind of dark and sexy with the themes of Elm Street.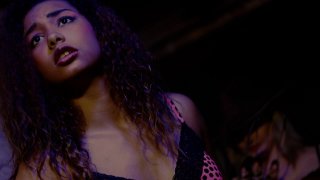 Melody Young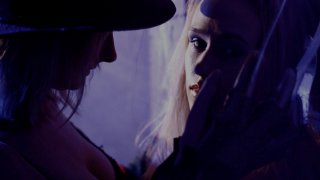 Natalie Von Blair
What can you tell us about your other models, and why exactly them?
First is Melody Young a super beautiful girl with talent to spare. She is a new face that is just starting to break into the industry. I met her at a restaurant through a friend and cast her as an extra on a project I just wrapped. I was very impressed with her and wanted to get her in another project so everyone else could see how talented she really is. This was the next project and because of her exotic looks I thought she was a great fit. Luckily I was right.
The other model is Natalie Von Blair one of the most in-demand models in North Texas. Funny that the low key people dropped out and I end up with an in-demand model that is at the top of the heap. She has a very soft look that is very fitting for all types of projects. In this one I wanted her to play the frail, innocent looking victim next to Melody's stronger, more exotic persona. Both girls did a terrific job. I was filled with so much pride and joy when we wrapped. They just blew me away with their beauty, talent, and attitudes.
As far as I know, you picked a supposed haunted house as the location for the shoot - why there, and any spooky on-set stories? And based on your experiences, would you ever shoot there again?
Yea the legendary Reindeer Manor in Red Oak Texas. A 100 year old house that was part of a slaughter house operation. I personally don't believe in ghosts so I have never had any weird experiences there but I know there is a ton of history and documentation to back the claims of its haunting. With picking that place it was kind of like if I could not shoot there then I would not have done it at all. The location is a character in itself. The owner Jim is a wonderful man that has made it his life's mission to scare the hell out of people. Not only would I shoot there again, I would consider it an honor. I love that place and the staff. They are a fully function haunted attraction during the Halloween season. If anyone is in the area they need to check it out. This is not your average store front haunted attraction with plywood walls. This place is epic and legit.
So what can you tell us about the shoot as such, and the on-set atmosphere?
The atmosphere was electric. The models had amazing chemistry and honestly no one wanted to leave when we were done. My make up artist was Mandy Ochs and she was in top form. My wife was on set too, who is my best friend so it really just felt like a bunch friends playing make believe. After we wrapped me and my wife celebrated with a 6 pack of one of our favorite micro craft beers, Revolver Blood and Honey. What more could you ask for? A day of being creative and paying tribute to one of your biggest inspirations with amazing people and your best friend.
The big question of course, where can the photos from this shoot be seen?
https://www.facebook.com/jeremy.campbell.58555/media_set?set=
a.663877860332630.100001312673457&type=3 - we took a ton but these are our top picks.
Any future projects you'd like to talk about?

Feeling lucky ?
Want to
search
any of my partnershops yourself
for more, better results ?

The links below
will take you
just there!!!

Find Jeremy Campbell
at the amazons ...

amazon.com

amazon.co.uk

amazon.de
Looking for imports ?
Find Jeremy Campbell here ...
Something naughty ?
(Must be over 18 to go there !)

Wow I have been busy. I just wrapped a romantic teen comedy called One Perfect Night. A far cry from my usual stuff but I loved making it and had a brilliant cast and crew. That movie includes some fresh new faces that I think people are going to see a lot more of in the near future. Velvet Vengeance, my first feature film, has a screening coming up in late August as a part of San Antonio Horrific Film Fest. We are bringing our killer Dolly with us and one of the stars of the movie Gerald Crumb. The entire fest is a blast but we plan on being the highlight. Another project that I am currently working on is a screenplay called Born To Lose, Play To Win, a very romantic, sexy action film. We are developing that project right now and talking with potential talent. Last I am considering a few more horror themed photo shoots to pay tribute to the movies that inspired me but nothing is set in stone with those yet.
Thanks for the interview!