Your new movie The Monster Mash - in a few words, what is it about?
The Monster Mash is hosted by a bumbling Ex-Nazi scientist Dr. Freudstein (named after House by the Cemetery's killer and my love for Lucio Fulci films [Lucio Fulci bio - click here] and played by the great Michael Gentile) and his sidekick/pet Ludwig as they fumble to create the perfect bio-mechanical super-men, all while hosting The Monster Mash Triple Feature Show. It features 3 gruesome mini horror films: Whispering Hollow Road, The House and Homebound Horror. Each story contains a different monster. I wanted each story/film to look like a product of the 1970s and early 1980s, and that the characters are fully realized with good acting and substance as the stories are played straightforward along with the over the top campiness with the horror host Dr. Freudstein and Ludwig in between segments. Just like the good ol' times of television days of creature features.
What inspired you to use a horror host-style skit as your framing device, and any particular horror hosts that served as inspiration here?
The Monster Mash is a throwback of a bygone era of creature features and horror movie hosts (usually a mad scientist) that host the nightly horror movies around commercial breaks. I grew up in the late 1970s and 1980s watching these classic low budget B-movies through Chiller Theatre and Morgus the Magnificent. The Monster Mash is my love letter to that era of creature features and monster movies! I've always loved monster movies and still do, especially Godzilla, and always wanted to make something that celebrated the monsters in a fashion of these creature features that I grew up watching since I was 4 years old.
With The Monster Mash being a horror movie, is that a genre at all dear to you, and some of your genre favourites?
Yes, I love monsters and I love horror films! I'm also a huge Godzilla fan and love Japanese films! But I also appreciate all other genres. Besides horror, I also appreciate comedies, westerns, dramas.
(Other) sources of inspiration when writing The Monster Mash?
Obviously like I mentioned before, the creature features I grew up watching as a kid on Saturday afternoon or late-night. Also the old EC horror comics and I love anthology films. My favorite one is Tales From The Crypt (1972), and the best of all, Creepshow, and also the fact that I always wanted to make a movie with monsters in it.
Were all segments actually made particularly for the movie, or did they enjoy a former life as shorts?
Yes, the script for The Monster Mash was always intended to be an anthology feature film. I wrote the first draft of the script in late 2016, and the movie that me and co-producer/co-director Kevin Losani filmed is almost identical to the script that I wrote. Kevin did some revisions to Homebound Horror, which the original title was "Coming Home". But Homebound Horror remains the same template that I first wrote. Actually the script had 4 gruesome tales, but for budgetary reasons I decided to scrap the fourth story. That story entailed a man and his family witnessing his neighbors being viciously attacked outside his house by the victims' own family members. He barricades himself and his family in the house from the violent unrest that is occurring outside. Later, his wife and daughter also begin to go after him to attack and we later learn that random people are being possessed by supernatural entities/demons. The lead male continues fending off his possessed family to survive. The news on the TV later shows that this supernatural happening is widespread throughout the world (perhaps a precursor to the unrest and pandemic we just had?). Maybe this story can be added to The Monster Mash 2? Who knows?? Lol!
What can you tell us about The Monster Mash's approach to horror?
It's to give viewers the nostalgic feel of those creature feature days when watching The Monster Mash as if they were watching it on television. With the three stories, I really wanted to make it look like it is a product of that time, but with some modern elements to it.
A few words about your directorial approach to your stories at hand?
I wanted each story to be totally different from one another and not make feel like it's all in the same movie. I wanted all three stories to have a unique style of their own, whether it's the setting, lighting, camera shots and color pallet. I hope we succeeded.
What can you tell us about your co-writer and -director Kevin Losani, and what was your collaboration like?
I first met Kevin back in 2011, and at that time he was a manager of a historic movie theater that was built in the 1920's called The Pelham Picture House in Pelham, NY. At that time, I was screening my feature film The Festival, which is loosely based off of H.P. Lovecraft's short story of the same title. He and I kept in touch after knowing he too was a filmmaker/actor. In 2014, I started production on my 3rd feature film Dark Side of the Moon and cast Kevin in the lead role. From there on, we became good friends, and I ended up pitching him the idea of collaborating with him on my next feature titled "Hollows Eve" that later would ultimately end up being The Monster Mash. At the time, he had a very busy schedule working on other projects, so I pitched to him that we would produce the picture together and he would direct one of the stories from the script of his choice and have creative control. Kevin chose "Coming Home" a.k.a. Homebound Horror. Kevin was a huge asset to the film! He got for us many of the locations that you see in the film and did a bang up job directing it. For the most part, me and Kevin had a lot of fun making this film. There were times we butted heads and clashed over creative differences, but overall it was minor and never took away the fun we had, and we both learned a lot and I think we grew more mutual respect for each other as friends and as filmmakers. We also have a lot in common and we can relate to similar things. Don't get me wrong, despite having fun making this film, it was a long, rough grueling three years of filming very long hours in grueling conditions and dodging obstacles from the weather.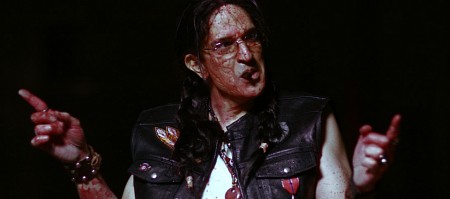 Do talk about The Monster Mash's key cast, and why exactly these people?
Everyone involved in the film had a key role, so I have a lot of good things to say about my cast. Everyone I think gave a good performance. But the star of the film that I will talk about the most is the late great Michael Gentile. Michael played 3 characters in this film: Dr. Freudstein, Andrew Lakewood (Whispering Hollow Road) and The Boss in the wheelchair (Homebound Horror). Michael was a true professional that took his craft seriously. He was always well prepared, always brought in some fresh ideas to make his characters more interesting, and we also became good friends. Michael was also in my film Dark Side of the Moon, where he also portrayed two different characters without telling them apart. Michael was a great all-around character actor. Sadly we lost Michael last year to cancer and he never got to see the finished product that he worked so hard on. I am fortunate to have known him and to have him in two of my films.
William Kozy is another talented actor whom I've worked with already on 3 of my films. We built a good working relationship in where he (most of the times) knows what I want out of him. William gave what I think is one of his finest performances as Creighton Reed (The House).
Monica Sharma also a very talented actress which Michael Gentile recommended me for her part as Sara (The House), and she was excellent for the part.
Cherry Fu I cast through an ad I placed through Backstage and had her come for an audition at the great Shetler Studios in NYC, where I had her do a table read with Michael Gentile. Cherry was perfectly cast for the role of Sky (Whispering Hollow Road) where she played the character exactly how I envisioned it in the script.
Kevin Losani was cast as Paul (The House) simply because I know Kevin's acting ability and I knew he would pull it off and I think he did an excellent job and probably his best performance yet.
A few word about the shoot(s) as such, and the on-set atmosphere?
First off, The Monster Mash was shot entirely on film except Homebound Horror. Film stock costs a lot money, so I limited my actors on the amount of takes they can do. So to better help the circumstance, I had my actors rehearse a couple of times a week for like a month straight before the actual shoot. That helped tremendously and got through it without eating up so much film. I think it better prepared the actors to go in this shoot focused and knowing their lines, and having that stress about the limited takes made them better prepared. Homebound Horror was shot digitally so it was more flexible for the actors to do take after take after take. I had a pleasure working with all the actors involved on the film. Everyone for the most part were very professional and were very well prepared.
The $64-question of course, where can The Monster Mash be seen?
The Monster Mash currently has official selections in a handful of film festivals around the world and hopefully will continue to gain more. But to answer your question, I'll keep my fingers crossed if it can get a good distribution deal where everyone all over the world can watch it and appreciate this love letter I created. For now only through film festivals.
Anything you can tell us about audience and critical reception of The Monster Mash yet?
Well, I think it's fairly good being that it's gaining some traction in the film festival circuit. I'll have a better assessment once I watch it with a crowd of viewers at some of these festivals.
Any future projects you'd like to share?
Absolutely! I have many projects I'd like to do, but it all boils down to $$$. Hopefully, if I can get some investors interested, I love to do a brutal werewolf movie with all practical FX and full transformation scene not scene since the days of Rick Baker and Rob Bottin! I wrote a story back in the early 1990s when I was in high school titled Full Moon about a group of hunters and their encounter with a werewolf which attacks one of their own and survives and becomes a werewolf later on. The group of men now have to fend off two of these creatures and try to survive the night.
Another is a dream project I wrote back in 2007 titled Dog Day Sunrise, a love letter to spaghetti westerns. A stylistic and brutally violent film.
Also, possibly, The Monster Mash 2 with a bigger production and more bloody monsters? And possibly, a comedy/horror spinoff of The Monster Mash with a Dr. Freudstein movie?... I think The Monster Mash has the potential to be a franchise thing! Who knows?? Maybe I'm just talking out of my ass, lol
What got you into filmmaking in the first place, and did you receive any formal training on the subject?
My love for movies! The cinema! I've been fascinated with movies and their magic since I was 4 years old. Originally I wanted to be a special effects artist because of my idols like Rick Baker, Rob Bottin, Stan Winston, Tom Savini and so many more... But it wasn't until I was 12 years old when I rented Sam Raimi's The Evil Dead on VHS, and that changed everything! After viewing that movie I knew that's what I wanted to do! Make movies!! The plot had nothing different but It was so visually stunning and creative how they shot the film, and to learn that a bunch of college dropouts made it, I was amazed! I wanted to know more about the film and its filmmakers.
I took some filmmaking courses when I was younger but I'm mostly self-taught, and the special features on DVD discs were the free filmmaking courses that I received.
What can you tell us about your filmwork prior to The Monster Mash?
My first venture into filmmaking was is 1999 when I made my first (incomplete) feature film titled Nowhere Man. A comedy that I shot on 16mm film and was never completed because I went over my budget and didn't know what the hell I was doing, lol. After that I made a few short horror films, The Hole and Necromancy. It wasn't until 2005 and after my divorce that I finally made my first complete feature film Am I Evil, which in 2007 ended up winning Best Director Award at The Rhode Island International Horror Film Festival. After that, I jumped right into making another feature film The Festival based on Lovecraft's short story, and that was completed 2010. My next feature film was a sci-fi/thriller titled Dark Side of the Moon, which was completed and screened in 2016.
How would you describe yourself as a director?
I just want to get that vision out of my head and frame it. Once I have something in mind, that's how I want it and will do my best to get it the way I envision it. I usually have scenes already mapped out in my head, like I already have the story edited in my mind, and I direct the actors the way I see things. Every now and then I'll take some suggestions from the actor or crewmembers to make a shot work. But pretty much it's what I envision is what I want to see burned on film. But like with most film directors, you're never quite satisfied with what you end up with at the end but hope it's pretty damn close.
Filmmakers who inspire you?
Definitely Alfred Hitchcock, Stanley Kubrick, Martin Scorsese, Federico Fellini, Akira Kurosawa, Francis Ford Coppola, Sergio Leone, David Lynch, David Cronenberg, Brian De Palma, John Carpenter, Dario Argento, Lucio Fulci [Lucio Fulci bio - click here], so many more to list...
Your favourite movies?
Nosferatu (1922), Nosferatu (1979), The Evil Dead, The Texas Chainsaw Massacre, The Shining, An American Werewolf In London, The Howling, The Thing from Another World (1951), The Thing (1982), The Fly (1958), The Fly (1986), Alien, Godzilla/Gojira (1954), Hitchcock films, The Godfather & The Godfather ll ... so many to list. I have in my library over 2000 Blu-rays/DVDs, so I am a huge film buff as you can see, lol. I also have a guilty pleasure of appreciating the low grade it's-so-bad-it's-great type of films, lol!
... and of course, films you really deplore?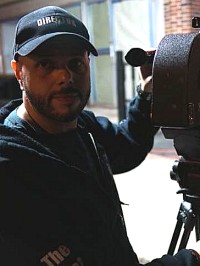 Feeling lucky ?
Want to
search
any of my partnershops yourself
for more, better results ?

The links below
will take you
just there!!!


I truly dislike a lot of today's movies, especially horror movies. Only very few nowadays are worthy. The ones worthy of mentioning are: The Irishman, Parasite, The Lighthouse, Color Out Of Space, The Cursed and even Terrifier, which surprised me. After the 1990s there are very few movies that I would go back to and watch over and over like the films I listed up above this question and many more. Yes today's films look clean (too clean) and polished. There is something that looks artificial and generic about them and they seem to treat the audience who go see these movies as dumb and unintelligent. There is no substance or solid story structure in these films. Also, I can't stand all these superhero movies of grown men and women running around in pajamas and capes. Enough already, lol! These superhero films that Hollywood is pumping out is a cash cow for them until it starts to lose money. What's sad is you won't see Hollywood producing movies like they used to like the Hitchcock films, Kubrick films, Lynch films, Coppola films, etc. It's also sad to see fewer and fewer movies being shot on film. Nothing gives a movie that cinematic look of 24fps like film. The best digital cameras can mimic it but can never be like film. It just looks cheap to me. Enough of my ranting, it's just my opinion :)
Your/your movie's website, social media, whatever else?
www.facebook.com/profile.php?id=100063568781495
Trailer: https://www.youtube.com/watch?v=Mao7iYqA9mQ
Anything else you're dying to mention and I have merely forgotten to ask?
I hope one can appreciate and understand the level of this film was made on with a very very limited budget, creativity over big money and lots of heart and passion because everyone involved believed in the film and just to make good ol' fashioned art. I just say, keep making art because the world needs it, and don't give up because anything is possible.
Thanks for the interview!