Your new movie Too Rough - in a few words, what is it about?
Feeling unlovable.
What were your sources of inspiration when writing Too Rough, and is any of it based on personal experience?
Pretty much everything is based on true events from my life. I even had a social worker who looked to Jesus for orders on how to fix our family.
Of Too Rough's lead characters Nick and Charlie, which one can you actually identify with more, and why?
Definitely Nick, because Iím always trying to hide some part of me from partners and rebuff them, while also desperately anxious to lose them. Heís very tough, but very sensitive at the same time.
What can you tell us about your directorial approach to your story at hand?
I was hyper-alert in distinguishing what felt real and what didnít, while from the outside trying to appear calm and create a space where my cast could be vulnerable and tender.
Do talk about Too Rough's cast, and why exactly these people?
Ruaridh Mollica immediately had the eyes. It turned out he also had the heart and soul. Joshua Griffin has an incredible mind and infuriatingly beat me at chess twice on set, which was definitely my least favourite thing to happen in this production.
You also have to talk about the flat the movie was shot it, and what was it like filming there?
It was a real Glasgow flat, with the smell, the soul, the size of a real Glasgow flat. It was tight. Plus we all had to wear masks. So it was a little like a coal mine, without the coal.
A few words about the shoot as such, and the on-set atmosphere?
As always with filmmaking, time was marching terrifyingly against us, so it was a race to pour our passion out with control but with speed. And of course, recreating some scenes from my childhood was a singular experience in which I suddenly had control of certain dark memories. I donít know if I can say it was therapeutic, as Iím not sure Iím any more sane now than when I made it - but it made me feel something painful and beautiful.
The $64-question of course, where can Too Rough be seen?
Too Rough is on YouTube right now for 48 hours, until Friday at 5am ET, 2 am PT. And it's now distributed by Canal Plus in various European countries.
Anything you can tell us about audience and critical reception of Too Rough?
No matter where Iíve seen the film in the world, people seem to feel some kind of brutal tension from the film, as well as the pain in it. Only really in the UK do people howl with laughter - I think weíre more used to using humour to survive the darkness. The critical reception has blown me away, and maybe my little fantasy of having a Guardian review is a little closer.
Any future projects you'd like to share?
Iím currently developing my first feature with my producers Alfredo Covelli [Alfredo Covelli interview - click here] and Ross McKenzie [Ross McKenzie interview - click here]. Itís a horror movie about a gay couple who evoke a supernatural entity, fuelled by their love.
What got you into filmmaking in the first place, and did you receive any formal training on the subject?
I have no idea the moment I became obsessed with filmmaking, I just remember needing to know how it was all done. It was the mystery, the parts I didnít understand that drew me in. I had to figure out how to do it. I dropped out of film school because it was quite frankly a soulless tundra.
I've read that you also have a background in poetry and music - so how does this play into your work as a filmmaker?
I think these different mediums help me practise my Ďimageryí muscle because strong imagery is essential to me for all of them. Poetry also has rhythm and requires thorough editing, and the process is actually very similar to film editing.
What can you tell us about your filmwork prior to Too Rough?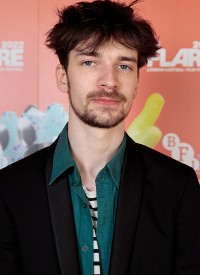 Feeling lucky ?
Want to
search
any of my partnershops yourself
for more, better results ?

The links below
will take you
just there!!!


A lot of it was for digital platforms and therefore had to be fast, and very demanding of the viewerís attention. But I produced it all myself with friends, and we worked so very hard to make those projects happen. Time for Love for instance is one of the hardest things Iíve ever done, as we had no budget and Iíd never performed on camera before.
How would you describe yourself as a director?
A very empathic dictator with no rules and an aching heart (and occasionally an aching bum if Iím lucky).
Filmmakers who inspire you?
Lynne Ramsay, Andrea Arnold, Pedro Almadovar, Darren Aronofsky.
Your favourite movies?
Rosemaryís Baby, Jules et Jim, Bonnie and Clyde, Black Swan, Woman on the Verge of a Nervous Breakdown.
... and of course, films you really deplore?
A load of shite that is so forgettable I canít remember it.
Your/your movie's website, social media, whatever else?
Thanks for the interview!