Available on DVD !
To buy, click on link(s) below and help keep this site afloat
Always make sure of DVD-compatibility !!!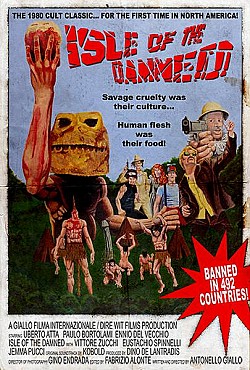 Perverted treasure hunter Thompson (Patrician Rosa) hires private eye Jack Steele (Larry Gamber) to help him find the treasure of Marco Polo, which is suspected to be hidden on a South American island that is inhabited by cannibals - still, Steele thinks it's a good idea to bring along his foster son Billy (Peter Crates). Of course, Thompson's little expedition runs into cannibals pretty much upon arriving on the island, and his ship's crew is killed off immediately while he is taken prisoner. But at least Steele, who is able to shoot two cannibals with one bullet and who can stretch his last bullet to shoot several times, saves a woman (Megan Mundane), who has just been visiting the island with her parents (who of course have died a horrible death). Then, Steele, Billy and the woman run into Kincaid (Keith Tveit Langsdorf), an eccentric millionaire who has chosen to live in a mansion on the island after he has wronged the local savages to begin with (and has turned them into cannibals). Kincaid is accompanied by Cain (Dustin Edwards), a mute yakuza martial artist with exceptional fighting skills, and two savages he has tamed.
Kincaid offers his guests abode in his mansion and even helps them free Thompson - who has not been killed by the cannibals because they don't eat cowards, they enslave them. But when Thompson learns Kincaid has long found the treasure of Marco Polo, he tires to torture its location out of him, and when that doesn't work, he kills him, then cuts open Billy's arse so the boy runs off into the jungle as cannibal bait - keeping the savages off his back ... or so he thinks, because when Cain finds his dead master and figures Thompson has killed him, he goes after the man, defeating and gravely injuring him in a fight, then leaving him behind for the cannibals.
In the finale though, pretty much everyone is killed off by the savages in one gruesome way or another, only Jack Steele can get away with his life, and on the boat back to civilisation, he ponders who really are the savages and who the civilized people.
Characters with bad hairdos and ridiculous mustaches, juvenile actors who look way too old for the roles they are playing, crude and not particularly convincing yet incredibly gorey special effects, a dubbing job that seems to be constantly out of synch, voice actors who don't even try to match the mood of the onscreen performances, characters with some of the most ridiculous dubbed voices ever brought to film, out-of-place macho-attitudes and weird Darwinian philosophy, jungle sets that fail to convince, wildlife footage that seems out of place, a score that never matches the onscreen mood, savages that look odd at best, ... now this list could go on and on pretty much forever, but it does pretty accurately describe Italian cannibal films from the early 1980's, along the lines of Umberto Lenzi's Eaten Alive and Cannibal Ferox or even Jess Franco's White Cannibal Queen. Isle of the Damned of course was not made in 1980 (as it jokingly claims on its cover) and not in Italy but in the USA, but it pays loving hommage to the cannibal cinema of the 1980's - but in a tongue-in-cheek way.
... and if you are at all a fan of cannibal films (or badly dubbed and cheaply made Italian gore and exploitation cinema in general), you will probably find this film hilarious, essentially because it doesn't (ab-)use its source material as a hanger for a bunch of fart jokes but does really take it seriously and repeats even its directorial aberrations to the t - on a purely intentional level of course.
Plus, to make things even more authentic, the Isle of the Damned-DVD also offers a bunch of extras, like a nonsense interview with the (alleged) late director Antonello Giallo's son and the like and some great liner notes featuring Antonello Giallo's biography - which sounds like a best-of of biographies of Italian smut directors.
The film is not officially released on DVD as of yet (December 2008), but you might wanna check out the production company's webiste www.direwitfilms.com for more info.