Your new movie Mute - in a few words, what is it about, and what can you tell us about your character in it?
Mute is a short film adapted from a Stephen King short story. We got permission to adapt it into a script through the Dollar Baby Program.
It is about a travelling salesman, Monette, who tells his grim story to both a priest and a deaf, mute hitchhiker, seeking absolution. Monette has let life slip him by and finds out the hard way that there is a cost involved in living a disconnected life.
What did you draw upon to bring your character to life, and how much Andrew Bee can we find in Monette?
This role is very personal for me because I went through a great deal of trauma as a child and have been fighting for my life my whole life. The one thing I could never do was let my life just happen, and being able to live through Monette for a while was a wonderful opposite to how I have lived in my life.
How did you get involved with the project in the first place, and how did you end up executive producer of the movie as well?
Kyle Dunbar, the film's director, called me and said he had the rights to a Stephen King Dollar Baby script and asked me if I was interested. He had written the character with me in mind. Kyle and I have a really good collaborative relationship and I have been a lifelong fan of Stephen King, so I said yes immediately.
I really believe in Mute, so I told Kyle that I would executive produce the project, and he was happy for the support.
What can you tell us about Mute's director Kyle Dunbar, and what was your collaboration like?
Kyle and I have the same darkness in us so we have a great understanding of each other. I like his vision and how he kept Mute story based and used simple filming techniques.
From what I know, Mute isn't the first movie you've done with Kyle Dunbar - so what can you tell us about your previous collaborations, and how did the two of you first meet even?
We met when Kyle was still in film school, and we have done several shorts together. We both love the horror genre.
Back to Mute - what were the challenges of bringing the movie to the screen from a producer's point of view?
The main thing with the Dollar Baby Program is that we cannot make money or show more than two minutes publicly online of Mute. So we decided to enter as many film festivals and get as much press as possible.
What can you tell us about the shoot as such, and the on-set atmosphere?
Kyle is so easy to work with that the atmosphere on set is very relaxed and easy. There is no drama on his sets.
Any future projects you'd like to share?
I'm working on a couple of short films that are very, very dark and not politically correct. In the time we are living in now, with Twitter and Instagram arbitrarily canceling accounts they deem inappropriate, as an artist, I won't give in to the fear of offending someone. I spend a lot of time on social media, out of necessity, and when I see how terrified people are of saying anything "wrong" and the disclaimers that they put in their posts, I feel very sad that this is where we are in society.
What got you into acting in the first place, and did you receive any formal training on the subject?
When I was six years old my father took me to see the original Planet of the Apes. As terrified as I was, that was the moment I knew what I wanted. Unfortunately, due to my childhood trauma, I was simply unable to start my dream until I was forty-six. Because of that, my goal was to say yes to virtually every project that I could and as a result, I have had enormous experience. It almost was like I had to catch up.
Every time I book a role, I can't wait to feel who the character is.
I have trained with many coaches, casting directors and directors.
What can you tell us about your filmwork prior to Mute?
I have had a lot of experience doing independent features and shorts, and done some television.
How would you describe yourself as an actor, and some of your techniques to bring your characters to life?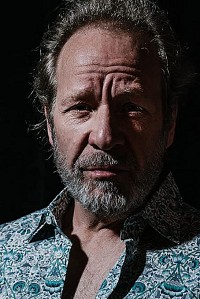 Feeling lucky ?
Want to
search
any of my partnershops yourself
for more, better results ?

The links below
will take you
just there!!!


People always tell me how easy I am to work with on set. I think that's because my fundamental desire is to entertain people. No matter what role I play I want them to feel something after watching me. I really love playing characters who are riddled with angst and pain and using my eyes to reveal the vulnerability of an otherwise powerful man.
I keep everything simple, so as an actor, I feel who I believe the character is and leave it at that.
Actors (and indeed actresses) who inspire you?
Clint Eastwood, Tom Hanks, Denzel Washington, Gal Gadot, Margot Robbie, and Natalie Portman. Dwayne Johnston is, for me, an incredibly intelligent entertainer. He gets that this is a business and I have great respect for that.
Your favourite movies?
Jaws, Saturday Night Fever, Avatar, Cast Away, Deadpool, Roma, and The Irishman.
... and of course, films you really deplore?
I don't process from that place. Even before I started acting I always understood that they are just movies, so I have never hated any specific one that badly. I always have a quote from Steven Spielberg in the back of my mind that no matter what it is, it must be entertaining.
Your website, social media, whatever else?
https://www.facebook.com/andrew.bee.690/
https://www.instagram.com/aandrewbee/
https://www.linkedin.com/in/andrewbee1/
https://twitter.com/andrewbee10
Anything else you're dying to mention and I have merely forgotten to ask?
I very much appreciate this interview, thank you!
Thanks for the interview!