Your new movie Glasshouse - in a few words, what is it about, and what can you tell us about your character in it?
It's about a family that has somehow survived the end of the world and have been living in complete isolation to keep themselves safe from the dangers outside. We meet the family when a stranger is introduced into the household and we get to see how that affects the family dynamic and what it means for all of their futures. My character is Evie, younger sister to Bee. Evie is extremely guarded for her age and very protective over her family. She doesn't trust the stranger and only wants her family to be safe. She carries a lot of guilt and uses her memory of past events to keep her grounded so that she doesn't lose herself like her sister has. She steps up and does what needs to be done.
What did you draw upon to bring your character to life, and how much Anja Taljaard can we actually find in Evie?
I definitely relate to many of Evie's qualities. She's very affectionate, protective and motherly, but she also tends to be quite distrustful of the unknown and doesn't let people in easily, whether it be for the sake of them being a danger, being disappointed by them or vice versa. That's always my first way into a character. I find the similarities and work from there.
How did you get involved with the project in the first place?
My agent contacted me on a Wednesday morning asking if I could get a self tape in for an important project by the end of the next day. Apparently they had been struggling to cast some of their leads and were under a bit of pressure. I cancelled everything and started working on it that night. By the end of the Thursday my tapes were in and the rest was history. I know director Kelsey Egan and writer Emma Lungiswa De Wet were pretty extensive in their search for these characters and gave so many young actors a chance to audition for this which I'm so grateful for.
What were your first thoughts when reading the script, and to what extent could you identify with the movie's approach to the end of the world?
I was absolutely engrossed. Loved it from the very first moment. I thought it was incredibly unique and unlike most of the films that exist within this/these genres. What I love about the world is how real it is. Although visually beautiful, it's not fancy or made to be anything other than what it truly is. Surviving an apocalypse and fighting to survive every day is hard, and it shows you exactly what they need to do in order to do that. It's also incredibly character driven and you get to see and experience every bit of pain, frustration, fear and love that exist between these characters. It's about all of them. It's beautiful but incredibly painful at the same time.
Do talk about Glasshouse's director Kelsey Egan, and what was your collaboration like?
Kelsey is amazing. She's an actor herself so she understands our process. She knows how to take what you're giving her and how to mould that into her final vision. She's an all round beautiful human being.
A few words about the shoot as such, and the on-set atmosphere?
We were pretty focused most of the time. We only had a set amount of time to get the film done, and shooting right in the middle of Covid and in a Covid hotspot was quite stressful. I think because of that extra pressure it really allowed us to stay in the world and create the best possible project that we could have.
Any future projects you'd like to share?
Nothing much at the moment. Just a a couple of smaller things, but fingers crossed.
What got you into acting in the first place, and did you receive any formal training on the subject?
I always loved the idea of acting but never had the courage to try and give it an actual go until I got to grade 9. It was school holidays and there was a little acting workshop happening at a local acting school called The Stage Performing Arts School and Theatre, and my mom encouraged me to go try it out for fun. Little did I know that that would be where it all started. I continued doing extra mural drama and singing lessons there until the end of high school. In 2015 I started studying my Bachelor of Arts Degree in Acting for Film at City Varsity Cape Town and graduated in 2017. Been working full time in the industry as an actress, voice artist and singer ever since then.
What can you tell us about your filmwork prior to Glasshouse?
Well, in 2015 I was lucky to have been chosen for a lead role in a South African feature film called Double Echo before I'd even started studying my degree (thanks to my amazing agents at APM). That was of course such an amazing learning experience for me and I felt super privileged. Then in 2017 I acted in another South African feature film called The Wrong Side of the Day that was written and directed by my 3rd year Acting for Film lecturer Riaz Solker, who is also an amazing South African actor, writer and director. Then in 2018 I was lucky enough to travel to the Island of Mauritius to shoot in three different feature films that were being shot back to back. Two of them are actually available on Netflix and their names are Camp Getaway and The House on Seahorse Bay. They are fun coming-of-age films that were directed by the incredibly talented Daniel Buckland. And then in 2020 I was lucky enough to play the small role of Renee in the new release Redeeming Love, which is based on the incredibly well known novel by Francine Rivers.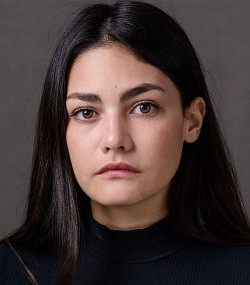 How would you describe yourself as an actress, and some of your techniques to bring your characters to life?
Well I do love working with emotion memory, but I am very open to trying new techniques and always looking to explore new ways of getting into character as well as getting to know my characters. I wouldn't say I have a specific style just yet. At this moment I'm still young and trying to soak up as much as I can and learn from those around me.
Actresses (and indeed actors) who inspire you?
There are way too many to mention. I have always loved Johnny Depp and how he's able to bring such interesting characters to life. Getting to work with him one day would be amazing, or even just getting to be a fly on the wall on a set he's working on. An actress that I have really admired as of late for her work in films such a Little Women and Midsommar is Florence Pugh. Absolutely love the way she's able to convey emotion and can watch her for hours. Sandra Bullock has always always been one of my favourites. Helena Bonham Carter is absolutely mind blowing don't even get me started on her. There's literally too many to mention.
Your favourite movies?
Midsommar, The Shining, Harry Potter (all of them), The Notebook, Pirates of the Caribbean, Pride and Prejudice, Sweeney Todd, Les Misérables, The Fault in Our Stars, The Abyss, A.I., Dune... once again, way too many to mention.
... and of course, films you really deplore?
Nothing really comes to mind. There's definitely some films that have disappointed me but nothing worth mentioning.
Your website, social media, whatever else?

Feeling lucky ?
Want to
search
any of my partnershops yourself
for more, better results ?

The links below
will take you
just there!!!


Haha, I'm not the best with social media but my Instagram handle is @_anjataljaard for anyone who is interested and if they want to know more about anything I've acted in they are more than welcome to have a look at my IMDb @ https://www.imdb.com/name/nm9288757/
Anything else you're dying to mention and I have merely forgotten to ask?
None that I can think of. But thank you so much for all the questions. It's been a pleasure answering them and I hope all my answers have been sufficient haha. All the best :D
Thanks for the interview!