Your new movie It Be an Evil Moon - in a few words, what is it about?
A dude transforms into a werewolf.
With It Be an Evil Moon essentially being a(n almost-)werewolf movie, is that a genre especially dear to you, and some of your genre favourites?
I normally go for sci-fi/fantasy films.
(Other) sources of inspiration when writing It Be an Evil Moon?
I wanted to write a film about transformation and am also very interested in the human relationship with nature. Cronenberg's The Fly was an influence on It Be an Evil Moon, I just really liked the subtext in this film and the slow transformation. Another film I loved at the time of writing was Ali Abbasi's Boarder. This inspired me to make a modern-day folklore film.
Do talk about the effects work in It Be an Evil Moon for a bit!
This process was a big part of this film and Jodie Storey (the prosthetics designer) worked for three months in pre-production designing and making the prosthetics, around half the crew listed in the credits were in the makeup department.
What can you tell us about It Be an Evil Moon's approach to horror?
Making a horror film is a lot of fun. We opted for an approach that allows the viewers to imagine most of the violence rather than an all-out gore fest. Plenty of other films do this so we wanted to focus more on the characters. The horror elements were a nice way to add darkness to the mix.
You of course also have to talk about It Be an Evil Moon brand of humour for a bit!
Hmmm… well, the film wasn't originally written as a comedy. It has comedic moments but it's not straight jokes and never meant to be a laugh-out-loud thing. I wasn't sure if anyone would get the humour in the film as it is a bit medium dry. I expect for a lot of people, it just flies over the head like an evil bat or something…
A few words about your overall directorial approach to your story at hand?
One thing that I wanted to do with this film is not explain anything. I prefer to leave as much as possible up to the viewer's imagination. The answers are all there, but not openly in dialog and open to interpretation - maybe this was a mistake, I think in my next film I'll tone this down a bit. Wouldn't want to dumb it down too much for the masses but the objective was to entertain, not confuse, so next time I will split the difference.
You're also written the score for It Be an Evil Moon - now how did you go about that, and what can you tell us about its musical style and influences?
Yeah, I enjoyed making the music for this. The idea was that the music transformed along with the film. In the beginning, I purposely left it empty, void of emotion as the transformation starts, electronic (sci-fi) music is used and when the horror starts - doom metal is introduced. When the film moves into the wilderness the music is more organic, using instruments such as the Northumbrian Pipes and orchestral instruments like cello, violin and french horns. The soundtrack album is getting released on Ciao Ketchup Recordings on Christmas Day 2023.
Do talk about It Be an Evil Moon's cast, and why exactly these people?
I enjoy big, eccentric characters and generally went for the nutters. We advertised for the roles on a website called Mandy and were surprised by how many people applied. The lead part for Freddy had over one thousand people applying for the role! I originally wanted to cast Freddy as a Scotsman, but I said Scottish accent in the advert. Out of all the replies Ian Ray-White was the only person to send a self-tape (not needed or requested). It was him in his bathroom doing a monologue from Macbeth! I think it was to show his Scottish accent. This performance was incredible… I then found out that he had directed a film called Planet Of The Baybes. I watched the film and honestly I have never seen anything like it, it was released in 2014 filmed on a camcorder and has millions of views on YouTube. It's a sci-fi musical filmed in Yorkshire. I loved it. About 30 minutes into the film, I paused it and messaged Ian to offer him the part.
What can you tell us about the shoot as such, and the on-set atmosphere?
As in most film crews, it feels like a weird family after a few days. Most of the crew had worked together before and we are all friends. In the highlands, we were cruelly forced to use the local pubs as catering, a lot of the production budget went on beer, fine wine and fish'n'chips so the atmosphere was slightly rock'n'roll I guess. The barman at The Chicken and Goose hates us for sure.
Anything you can tell us about audience and critical reception of It Be an Evil Moon?
The film premiered at the Dead Northern Film Festival in York on the 1st Oct. It was great to see it in a cinema and enjoyed watching people's reactions. Horror fans are great, the people who go to film festivals are genuine film fans, and it was great to chat with everyone after. I'm grateful to anyone who spends the time to watch the film and even more so if they take the time to write a review. Even if it's a bad review, still appreciate it. Most reviews have been positive, most of the negative ones I kind of agree with.
Any future projects you'd like to share?
I've just started preproduction on my next film - it's called The Bones Of St Cuthbert. It is a sword and sorcery film set five years after the fall of Camelot.
What got you into filmmaking in the first place, and did you receive any formal training on the subject?
Well... I made my first short film at 14 years old, in 1991 on VHS. It was called James in Jeopardy. In those days filmmaking was a hard thing to get into. Real film (35mm or 16mm) is very expensive, to make a film in the 90s you needed serious cash. I ended up becoming a musician instead, moving to London and playing guitar in bands. I got into Super 8 in my 20s making some very strange short films and also making music videos for bands. In 2017 I bought a Black Magic cinema camera and started making short films as a hobby, but It was really during the 2020 lockdown that I decided to move into the film industry full-time. I spent the time watching around six hours a day of YouTube tutorials on filmmaking - everything from scriptwriting to cinematography to acting. In 2021 I started working as a sound mixer and boom op as I realised that I needed to get some on-set experience. This experience I found was so much more beneficial than film school or YouTube could have ever given me. I've had the privilege to work with some great directors, DPs, actors and gaffers - they taught me a lot.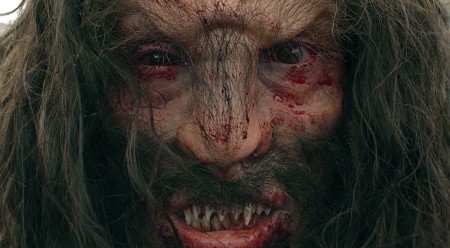 What can you tell us about your filmwork prior to It Be an Evil Moon?
It Be an Evil Moon is my first feature as a director, I think it was around 10 short films I had done before.
How would you describe yourself as a director?
I tend to let people do their jobs. I would never feed actors lines or even let them know how I think the part should be played. Same with the crew, if I don't like something I would let them know, but if you trust people and give them the creative input they want then the results I believe end up better.
Filmmakers who inspire you?
Werner Herzog is a big inspiration to me, I don't like all his films but Aguirre, the Wrath of God changed my life. I watch it at least 3 times a year. Terry Gilliam I also really admire. The Time Bandits, Brazil and Baron Munchausen trilogy is like another world, no one else could have done these films. Both these directors are uncompromising and clearly strive to do something different, something that no one has done before. This I think is important.
Your favourite movies?
So many, but my all-time favourites are Hawk The Slayer, Gremlins 2 and The Holy Grail.
... and of course, films you really deplore?

Feeling lucky ?
Want to
search
any of my partnershops yourself
for more, better results ?

The links below
will take you
just there!!!


I don't enjoy the Marvel or Disney stuff made in the last 10 years or superhero films in general.
Your/your movie's website, social media, whatever else?
Youtube: https://www.youtube.com/@medusamediaproductions
Facebook: https://www.facebook.com/itbeanevilmoon
Instagram: https://www.instagram.com/medusamediaproductions
Twitter: https://twitter.com/ItBeAnEvilMoon
Anything else you're dying to mention and I have merely forgotten to ask?
My God, is this interview never going to end! Lol!
Thanks for the interview!