Your new movie Evolution War - in a few words, what is it about, and what can you tell us about your character in it?
Well, (re)Search My Trash, since you and your readers are getting some of the first "skinny" on Evolution War, I want to be careful not to spoiler alert the project LOL! I think the audience will be quite surprised and pleased by some of the reveals that will present themselves when the film is released! The basic summary that I know I can share is… "Upon returning from a devastating war, a disgraced war criminal is forced to raise an army of machines to battle mysterious creatures taking over the earth." I play SC-4, which is quite a different character from what I am typically offered, and one of the components that inspired me to work on this project (besides Neil Johnson [Neil Johnson interview - click here] and Tracey Birdsall [Tracey Birdsall interview - click here]). SC-4 was created by Angel-D to assist her in battle and fighting for survival. The audience will discover a "few" very cool things about SC-4 (pun intended!), but again, not until the film is released!
What did you draw upon to bring your character to life, and how much of Brooke Lewis can we find in SC-4?
SC-4 was such a colorful role to play. Let's just say that SC-4 has many "sides" to her character and I do as well. I genuinely believe, as humans, we all do! And Neil Johnson was very clear in his direction that SC-4 has real, human behaviors. He was also clear about allowing SC-4 to be vulnerable, when she feels as such, and strong and direct, when she feels as such… that is very much me! I was also able to draw upon characteristics I aspire and commit to in my every day life… loyalty, conviction for what I believe in and protecting those I love! I am very empathic and I FEEL others' pain. Again, I know I can't reveal too much, but you will see this in the film. For this role, and all roles I am blessed to play, I do some sense memory work, when possible, and I remember feeling so much sadness during one specific line about the world belonging to another kind, and drawing from how I often feel when using social media these days… like truth and true intimacy do not exist anymore, and the world belongs to technology now. I draw from real emotions in my life that will transfer soundly to the art.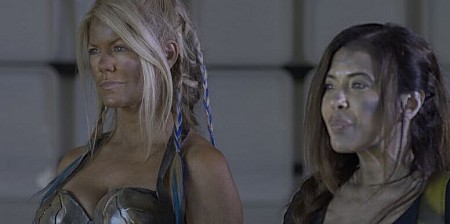 with Tracey Birdsall
How did you get involved with the project in the first place?
I was fortunate to act in three prior films that the sci-fi genius, Neil Johnson [Neil Johnson interview - click here] , wrote and directed years ago. Then, Neil introduced me to the stunning Tracey Birdsall [Tracey Birdsall interview - click here] at our Starship: Rising movie premiere in 2014. Neil and Tracey went on to create sci-fi movie magic together, while we all remained in contact. They were gracious to invite me to the Rogue Warrior: Robot Fighter premiere and I was so impressed with their film that I expressed how much I would love to work with them on a future film. Neil and I reunited on a FromPage2Screen podcast in April, and he soon surprised me with an offer to play SC-4 in Evolution War! Talk about some sci-fi synergy! But, Neil and Tracey swore me to secrecy for a bit of time. LOL!
To what extent can you actually identify with Evolution War's science fiction content, and is that a genre at all dear to you?
To be honest, I loved Star Wars, but I came up much more in the horror genre, as an actress. Then, I seemed to do a few films that naturally crossed over into the sci-fi genre, but working with Neil Johnson years ago, really taught me about real science fiction and brought it near and dear to me. I will get into detail about that in the next question, but to answer the former part of this one, I can completely identify with Evolution War's content. Again, I had to read the script three times to fully comprehend it, as it is very sophisticated and futuristic, so it is not typical language and dialogue I read every day. However, I do identify with war and challenges and survival and fighting for things I believe in… I mean, I do live in the United States and Hollywood, after all! LOL!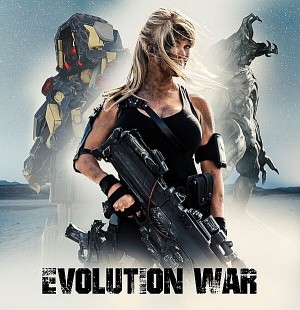 What can you tell us about your director Neil Johnson [Neil Johnson interview - click here], and what was your collaboration with him like? And since this wasn't the first film you did with the man, what can you tell us about your previous collaborations, and how did you two first meet even?
Funny story, as Neil and I met when I was appearing as a guest at a horror convention nine years ago. Neil, being the generous friend he is, stopped by to drop off cold medicine to a veteran sci-fi actress he had worked with. We were introduced by the convention producer, as he, kindly, recommended me to Neil as an actress for any future films I might be right for. We bonded on professionalism and soon formed a fast friendship and working relationship. I learned quickly that Neil is a true friend and one of the coolest sci-fi "geeks" you will ever meet! LOL! Of course, I say that with respect and admiration, as I have never met anyone who knows the sci-fi genre and the art of sci-fi filmmaking like Neil does! Reading one of Neil Johnson's sci-fi scripts and acting in his films, is like doing Shakespeare! I am not kidding! When I arrived on the set of Starship: Rising and Starship: Apocalypse with some serious sci-fi veterans, I was nervous as hell! It was like a whole new language and form of film expression for me. But, Neil is so chill and always made me feel comfortable on set. He truly knows how to write and direct for WOMEN! It's AMAZING! He knows exactly how to deal with your insecurities and weaker areas, both in production and post-production. I will reveal, that when I arrived onto the Evolution War set, Tracey shared with me that Neil has grown so much as a director since the Starship series, and that he has gotten a lot tougher about capturing the exact performance he wants from you! I was so nervous and excited at the same time, as it had been over five years since we had worked together. I completely agree with Tracey, and I am more confident than ever that Neil is a genius at what he does and what he is able to ignite in his actors!
Do talk about the shoot as such, and the on-set atmosphere?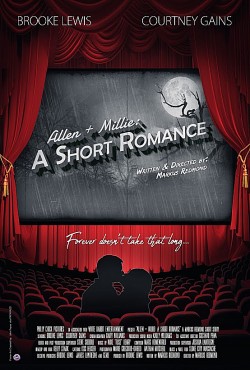 I swear to you, I really believe both Neil Johnson [Neil Johnson interview - click here] and Tracey Birdsall [Tracey Birdsall interview - click here] are A.I. (Artificial Intelligence) from another planet!!! LOL! I have never personally met two humans who know and understand science fiction and the art of creating a sci-fi film like these two! It is fascinating to watch Neil, Tracey and their crew tackle science and subjects that most people would never comprehend. From science to history to the dialogue and language, they have an extreme knowledge of science fiction, that I have to read and research five times to comprehend. Also, the film magic this team can pull off with a respectable crew, would require other productions to hire an army! This crew knows EXACTLY what they want and how to get it! Now, friendships aside, Neil and Tracey both "kicked my butt with tough love" to get the best performance possible from me… and, I loved every minute of it! This was the first time Tracey and I got to act opposite one another and she is very talented, so there are like two scenes where we challenge each other in character and Neil directed us to "go for it" and I could feel the "actor vibration" elevate to new heights! We all discussed it when we finished filming and agreed how fulfilling it is to work with true professionals!
Any future projects you'd like to share?
Unfortunately, no spoiler alerts allowed yet for a few cool future horror films I am attached to, but I will share that two are very vampire-licious, so you know they are "up my dark alley" LOL! 2018 has proven to be another awesome year, thus far! We have hit the ground running at the festivals and awards circuit with our recent award-winning short film Allen + Millie: A Short Romance, written and directed by Markus Redmond (Fight Club) and starring film icon Courtney Gains (Children of the Corn) and I. I am also happy to share another sweet short film, Rotting Love, that was written and directed by Dave Reda ("Zombie Dave") and stars Dave and myself. This is a horror romcom with a "battle of the sexes" theme and we were recently chosen as an Official Selection for the Dances With Films Film Festival 2018.
What got you into acting in the first place, and did you receive any formal training on the subject?
I was such an emotional and sensitive child that I was destined to do this! I loved TV and movies as a little girl and used to talk to the TV and characters and pretend I was on the show with them and improv. I was singing and dancing from a young age, which led me into musical theatre in Philadelphia, and to start taking classes at the Walnut Street Theatre School. I then moved to New York and took classes to experience several different acting techniques, including Meisner, Stella Adler, and Strasberg. However, I have to admit, I feel I learned the most from my private acting coach, Anthony Abeson. Anthony only accepted "working" actors in New York and when I booked Tony n' Tina's Wedding, I was accepted into his coaching program. My next great teacher did not come until several years after living in Los Angeles, and that was the terrific Tim Phillips.
Over the years, you've popped up time and again as your vampire alter ego Ms. Vampy - so I guess you'll just have to talk about that character and its creation for a bit!
You know Ms. Vampy appreciates you asking and sends love bites! She is always up to something, so I will share her latest update… "In 2017, Outskirts Press announced the release of Ms. Vampy's Teen Tawk: There's A Lotta Power In Ya Choices, featuring America's funniest, most high-maintenance Vampire! The book follows author and producer Brooke Lewis' hit web series Ms. Vampy in 2009, and the award-winning TV pilot Ms. Vampy's Tween Tawk, Teen Tawk & In Between Tawk in 2011. The Ms. Vampy's Tween Tawk, Teen Tawk & In Between Tawk series and the book are designed to inspire tween and teen girls, and address issues that girls face today, including body image, inner beauty, self-esteem, making powerful choices, dating and relationships, bullying, facing fears, following their dreams, and, most importantly, being themselves! The protagonist of the series, Ms. Vampy, is a lovable vampiress from Brooklyn, with a personality as big as her hair. She wears pleather and fur and wouldn't be caught dead (so to speak) without high heels! But there's much more to this sassy, straight-"tawking" character than meets the eye... This is a 100-year-old vampiress with an attitude, an accent - and a mission. "Do you know how many teen girls struggle with the courage to make the right choices and find their own voice? My mission is to empower girls to be courageous, so they can make the right choices and find their own voice," Ms. Vampy explains to her teen audience. "At any time, you have the power to start over and feel differently, think differently, dress differently and be different. Be You - And, Be Fearless - and don't forget to Vamp It Out!"– Ms. Vampy.
Other past films of yours you'd like to talk about?
I actually started in theatre, and got my first "break" in the New York Off-Broadway comedy Tony n' Tina's Wedding, then went on to do TV sitcoms like Quintuplets and Mafiosa, then acted in mobster dramas like Pride & Loyalty and Sinatra Club, then broke out in the horror genre with films like Kinky Killers, iMurders and Slime City Massacre, earning the title of a "Scream Queen", then was fortunate to be exposed to, and act in, sci-fi films Starship: Rising (directed by the brilliant Neil Johnson [Neil Johnson interview - click here]) and The Mourning… leading to this fantastic Evolution War!
How would you describe yourself as an actress, and some of your techniques to bring your characters to life?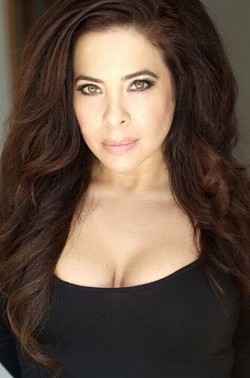 The first word that comes to mind is "insecure", then… not trusting my instincts enough! Truth! This is something I shared very openly with Tracey on set and she gave me good advice. Yet, somehow, I know when I do trust my instincts, I am able to deliver a solid performance. I truly, truly believe that the talent begins with the writing and the script! It is all right there on the page, as the writer intended it, so, if you have the tools to get creative with this, you are in business! I was trained with the Stella Adler and Meisner techniques in New York, so I break down the script and character with the old "Magic If", then, after studying with Tim Phillips for years in Los Angeles, I started using his "detective" technique to find "clues" and see pictures in each written piece. Sometimes, I question if I am "doing" too much, because we actors KNOW when we are so "in the moment" and it is so "real", that we feel like we are having an "out of body experience". Those moments are rare, but they are cherished!!!
Actresses (and indeed actors) who inspire you?
Well, Tracey Birdsall [Tracey Birdsall interview - click here] and Marilyn Ghigliotti [Marilyn Ghigliotti interview - click here], of course! J Honestly, I think they are both very talented actresses and a joy to watch. My forever actress, icon obsessions are Elizabeth Taylor and Mae West [Mae West bio - click here]. These powerhouse women inspired me both on and off screen, as they made a real difference in Hollywood! Currently, I am in awe of Melissa Leo and Viola Davis! As far as actor inspirations, I have always admired Robert De Niro, Denzel Washington and Marlon Brando… or, pretty much any actor from The Godfather.
Your favourite movies?
I have so many, your readers would be here all day! If I had to choose, I would say The Godfather, I mean come on, I'm Italian! Goodfellas, Pretty Woman, The Notebook, cause I'm a romantic sucker, and I'm going to say Swingers, as far as indie.
... and of course, films you really deplore?
I would not say I "deplore" many films, as I feel we can find art somewhere in most. However, I am starting to be quite disappointed with the oversaturation of indie micro-budget films that are being released, where the final product actually LOOKS like the film was made for no money. I am watching more and more films with awful sound issues and no color grading, and it saddens me!
Your website, Facebook, whatever else?
I am so grateful to have loyal fans and ways to communicate with them. I have a Facebook fan page, Twitter and Instagram. Please follow me @BrookeLewisLA @brookelewisla. You can also catch the latest "Brooke Lewis" at:
https://www.imdb.com/name/nm0506989/
https://beyouandbefearlesslifecoach.com/

Feeling lucky ?
Want to
search
any of my partnershops yourself
for more, better results ?

The links below
will take you
just there!!!


Anything else you're dying to mention and I have merely forgotten to ask?
I would love to share that I am a proud philanthropist. I have worked with, and supported, many breast cancer charities over the years, including Busted Foundation and Babes For Boobs, volunteer for the Los Angeles Mission to feed the homeless on skid row, and am honored to be a Celebrity Ambassador for Breaking The Chains Foundation, supporting eating disorders and body image through the arts.
Thanks for the interview!
You are so welcome! And, more importantly, thank you to (re)Search My Trash for taking the time to create this interview, and to Tracey and Neil for including me in this wonderful film!
XO Brooke Lewis