Your new movie Dante's Shadow of Sin - in a few words, what is it about?
Dante's Shadow of Sin - my latest cinematic opus - is a nightmare embossed onto film, chronicling the reunion of two nihilists (Dante & Mahogany) as they converge upon their old 'vacation house', a place where several terrible events have taken place, and it's here that the two of them intend to settle an old score, and in the process, destroy each other and everyone around them, as a dark and suffocating force permeates the atmosphere.
What were your sources of inspiration when writing Dante's Shadow of Sin?
The genesis of Dante's Shadow of Sin actually came about May this year (2021), after I reconnected with my friend/long time actor Fred Epstein, after he'd relocated and moved very close to where I live - which obviously turned out to be quite advantageous in regards to how we filmed Dante's Shadow of Sin. Upon visiting Fred's new house in southeast Denver, I discovered that his new home was large, empty and dark, with an inherent lack of windows or natural lighting. I was immediately inspired to utilize his new location and base a film around it. My initial reaction was to create a noir-style chamber play of sorts. I wanted to create a film identical to The Old Dark House (1932), yet at the same time, I knew that the film I was going to bring to the screen would be fundamentally nihilistic and adhere to my signature thematic style. Once the basic idea for the film was conceived, the script was effortlessly written. Production and principal photography began in late May of this year and concluded in early October.
Dante's Shadow of Sin paints a very nihilistic and immoral world - so how do you even get into the right mindset to write something like this?
From the standpoint of a writer, I find that I inherently have the ability to create misanthropic characters and adopt the nihilistic mindset necessary to bring my films and overall vision to the screen. Additionally (and as equally important) is that I must establish the proper nightmarish and nauseating atmosphere, to accompany and amplify the nihilistic world and characters I am creating.
Do talk about your movie's approach to horror?
As I've stated several times throughout my career, I have an affinity for classic, black-and white horror films such as I Bury The Living, The Old Dark House, Nosferatu, At Midnight I'll take Your Soul, and The Cabinet of Dr. Caligari, among others. Obviously, Dante's Shadow of Sin is not a black-and white film, but regardless, the film contains many elements that permeate classical horror films, including the utilization of lighting, shadows and heavy emphasis on atmosphere. Additionally, as a mean of establishing atmosphere, I have a tendency to let my camera focus on bizzare items, such as grotesque dolls, figurines, and/or insects, etc, etc. This technique is becoming increasingly prevalent in my cinematic work, and I find it to be absolutely integral in helping establish a pervading sense of unease.
What can you tell us about your overall directorial approach to your story at hand?
From a writing standpoint, my objective was to create a chamber-play type situation- in this case, it would be two nihilists (Dante and Mahogany) reuniting and converging upon their old vacation house, to finally settle an old score with one another. While this premise/story could've been written with a simple, standardized approach, I assiduously crafted the script to be multifaceted, and full of symbolism. Despite the fact that I imbued a sense of ambiguity into the film and characters, I can clarify that the major themes permeating the film are obviously nihilism, retribution, hatred, occultism, over-indulgence in a variety of substances, and an outright disdain towards humanity that manifests itself throughout the film literally and figuratively.
During the writing process for the film, I unintentionally created a backstory/universe for Dante and Mahogany that is vast, and full of dark secrets that only I myself - the writer - and the film's two protagonists are aware of. In Dante's Shadow of Sin there are many instances where the characters' secrets are suggested throughout the course of the film, and if the viewer is aware of this, then they may have the ability to put all of the obvious clues together and formulate their own interpretation into Dante and Mahogany's backstory.
In regards to my directorial approach, I made great efforts to be as faithful to my script as possible, and as a result, there were no liberties with dialogue whatsoever. As a result, everything from the script was translated to the screen just as I had written it. As stated before, I was striving to create a nihilistic and utterly repellent atmosphere, and I utilized a variety of tactics to achieve this including, lighting, imagery and sound design. It must be stated that a great amount of time was allocated to the post production process, which is where I purposefully dirtied the footage, and created the soundscapes which constantly permeate the film and bolster the sinister atmosphere and imagery.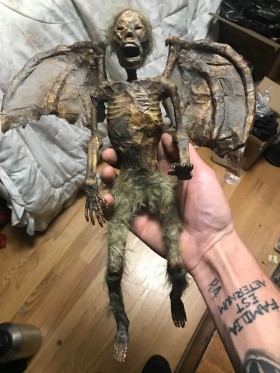 In regards to how the film was shot, I filmed Dante's Shadow of Sin with my Sony Canon Vixia - the same camera I've used consecutively for my past four films. The only difference this time around was that I equipped my camera with a brand new lens, as a means of sharpening the image quality of my camera.
You also play the lead character in Dante's Shadow of Sin - so what did you draw upon to bring him to life, how much Dakota Ray can we find in Dante, and have you written him with yourself in mind from the get-go?
There was absolutely no one but me who would be playing Dante, primarily because I designed the character specifically for myself. Eight films into my carrer, It's becoming increasingly clear to me that I enjoy being in front of the camera just as much as I do working behind it. Playing Dante and getting to interact with actor Fred Epstein (Mahogany) on screen was (as always) an absolute pleasure.
An additional incentive for me to play the titular role in the film is that from a directorial standpoint, I know precisely what I want out of a performance from an actor, and since I am the director as well as the main actor, it's infinitely more effective from an executional standpoint for me fulfill both roles, as opposed to trying to siphon my vision of a character through another actor. In regards to how much of myself I put into the character, the only element of myself I imbued the character of Dante with is a passion for Absinthe. As an Absinthe connoisseur, I consume it on a daily basis, and immensely enjoy trying new brands and acquiring bottles of it from all over the world. I will openly admit that Absinthe is one of the few passions of mine that actually rivals my love of filmmaking. Some of the bottles of Absinthe featured in the film that Dante drinks on screen are ones that I drink on a regular basis, while some other ones shown (such as the Diable Verte) tend to be more obscure and displayed in the film primarily because of the artwork/imagery displayed on the bottles.
What can you tell us about the rest of your cast, and why exactly these people?
Yes, there is my friend Fred Epstein. He was an extremely integral part of this film, and my oeuvre in general. Additionally - as I stated - it was his new home that gave me the source of inspiration to write this script. I can clarify that Fred did have an overarching presence in this film, both on- and off-screen. As a director, I feel that Fred has a style of acting that is all his own - no one can match his ability to embody the maniacal characters that I create. Aside from myself and Fred, there is Sholeh Behesht as Mahogany's slave. Sholeh Behesh is actually Fred's girlfriend in real life, and we were very fortunate that she was interested in our film and did such a sublime job of playing the small (yet integral) role in the film. And finally there is Mrs. Maddison, who played Mahogany's Grandma. Not much can be said regarding Mrs. Maddison, other than the fact that she is an acquaintance of actor Fred Epstein.
Do talk about the shoot as such, and the on-set atmosphere!
The on-set atmosphere of Dante's Shadow of Sin was actually professional, focused, and devoid of any type of stress, strife or chaos. While myself, Fred and Sholeh Behesh did consume Absinthe during our filming sessions, it was in no way identical to the full blown chaotic party atmosphere of Sebastian's Unholy Flesh or The Acid Sorcerer.
As I stated before, Fred now lives very close to me, and as a result, we were able to shoot this film at an expeditious rate.
The $64-question of course, where can Dante's Shadow of Sin be seen?
As always, I strive to make my films as accessible as possible.Dante's Shadow of Sin (along with all of my other films) can be viewed on YouTube for free. DVD's of the film are also available for those in favor of physical releases @ https://www.storenvy.com/stores/868254-dakota-ray-r-a-productions
Anything you can tell us about audience and critical reception of Dante's Shadow of Sin?
As always, I only make films for me, and for my own enjoyment - which only makes it all of the more pleasing for me when viewers resonate with my work. In regards to the reaction that Dante's Shadow of Sin has received, the majority of the feedback - both from viewers and critics alike - has been extremely positive. As a matter of fact some have declared Dante's Shadow of Sin to be 'my best film yet'.
Any future projects you'd like to share?
As of right now, I am taking the rest of the year off as a means of artistically rejuvenating. However, I do have some ideas for my next film, and as always, I am looking forward to seeing what will materialize in regards to my future cinematic endeavours.
Your/your movie's website, social media, whatever else?

Feeling lucky ?
Want to
search
any of my partnershops yourself
for more, better results ?

The links below
will take you
just there!!!


The official Dakota Ray/R.A. Productions WordPress can be found @ https://dakotarayfilmmaker.wordpress.com - it extensively covers my films, and features a large photo gallery that spans my entire filmography/career. The WordPress site also contains several interviews I've done through the years as well.
My films are available physically @ https://www.storenvy.com/stores/868254-dakota-ray-r-a-productions
Official Dakota Ray/R.A. Productions Facebook page: https://www.facebook.com/dakotaraydirectoractorartistdenver/
Anything else you're dying to mention and I have merely forgotten to ask?
Yes! I would like to thank you for your consistent support over the years, and for not only reviewing my films-but for also giving me a platform to contextualize my work and provide additional insight into my films!
Thanks for the interview!