Your new movie House Monster - in a few words, what is it about?
A struggling actress stays inside to survive a global pandemic. Something follows her. Being alone is bad. Not being alone Ö is worse.
House Monster was filmed in the early days of the COVID-lockdown - so was this situation actually the prime inspiration for your movie, or did you have the concept as such in your drawer beforehands?
We were in pre-production for my movie Bae Wolf when the pandemic hit. We delayed Bae Wolf. But I hate being idle. And Iíve always resolved to make a movie per year. So we looked at what we had -- a bunch of lonely, desperate cast and crew stuck in their homes with their phones and webcams -- and wrote a movie around those resources.
(Other) sources of inspiration when writing House Monster? And is any of it autobiorgaphical?
My inspiration is every horror movie or TV show that hints at the monster in the corner but only slowly reveals it. Jaws. The Haunting of Hill House. Blair Witch. We also drew inspiration from The Shining. The real horror, after all, is in our heroís head.
What can you tell us about your co-writer Bradley J. Petit, and what was your collaboration like?
Brad is a fiction-writer and a longtime collaborator of mine. Usually he acts in my movies. This time, he wrote some of the talkier scenes. We wrote House Monster while shooting it, trying to stay a few scenes ahead of production. Everyone was stressed out and the process was weird, so I really needed help. I edited Bradís pages to keep the tone and pacing consistent, but even so, I found that having his voice in there was healthy for the story. Itís not always a good idea for a writer-director to have sole and total control. Thatís how you wind up with M. Night Shyamalan movies that feel kind of Ö off.
As House Monster was filmed during lockdown - how did you even go about this logistically?
I had a loose outline and a script that came together at a rate of a few pages per day. We started shooting in March 2020, before the script was done, and wrapped in May. The process was: I found a day or two each week where actors were available. I found a scene that included those people and figured out a rough schedule. Day or night? I made sure that each actor had certain equipment: Webcams, sound recorders, lights, lenses for their phones. Then I wrote a long, detailed list of instructions. One step at a time, hereís what you need to do to set up your equipment and shots, hereís how you should block it, here are the lines and story beats you need to hit. The actors shot their own scenes, with me monitoring via text. They sent me the raw footage. We reshot if necessary, but usually I just made do. I then spent the next few days editing the previous scene while planning and writing for the next one. Overall, it was a messy process, but we got pretty good at it by the mid-way point. The big theater scenes, those we shot with a small crew at the very end of production, as COVID was waning somewhat.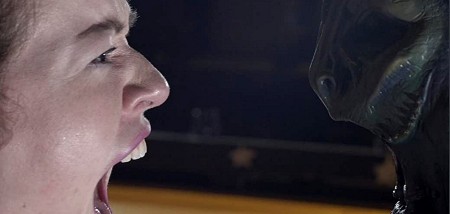 Do talk about your movie's approach to both horror and humour for a bit!
I love genre but I hate clichť. And more than anything, I hate one-dimensional monsters. Monsters are amazing creations. But in most movies, they have almost no character or motivation. Theyíre just Ö monstrous. Irrationally, unnaturally weird and mean. I always try to humanize my monsters. After all, every thinking being also has feelings. Desires. Fears. A lot of the humor in House Monster grows out of the monsterís surprising, but very human, behavior. The rest comes from Jennifer Hillís unhinged performance.
Do talk about House Monster's cast, and why exactly these people?
I cast people I knew were sitting at home, waiting out the pandemic. People who needed something to keep them moving forward during this scary isolation. Also, people I could trust to handle their own shots. Almost all of them -- Jennifer Hill, Mike Amason, Bradley J. Petit, Aaron Blomberg, Cleve Langdale -- were people I had worked with many times before.
A few words about the shoot as such, and the on-set atmosphere?
Overall, production was fun, even if it was pretty chaotic at times. More importantly, it gave us all a sense of purpose during a time of incredible despair. It was also an exercise in mutual trust. I had to trust my actors to handle technical aspects of filming that they werenít accustomed to. They had to trust me to glue together this weird movie in a way that made sense.
Anything you can tell us about audience and critical reception of House Monster?
Almost no one has seen it yet. Wild Eye releases it in mid-September. But our small test screenings were successful. We showed it to people who donít always like horror movies, and they responded positively. They all said they related to, and sympathized with, Jenniferís character. But letís be frank, House Monster is a small, weird movie. Weíre proud of it but weíre not pretending itís going to make anyone rich or famous. Itís a fun way to spend 70 minutes. Yes, I said 70 minutes. Itís short.
Any future projects you'd like to share?

Feeling lucky ?
Want to
search
any of my partnershops yourself
for more, better results ?

The links below
will take you
just there!!!


We finally managed to shoot Bae Wolf, my goofy Beowulf movie. Wild Eye should be releasing that next year.
Your/your movie's website, social media, whatever else?
Follow me on Twitter at @daxe.
You can order House Monster on Amazon: https://www.amazon.com/exec/obidos/ASIN/B0957J9YSF/
Thanks for the interview!