Your new movie How Dark They Prey - in a few words, what is it about?
Adam: It's an anthology about the beliefs and convictions people have and the darkness that they hold.
What were your sources of inspiration when writing How Dark They Prey?
Adam: A lot of found footage, really a blend of everything that I grew up watching as a kid and enjoyed seeing.
Jamison: Lovecraft, Carpenter and Rod Serling's Twilight Zone.
What prompted you to combine exactly these four segments into a feature, and where they shot for How Dark They Prey from the get-go or did they have individual lives as shorts before you made the anthology? And do you see some kind of common theme between the segments?
Adam: We had some of the stories already written for full features and we were looking for our next movie, getting into anthologies at the time. We wanted to put together one ourselves so we took some of the stories we had written and made them fit into 4 small pieces. The only additions were the intro and Nelly, those were the only things that were specifically new but we had already written down these stories and figured they needed a place to go.
Jamison: It was perfect because really Adam had two of the concepts I had the other two concepts, developed them together.
What can you tell us about the individual segments' approaches to horror?
Jamison: In a similar way to an episode of Rod Serling's classic ground-breaking television work with The Twilight Zone, we tried to capture the feeling, horror, and world of each story individually. Some rely on dialogue, others rely on action, all of them ask the audience to question their beliefs and use their own imagination and fears to fill in the rest. As Lovecraft stated, the greatest fear known to mankind is the fear of the unknown. We always return to that in our own storytelling and frankly, no one ever said it or did it much better than H.P. Lovecraft.
Do talk about your directorial approach to your stories at hand!
Jamison: Encounter Nightly needed someone who understood and loved the found footage film, that was Adam. Adam and his actors nailed the friendship of Trent "UFO" (Jeff Ronan) and Russ (Paul Pallotta). These actors were fantastic ,and Adam easily worked with them to get their relationship across. Paul was funny and Jeff had the depth and the edge we needed for Trent. Martha and Jeff, played by Kelsey Nichole Black and Dave Polgar were the perfect strange and unsettling couple, there are parts of them both that do not add up, they build the tension perfectly and twist the story further. I can speak more to my own directed parts.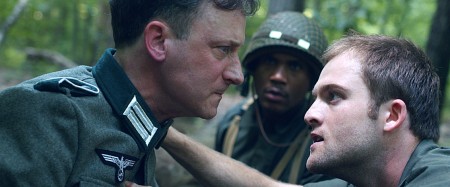 Harrowing needed blocking, nature, and an element of true and unpredictable "danger" in the performance of Private Lewis. James Reilly really nailed that, we discussed his character's private history and some of the unpredictably strong male performances in Elia Kazan's work. James needed both the talent and the technical acting skill to pull that off and he brought both. Private Davis, Samuel James Pygatt was a man of faith and his convictions needed to be clear and relatable, he had that charisma, that feeling of being innocent or wet behind the ears in the theatre of war, yet strong enough to carry a likable leading man role. Samuel was just so likable that his faith becomes like a magnet to him, you cannot look away and his power to command the moment and let the others then play around him and then over him is commendable and sign of a true performer committed to a piece. The Nazi character, played by Timothy Paul Jobe, was always to be a challenge to the viewer because he is the clearest image of evil in the film, the worst evil we can envision in a man. Yet Tim and I discussed that image and the man underneath it, a complicated man that lies beneath the uniform who fights for his family and country, fighting not for what is in front of him but for what is behind him. Tim brought that feeling to it and his tragedy is in his beliefs and how far they have led him away from his humanity, it is a highly effective performance.
Blood Beach had to reveal itself slowly and have the elements of Lovecraft we wanted. In Josiah Schneider as Kevin, we found a likable and immediately relatable young man who had the acting chops to unwind at the seams and lose his mind. In Leon, we found him in Marc Lubbers. We were looking for a Robert Shaw-like man who needed to be strong and manly, you needed to feel like he had seen so much more than could be expressed in words, yet appear to be warm and inviting. He needed to be a father and a guide. The danger of his character slowly starts creeping in over time. Marc did a great job nailing some of the harder beats of that, and his transition was flawless.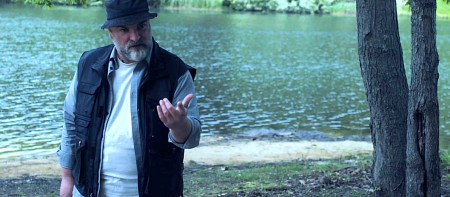 In Nelly, Alisha Speilmann had the daunting challenge of trying to fill in the shoes of Janet Leigh, or at least a character like Janet Leigh. Alisha not only delivered the elegance and the class but also her own unique charm, her comedic timing is also perfect, her dramatic moments are felt easily and with great sympathy. Her character is a bit morally off center and she makes it all feel (somehow) understandable. She was perfect for this film and another great find for such a small net that we cast out there for talent, ourselves. David Johnson rounds out the cast with a lovable and great performance as Officer Doles, almost every single blogger, podcaster, reviewer, friend, etc. we talk to laugh at and fall in love with Officer Doles. This cast deserves so much credit, they brought their own talents, did the readings, took the directing notes, studied the material, put their own spin on it, and came into the shoots ready to give it everything they had, work hard, make it come to life... and you feel that.
What was the collaboration between the two of you on this film actually like?
Jamison: We did everything!
Adam: Yeah...
What can you tell us about How Dark They Prey casts, and why exactly these people?
Adam: That is a good question. It was a pleasure to work with ALL of them because I think they can see this wasn't a production that would have a lot of soft cushions. A lot of it was in challenging environments but they were all very professional and willing to give the best that they could.
A few words about the shoots as such, and the on-set atmosphere?
Adam: It was relaxing besides the bugs in the forest!
Jamison: It was probably the calmest film to shoot and create from pre to post, hands down, also Blood Beach was like a day at the beach with great friends!
Anthing you can tell us about audience and critical reception of How Dark They Prey?
Jamison: Excellent! Excitement and buzz on it - here are just a few critic quotes so far!:
"Horror at its best" - Biffbampop.com
"LoCascio and Ambrosio have something to say in each one about human nature, especially how itís in our nature to want something, but when we get it, we arenít necessarily prepared for what happens next. Each segment throws us off-guard, which is exactly what good genre fare should do." - Sonic Cinema
"How Dark They Prey is an interesting series of horror tales, with a nice mixture of styles. 3/5 stars." - Movie Reviews 101
Any future projects you'd like to share?

Feeling lucky ?
Want to
search
any of my partnershops yourself
for more, better results ?

The links below
will take you
just there!!!


Jamison: We are already working on a new feature film screenplay that is for an idea we love, also a collection of short films to be released as a Volume One: Film Valor. In terms of our ongoing projects and work, you can check us out on YouTube, our channel is called Film Valor, everything we are working on winds up being discussed, posted, and sprung out from there. Just for fun - we create a popular series called Battle Royale that is getting a part 2 very very soon. It's bigger, more involved, more action, more elements brought in from both battle royale style video games and a galaxy far far away... and many unique and fun characters being added into the mix.
Your/your movie's website, social media, whatever else?
Jamison: The film releases officially on Prime Video September 15th, 2022! Here is the link:
https://www.amazon.com/exec/obidos/ASIN/B0B8LMTT17/
Anything else you're dying to mention and I've merely forgotten to ask?
Jamison: You got IT ALL Michael! Thanks from us all at Film Valor!
Thanks for the interview!