Your new movie Boys Behind Bars 2 - in a few words, what is it about?
It is a very controversial film looking at the corrupt life in a prison but done in a very exploitative way.
What were your inspirations when dreaming up the concept for Boys Behind Bars 2 - and to what extent was it influenced by the original Boys Behind Bars?
Grindhouse cinema and recapturing that classic filmmaking was the main inspirations for the concept. I grew up watching the good old trash films and still do. I was pleased with the raw style of filmmaking and exploitation cinema we caught in the first Boys Behind Bars film and wanted to carry that across to the sequel.
From what I've heard, most of Boys Behind Bars 2 was pretty much improvised on the spot - so how specific were your guidelines as to what's supposed to happen, and what are the advantages but also challenges of working that way?
We knew the basic plot outline. We knew how the film had to start & where it was going to end but how we got their was down to the mad characters to decide. Everyone was clear on who they were playing so for me I had the fun of watching these crazy events unwind. Working this way does allow for some real creativity to come out, and you can capture some pure fantastic scenarios & performances. It is quite high pressure for me as the only crew member who is self shooting making sure I capture all the characters and follow the story, and making sure we have what we need to move onto the next scene and set up. I am constantly thinking of the edit and how it will come together, so actually working this way makes post production more smooth and easier but the actual shooting is more of a challenge. I have to also light the set to allow me to have 360 degree movement as you never know where the cast are going next!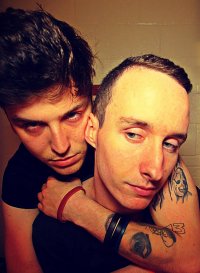 What can you tell us about your co-director, co-creator and star Wade Radford [Wade Radford interview - click here], and what was your collaboration like? And also do talk about your previous collaborations for a bit, and how did you two first hook up?
We first met at the beginning of 2012 when a friend of my mother's introduced us. I am a filmmaker who is always on the look-out for the next collaboration and it just so happens Wade had a script that he was searching for the right filmmaker to shoot. I am always up for a challenge and certainly do not shy away from controversial subjects which Wadeís script Jake, later to be known as Sex, Lies & Depravity, was full of! It had some new ground in it that I had not tackled before & I fancied taking on the challenge of telling the story of a mentally ill father who was struggling with his sexual identity, drug and alcohol abuse. It was a great first collaboration which has lead onto many more. Sex, Lies & Depravity was a very different film for me and in a way opened up some new doors in my filmmaking career which has lead to me making quite a variety of films, a lot that challenge society and deal with the darker issues in life.
Wade is a very fun guy to work with. He is full of passion and certainly has a lot and knows how to express himself. What I like about Wade is he is not afraid to try new things and take on very demanding and hard roles that most would run away from. He certainly is not scared of a challenge and welcomes the opportunity to throw himself deep in a new role.
With the collaboration of Sex, Lies & Depravity going so well it led us to do the sequel More Sex, Lies & Depravity that I really enjoyed. I went all out and pushed the film even further than the first. I managed to shoot the film I wanted to make with the first one and made it a stand alone sequel that both me & Wade were very proud of. I think the script he wrote for the sequel worked very well and was an even better script to work from than the original, I made the film a lot more arty that I think suited the nature of this film more.
Through working closely together we discovered we both had a great love of the grindhouse cinema which I had already made many films in that vein. Wade wanted to get involved and create one and together we came up with Boys Behind Bars, a simple yet effective throwback trash film that would capture the 70ís/80ís golden age of exploration film. It was an unbelievable experience and we really did go all out to recreate something we both have so much passion for, and I must say I was pleased with the result, so much so I ended back with Wade making a sequel that was fun to return to after doing the very hard hitting feature Twink that was a real challenge. Just me and Wade as the only cast & crew in which we dealt with some very dark and disturbing issues that I hope we managed to portray well looking at the failing life of a former twink star whoís been abandoned and left to rot.
Also in between all this we managed to shoot the gay romantic film 1 Last Chance at Paradise that was quite a surreal experience how quick that was thrown together and a very different film again for me to work on, and I also threw Wade in at the deep end and put him in my sexually charged erotic thriller film Lustful Desires along side Kaz B who plays a call girl that has the dreaded sicko client played by Wade.
Do talk about the rest of your cast for a bit, and why exactly these people?
Wade is good friends with Honey Bane and we had all worked together on 1 Last Chance at Paradise, even Connor Paganini was in that one so Boys Behind Bars 2 was like a cast & crew reunion! They are honestly all great to work with, having already worked with most of them it was easy to just all fall straight back into the flow of things, and James Paganini joined the rest of us like he was already part of the team and threw himself straight in there not shying away to try new things and push himself to get the best out of himself just like the rest of the cast. Honey was intense, she treated the boys mean and kept them on their toes for real! I think there was a bit of method acting going on there (wink). Connor seemed to have fun playing with his character and throwing himself into the psychical side of things, getting into scraps with Wadeís character who just completely went all out to take on a complete and utter monster of a man!
Is there any truth to it that Boys Behind Bars 2 was shot in a mere 5 hours, and what can you tell us about the shoot as such, and the on-set atmosphere?
It was indeed shot in an incredible 5 hours. It was a very relaxed and friendly atmosphere, I was just getting a bit nervous towards the end worrying that it would not get finished, we were pretty much filming in chronological order and I could see a rough idea of the running time due to the way it was made - so I was a bit panicking that we wouldnít hit feature length which was our intention but we just managed to just get a feature in there. We were fighting against the clock due to the location's availability - but that is nothing new in indie filmmaking. The day went so fast there was not much time to think or relax, just get into character straight in there and knock out quite a few 10 - 15 minute takes. It is actually both psychically and mentally exhausting.
What can you tell us about audience and critical reception of Boys Behind Bars 2 so far, and any idea when and where it will be released onto the general public yet?
It looks set to have a release date for DVD in the USA towards the end of the year, maybe November time. It seems to have caused a bit of a stir, I think it's safe to say it is a required taste, I certainly think it is more disgusting than the first instalment and that seemed to split audiences in half, either hating it or finding a certain pleasure in a film that is in places very distasteful, I believe this will be what will happen with this movie once its released to the general public.
Will there ever be a third Boys Behind Bars, and any (other) future projects you'd like to share?
Well there is in fact plans for a third and possible final instalment following the character of Darrell played by Wade Radford. This is being planned to be shot later this year/beginning of next. I always have projects Iím trying to make but it seems a third Boys Behind Bars film is certainly one of the next to be shot.
What got you into filmmaking to begin with, and did you receive any formal training on the subject?
I have been into filmmaking since I was as young as 5. I would constantly watch films and be fascinated by not just the movie in general but how it was made, and why certain things were done to make it etc. It quickly became a hobby and passion so much so that at the age of 10 I picked my dad's camcorder up and shot my first short film that I had him edit straight into the VCR. This only fuelled my hunger to be a real filmmaker even more which ended up leading me to go to college for 3 years straight from school to study media where I began making student films. I have very found memories of watching a lot of films with my granddad, especially westerns - he would buy a VHS a week, and built a massive collection up which is now in my possession along with my ever growing collection of DVDs, Blu-rays and film memorabilia.
What can you tell us about your filmwork prior to Boys Behind Bars 2 and your evolution as a director? And any specific films of yours you'd like to talk about?
I have been on a roller coaster of a ride with my filmmaking career. I have covered so many genres and styles that it is what I feel is quite an achievement. I am very known for my horror & controversial films as I have made so many and that is one of my favourite genres to both watch & make. I started out making a lot of short films and quickly moved into doing full length features that I have managed to turn some around fairly quickly. Every film is a learning curve that has only made me stronger as a director. Each movie has its own problems to overcome and I believe you can take a lesson out of most flicks you make and use it to your advantage on the next one. I believe my earlier films were a lot more slapstick and tongue in cheek, and over the years I have evolved into much more seriousness in my films, and I have very much enjoyed this process.
My short film Zombies in the Wood stands out as it won me best film that was a huge encouragement for me to carry on making movies and it was for one of my favourite horror sub-genres, the zombie flick. My film Tortured was the biggest learning curve. That was extremely hard work, it took me a year from pre-production to the final cut and the week block of filming I done was extremely intense, the days would last 20 hours, it absolutely exhausted me, and ever since then Iíve tried to have a bit easier shoots as it was like a war zone on that set at times, people arguing, tons of problems and some major fall outs, it had a few good memories but overall quite a nasty film to work on and it really was torture at points. I much more enjoyed editing that one being away from all the hassle. I did managed to achieve my goal though of making a modern day video nastie that had some censorship issues itself! It didnít turn out as well as I hoped it would but no film ever does that I make, I think thats the same for any filmmaker, you always look back at your films and see where you could of improved.
How would you describe yourself as a director?
I believe I am quite laid back and very open to try new things. I try to have an easy going approach to help put people at ease. I find if you are too stressful and in people's faces you donít get the best out them, I have witnessed this on shoots I have worked on, I donít like bad atmospheres on set, it takes the passion out of what you are doing so I do try to be as easy going as I can and do the best I can to get what I need.
Filmmakers who inspire you?
I am inspired by Ruggero Deodato [Ruggero Deodato bio - click here], Cannibal Holocaust is such a powerful film, it stays with you long after viewing it. I am also inspired by JŲrg Buttgereit, his films are shot outstandingly and can be visually stunning. I am also a big fan of David Cronenberg, he has such an engaging way of moving you through the story he is telling.
Your favourite movies?
Some of my favourite films are Cannibal Holocaust, it really is a thought provoking film. Irreversible is again such a strong film and very challenging, I like a film that does not hold back and not afraid to challenge you with its subject matter, a film that will make you think & question things. Nekromantik is a fascinating film that has a brilliant atmosphere that suits the film perfectly.
... and of course, films you really deplore?

Feeling lucky ?
Want to
search
any of my partnershops yourself
for more, better results ?

The links below
will take you
just there!!!

Find Jason Impey
at the amazons ...

amazon.com

amazon.co.uk

amazon.de
Looking for imports ?
Find Jason Impey here ...
Something naughty ?
(Must be over 18 to go there !)

Iím quite accepting of most films and can enjoy all genres, but I did find Cannibal Holocaust 2 a big let-down and generally quite a pointless film with very little plot and built up to absolutely nothing. I did find Moshi Monsters: The Movie quite hard to sit through when I took the kids to the cinema, not what I would call a classic, a very mediocre family film with really bad attempts of making jokes.
Your/your movie's website, Facebook, whatever else?
More information on me and my movies can be found at my official website www.jasonimpey.co.uk & my official Facebook page www.facebook.com/jason666films & of course my Twitter www.twitter.com/jasonimpey
Anything else you are dying to mention and I have merely forgotten to ask?
Thank you for taking the time to talk with me, I hope I have shed some interesting information on me as a filmmaker and I have a lot in the pipeline and a lot of features coming out. I am just finishing editing the Daly Does The Dead trilogy of films that includes Mr Crispin, Hollywood Betrayed & First Bite Is The Deepest - all of which star and are directed by Eileen Daly. I am also finishing off my feature film Exploited which has been 8 years in the making and should be my most complete vision of my earlier feature film Home Made - a version I was never truly happy with. The film follows the crazed filmmaker Jack Hess who is trying to create the ultimate snuff film!
Thanks for the interview!