Your new movie Necrophiliac & The Killer Gimps - in a few words, what is it about?
Jason: It's an anthology loaded with short films from myself & Kieran Johnston that have the common themes of crazed killer gimps and a necrophiliac.
Kieran: 2 horror filmmakers coming together and making a film about killers, Nazis, necrophiliacs, gimps, sluts & disorders.
Basic question, why an anthology movie - and were all of the segments filmed specifically for this movie?
Jason: I thought it would be nice to gather the films I had been helping Kieran on together along with a few of mine that were not doing much and get them out there together as pushing a feature can be easier than pushing a short film. Iím not a fan of films sitting there doing nothing and like to try and let them find their audience. None of the films were made primarily for this anthology apart from my short Gimp - sort of. It just so happens that me & Kieran think alike a bit when it comes to filmmaking and we ended up with a series of films that kind of work together well nicely. The icing on the cake was I was editing my short film Gimp for a while, I had been distracted with other projects and issues that left it unfinished for years. It was originally shot in 2007 - 2009 for various other films I done, but was asked by a distributor to do a new short for an anthology in which I revisited this film as he knew I use to be crafty recycling my old footage, and to be honest getting a film made is hard work & time-consuming as well as being a drain on finances, so I thought this was the best option rather than shooting fresh again. Turned out I ended up making another short for that compilation anyway so was kind of stuck with this bizarre little film that I had started which I really did not want to give up on. So when I sat with Kieran and went through his films I realised how well the gimp-theme worked for this particular project, so it ended up working out well in the end.
Kieran: Why the anthology? Because our films are only a minute to 17 minutes it seemed a great idea to put them together, most films kind of connect in someway. At the time of the filming we didn't plan them specifically for this movie.
How did the project fall together in the first place, and what were your sources of inspiration when dreaming up Necrophiliac & The Killer Gimps?
Jason: I was really excited seeing the results of Kieranís film Nightman coming together that I had shot for him. He was editing away and sending me over the new cuts that I was discussing with him, but I was well happy and excited at what I was seeing that it made me want to push it as far as I could being the executive producer on that short. I suggested to Kieran we should combine some of our work together that has not really been released yet upon the world as an anthology, which he was very game to do.
Kieran: It was all Jasonís idea. Jason messaged me saying he had just finished Gimp that he's been working on for a while and I had just finished making the Nightman film and he suggested it would be a great idea to make an anthology. Most of our films have the same looks, characters & aura. i.e gimps, killers & sluts.
How did the two of you first meet even, and were there any collaborations prior to Necrophiliac & The Killer Gimps?
Jason: I was introduced to Kieran through a guy that was doing some work at the time on my short film Revenge of the Dead back in 2007. Kieran had wrote a script that was very interesting that an actor/producer said he would take part in allowing me & Kieran to make it. Unfortunately that guy turned out to be extremely bad news that ended up causing me a huge amount of trouble, but luckily I survived it an was able to move on. I was delighted that Kieran got back in touch with me to discuss films and filmmaking, we share the same interest in the same styles and sub genres of films. I was doing a few new shorts and asked Kieran if he wanted to come down to set and help, which he did and that was the start of our filmmaking collaboration. I encouraged him to start making his own short films in which I helped him get going on and am very proud of what he has gone on to achieve.
Kieran: We first met in 2007. I was introduced to Jason by a friend. We didnít really collaborate much. We lost contact for a few years due to some people. I got back in contact in 2015 when Jason was doing his film Impotent Killer and he invited me to his set and from then on weíve been working together on some short films.
Necrophiliac & The Killer Gimps tackles a wide variety of approaches to the horror genre - so which ones were the most fun to film, which do you think express your personal predilections the best?
Jason: I had huge fun filming Morder segment as it was a real relaxed and fun shoot. Me and Kieran were able to take our time and play about with the idea. It was a slight raw approach to filmmaking that I am very passionate about as you can really have fun tackling how you're going to do something shot wise etc, and it really helps to get those creative juices flowing. Editing Gimp was a surreal but fun experience as I was having to make a film work that was not actually shot the way I was trying to edit and tell the story, so I was certainly presented with some challenging issues. But revisiting that footage again was very inspiring to myself ironically. As the years have gone by it has made it much harder to make films, this is due to more commitments in life, finances, time and generally dealing with nasty egos and some bad seeds out in the world of film. Seeing my approach of how I shot Gimp made me realise how much I miss my old style of just going out there and making my film. At times the idea would only be rough but I would develop it as I went on - sounds mad but believe me some of my best work was created this way. I had a few good people around me and was lucky enough to be able to go out and shoot some great raw material. I have tried to recapture that style over the years but its never quite worked out the same sadly. Not all my old cast & crew are around anymore, some even left filmmaking altogether as it can be a real depressing curse at times, I wont lie about that. But I do look back with fond memories and am happy with what I achieved in my younger life, the passion in me was extremely strong and always will be for raw gritty edgy film.
Kieran: Nightman 3. The cast and crew were amazing and they had the passion for filming and my brothers house got trashed a bit, haha, and Disorder was a fun film.
Necrophiliac & The Killer Gimps seems to have been in production for quite a few years now - so how did the project evolve and maybe change even over the years?
Jason: Well my short Gimp went through many bizarre changes. It was originally shot for my mashed up feature film Cut & Paste. Then part of that film was also shot for the poorly released sequel Cut & Paste 2. I needed to do some tricky editing over the years to make it all work. Nightman was originally shot as three super short mini films, but we ended up shooting so much material it actually came together better as one whole film that I am very pleased about. My segment Two Tales Of Terror is actually a reworking of two very old short films from me - Trapped and my super 8 short Mind of a Killer. The rest of the movies were shot and edited as individual shorts over the space of a year or so.
Kieran: Jason made Gimp and myself and Jason made a fake documentary about necrophiliacs and body trafficking. From there we just made more short films for this anthology.
How would you both describe your directorial approach to the respective segments of Necrophiliac & The Killer Gimps - and maybe also the respective other's directorial approach?
Jason: I have found my own style over the years of how I like to work and shoot things. I have grown comfortable and discovered myself through this form of art. I do like experimenting, but even unintentionally my style will appear and I will fall into my habits, which to be honest is not a bad ting, it's what makes me me, and the film you're watching a Jason Impey flick. I must admit, I do adore the DIY and raw approach to filmmaking, and really enjoy being self shooting as I am a cinematographer by trade and know what I want and am looking for. I certainly am a director who is more from the technical side of things, but I enjoy the whole process apart from producing, I hate producing with a passion, way too much hassle and dealing with troubled people. I do find it very interesting watching other directors at work. The different styles fascinate me. Kieran has quite a hands-on approach, he likes to get the job done but is very open to collaboration which can be nice at times.
You also both appear in quite some of the segments of Necrophiliac & The Killer Gimps - so do talk about your characters and on-camera experiences for a bit!
Jason: Well I donít like to think of myself as an actor much as I much prefer being behind the camera. However when I started making films and struggled getting cast I ended up filling roles myself as it was easier. This kind of back fired in me getting known for acting back in the day and in result I ended being cast in a number of people's films! I do have fun doing the odd cameo here and there. Playing the victim in Kieranís Morder was a good crack. I hadnít done much acting lately so it was interesting returning back to it, and it's a whole different experience than being a filmmaker. I would argue an easier one! Much less to worry about and handle! Playing my role in my short segment Gimp is a bit of a fingers up to the film industry as I am in some ways playing an extreme version of myself, a struggling artist in a very uncertain world.
Kieran: My character in Nightman 2 is a new recruit to the police force and his first job is a murder scene. His a bit nervous and scared. I had to wear a wig for the role which you canít miss and Iím not a good actor. It was fun being killed on set and running around with a wig on. I prefer to be behind the camera.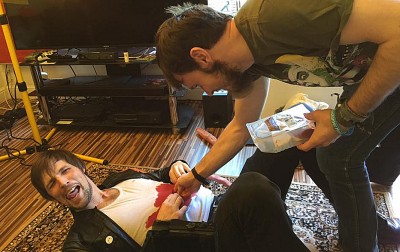 Kieran putting the final touches on Mj Dixon
What can you tell us about the rest of your key cast, and why exactly these people?
Jason: Well in my short Two Tales Of Terror aka Mind Of A Killer I worked with Ken Dirke. He was an old school friend, but I introduced him to B movies which he fell in love with and really wanted to get involved. He absolutely threw himself into the roles I gave him, and would go well above the call of duty. He certainly would do more than most actors and did not shy away from gory scenes or crazy roles. Gimp features a great filmmaking buddy of mine, Alex Bakshaev [Alexander Bakshaev interview - click here]. We share a great love of the films by Jess Franco and are both were filled with passion to just go out there and make movies for ourselves, do stuff we would watch and want to see. We are on the same wavelength and working with him at times can be like a dream.
Kieran: Mj Dixon [Mj Dixon interview - click here], the founder of Mycho who plays Luke in Nightman 3, I chose him because his an amazing actor and such a funny & kind guy. Being on set with him is brilliant and Iíll easily work with him again. Gareth Power who plays John in Nightman and produced, weíve been friends for a long time and he's a funny guy and has some great ideas. I would love to work with him again. Murdo Yule who plays the Nightman, he's an amazing person. My brother introduced me to him and I knew he would be good for the Nightman role, he may look scary as the Nightman but he's a kind funny man. Martin W. Payne is one of the best actors Iíve worked with. When I was directing Disorder, Martin was playing a gimp and he was in the zone, he was flawless. He is one of the kindest and funniest guys and Iíll work with him again. My brother David Johnston plays the role of Rob in Nightman 3. His the best brother ever and being able to use his house for Nightman 3 was brilliant.
A few words about the shoots as such?
Jason: When I was shooting Kieranís segment Disorder I was doing a shot where I was following the character through the house in which I ran backwards and fell over the table in the living room but my cat instincts made me shove the camera up in the air and save it while I took the full brunt of the fall! The first shoot for Gimp resulted in us shooting through the night and in the snow, but the snow added a great atmosphere for the film which was a real bonus.
Kieran: When we were filming Nightman 3, Mj Dixon broke my brotherís door handle of his bedroom door, haha. I was scared to see what my brother'd say. So Gareth Power had to drive to B&Q to get a new handle. While he was driving back his car broke down and his dad came to pick him up. At this point I was crapping myself. But the door got fixed and the Nightman 3 was completed by the time Gareth got back.
The $64-question of course, when and where might this movie be released onto the general public?
Jason: Iím currently working on trying to secure distribution for it.
Kieran: All I can is very soon.
Anything you can tell us about audience and critical reception of Necrophiliac & The Killer Gimps yet?
Jason: It's very early days but Iíve had some nice feedback from the target audience which is always nice.
Kieran: Most people were shocked by the trailer haha.
Any future projects you'd like to share?
Jason: Iím currently in post-production on a feature length documentary about the adult dominatrix industry that I shot earlier this year.

Feeling lucky ?
Want to
search
any of my partnershops yourself
for more, better results ?

The links below
will take you
just there!!!

Find Necrophiliac & The Killer Gimps
at the amazons ...

amazon.com

amazon.co.uk

amazon.de
Looking for imports ?
Find Necrophiliac & The Killer Gimps here ...

Kieran: Iím planning Nightman IV and The S Man.
Your/your movie's website, Facebook, whatever else?
Jason:
www.facebook.com/jason666films
Anything else you're dying to mention and I have merely forgotten to ask?
Jason: Iím just very excited and happy to see this collection come together and being released upon the world. Thank you.
Thanks for the interview!