Your new movie The Retaliators - in a few words, what is it about?
The Retaliators is about an upstanding pastor who attempts to survive an insane and terrifying journey after being offered one minute alone with the man who killed his daughter.
What were your sources of inspiration when writing The Retaliators?
A major source of inspiration was a real-life traumatic event in our family. In 2004, our sister Jody was brutally and nearly fatally attacked by a serial rapist. It took 14 years for the perpetrator to be finally caught and sentenced to prison. Throughout the ordeal of the trial, we came up with an idea that explored the concept of an underground revenge-fantasy service for family members of crime victims. Our sister gave us the blessing to use her story as an inspiration. She asked, "If it's ever made into a film, please use my name. I want my story to be an inspiration to victims. For people suffering traumatic PTSD. I want people to see that you can survive and get through it." Her name is Jody Geare. Today, she is healthy and thriving as one of the few female fire captains in the United States. The Retaliators doesn't tell her story per se, but her story was our jumping-off point and is the human heartbeat underneath all the insanity.
Do talk about The Retaliators' approach to horror, and is this a genre especially dear to you?
We both grew up as obsessed horror fans. To this day, horror is still what drives and inspires us like no other genre. We draw from stone cold classics like John Carpenter's Halloween, Sam Raimi's Evil Dead, Wes Craven's The Hills Have Eyes, but we're also heavily influenced by various subgenres from exploitation cinema of the 70's and 80's to the absurd, subversive spirit of the Cannon Films catalogue. The Retaliators (and every other script we write) also always has the connecting thread of crime thriller mixed in. We are very influenced by the grimier crime thrillers of Don Siegel, William Friedkin, J. Lee Thompson and the neon-noir aesthetic of Michael Mann's early work.
Perhaps the most important part of The Retaliators' approach to horror is its employment of "the hard turn" (such as we see in other horror films we love, like Audition and Hostel). A likable, though flawed, protagonist is set in a world with a false sense of security. Once a tragic or shocking event occurs, shattering that sense of security, a false sense of where the film can plausibly go is established. You think, "Okay, I know it can get crazy from here, but not that crazy." But then somewhere down the line, it does get that crazy. When done right, the hard turn can bring you one of the most entertaining cinematic experiences possible; and our attempt to do that is definitely baked into The Retaliators' approach to horror.
What was the writing process between the two of you actually like?
The Retaliators started with just a one-sentence story idea: "An underground revenge-fantasy service for family members of crime victims." That, along with the title The Retaliators. We started with that. From there, we spent a long time doing extensive outlining. We work in a back house that's been converted into a replica of a video store/record store, decked out with thousands of VHS and vinyl on original Tower Records shelves, an original stand-up arcade, movie posters, memorabilia and old television sets. This environment always instantly puts us in a productive, creative mindset.
We took turns writing scenes separately. We wrote some scenes together. When we'd each finish scenes, we would then go over each others' scenes, edit and do another pass for each other. The nice part about the constant going over, writing, editing, re-writing is that when we're done with a 1st draft, it's really more like a 5th or 6th draft.
After extensive outlining, when we go into the actual writing of the screenplay, we adopt a loose attitude towards the outline. We follow it ... but if the story and the characters start taking us to new places, we follow along and let the story and the characters take us where they want it to go.
Now how did the project fall together in the first place?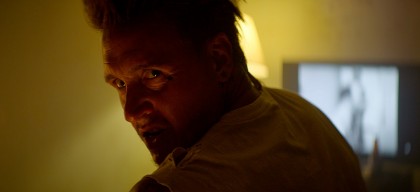 When we finished The Retaliators script, we sent it to a platform for showcasing your screenplay to the industry called The Blacklist. We got high ratings and made it on their Top List. Next thing we know, offers to buy the script start coming our way. Simultaneously, we had sent the script to Michael Lombardi. Michael and Darren stayed in touch after working with each other years back. Michael instantly expressed strong interest in getting the film made, as well as his desire to play John Bishop. He was on a plane from NY to LA within 3 days. We both knew right away that no one but Michael could do justice to our protagonist. Not only is Michael a top-tier actor, but he has that very rare combination of sensitivity and intensity to his personality that makes the character arc of Bishop both believable and totally captivating. Michael brought the script to Allen Kovac, the CEO and founder of Better Noise Music, who saw enormous potential with the movie. And thus began our long but rewarding journey to getting the film made.
The Retaliators has been described as "a rock song birthed onto screen" - so to what extent did rock music play into the writing of the screenplay, and were you at all aware of the rock-heavy score when putting the script to paper?
Originally, no. What's funny is, the spirit was always there though. Early on when our script was reviewed, the term "rock" and "metal" were actually mentioned affectionately multiple times. My favorite example was a review of the script that said "The insanity of the third act feels like the birth of metal." When Michael Lombardi connected the script with Allen Kovac (producer of The Dirt), Allen had the immediate vision to connect rock bands to the project - both through bringing back the tradition of epic rock soundtracks and by incorporating the rock artists into the right acting roles. All of this was ultimately crystallized by Allen Kovac's vision of what rock music could mean for this movie, and what this movie could mean for rock music. Speaking of music, on top of all of the incredible bands and songs in our movie and on our soundtrack, we also had the honor and thrill of having Stranger Things composers Michael Stein and Christopher Dixon score our film.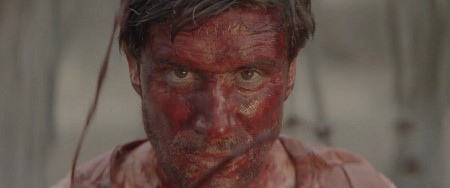 Were you at all involved in the actual shoot of The Retaliators, and if so, what can you tell us about the experience?
Because we were also producers, we were involved in pre-production, we were on set for a couple weeks and we were also involved in post-production. Michael Lombardi led the way as our main producer and leader. Our shoot was full of many, many seemingly insurmountable obstacles because we were literally in the middle of shooting when the Covid pandemic lockdown first began. This led to having to shut down production several times, shooting on multiple coasts, changing directors, key cast unable to travel, etc. Michael Lombardi was truly the unstoppable force that kept everything together. He even directed a good chunk of the movie himself. My brother and I were there for Michael whenever he needed us, and we were grateful to help and be a part of the process in whatever capacity was necessary. Allen Kovac (producer of The Dirt), the head of Better Noise Films, was incredibly supportive, nimble and always dedicated to help the creative vision be executed through all of the crazy hurdles thrown our way. Working with Allen, Michael and the entire Better Noise team has been an incredible experience.
The $64 question of course, where can The Retaliators be seen?
We are so proud to say that starting on September 14th, The Retaliators will be playing exclusively in movie theaters worldwide! Tickets are on pre-sale and available now! Go to retaliatorsmovie.com to get yours now!
Any future projects you'd like to share?

Feeling lucky ?
Want to
search
any of my partnershops yourself
for more, better results ?

The links below
will take you
just there!!!


We have several scripts that we have written that we are super excited about. We have been polishing drafts and are excited to get them out there and get them made. One of them is a sort of Coen Brothers-esque horror thriller that has a good amount of humor sprinkled in.
Your website, social media, whatever else?
Follow the Geare Brothers on Instagram: https://www.instagram.com/the_geare_brothers/
Go to http://www.retaliatorsmovie.com to buy your tickets!
Anything else you're dying to mention and I have merely forgotten to ask?
We are so excited to hear about people's experiences of watching The Retaliators. It was truly a labor of love, and we are so proud of how it turned out. Trust us when we say that this was made to be enjoyed in a theater. We've had the good fortune of having The Retaliators be accepted to 30 film festivals. It played incredibly in front of audiences. Lots of yelling, cheering and laughs. The third act hits such fun heights of insanity - you've got to see it with an audience!
Thanks for the interview!