Your new movie Eyes Upon Waking - in a few words, what is it about?
The story follows a very distressed woman into a mental health facility following two attempts to end her life, and examines her growth into a still-troubled person content to continue living. Much of the story, the characters, and the stories of the characters come from the personal experiences of the filmmaker (a.k.a. me).
Eyes Upon Waking is based on your own true story - so what made you revisit what I suspect wasn't the happiest tim in your life and make it into a movie?
Truthfully, I had no choice but to make this film, especially after people that had read my screenplay in the early stages commented on how they related. Saying how my words were their words and how they were afraid to share their story. I got tired of hiding what I was feeling inside all these years. I felt it was time to start making a difference and educate those that do not understand what living with depression really means. I also needed to reach an audience who may connect with the experiences and emotions of the characters, to convey how these things are common and acceptable: It's okay to feel these things, and okay to talk about it.
Other sources of inspiration when writing Eyes Upon Waking?
Little Miss Sunshine is a personal favorite, especially for the way it combines humour with tragedy. This two-fold approach was very much in mind throughout writing and production.
You've written Eyes Upon Waking together with Andy Golub - so what can you tell us about him, and what was your collaboration like?
Andy is a very talented and well diverse in his writings. Collaborating with him was a joy. He really listened to my story and added in details that I did not realize were true. For example, the biting of my nails. I really was not aware that I would do this when I felt overwhelmed. He did not rush the process so we could make my story solid. Having a strong film starts with a strong screenplay. I will be working with him again.
Despite its very serious subject matter, Eyes Upon Waking has a sort of light-footedness to it - would you care to elaborate on that?
Life itself is full of tragedy and humor, so for the movie to feel realistic, both those things had to be reflected.
Having followed your progress on Eyes Upon Waking over the years, making the movie seems to have been a bit of an uphill struggle - so what were the challenges of bringing your story to the screen from a producer's point of view?
The biggest challenge was the financing and then getting the right locations. Since I was not well known and this being my first-time feature as a filmmaker, it was hard to get investors to take me seriously and want to take the gamble. Our budget was only $230k, so we had very little wiggle room. The majority of my cast were living in other states besides Arizona, so collaborating schedules and flights was challenging at times. Having these struggles only made me more determined and well educated. All I knew was that Eyes Upon Waking was going to get completed and it would be a film that I am very proud of. I hope my cast and crew feel the same way. This was completed due to the community support and love and belief from all that either worked on this or contributed in some way.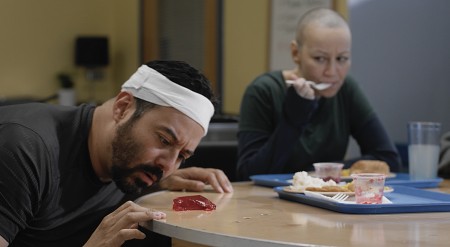 You also play the lead in Eyes Upon Waking - so what did it feel like to go back to this point of your life from an actor's point of view, and apart from your own story, obviously, what did you draw upon to bring Taren to life?
HELL! It was hell reliving my life. But at the end, it was needed to show reality. I had to allow myself to get back into that frame of mind by not sleeping or eating. There were times on set where I could not tell how far I had come because I was fully re-submerged to when it first happened. It was as if time has not passed and extremely, emotionally draining. It took me several weeks to recoup once filming was completed.
What can you tell us about the rest of your cast, and why exactly these people?
I could not have asked for a better cast. Each and every one I handpicked to bring my vision to reality. Everyone, including the extras, were true to their character.
A few words about the shoot as such, and the on-set atmosphere?
I have been sharing BTS footage and photos from our shoots on our website, IMDb page and LinkedIn pages, and loved how happy everyone was in these. We had some long hours as most independent films do, so I tried to keep it lighthearted as much as possible. We made sure my cast and crew did not go hungry, and after the shoot we still had food left over to donate to the homeless.
The $64-question of course, where can Eyes Upon Waking be seen?
Right now we are in the film festivals and seeking distribution. You can follow our progress and festival dates here: eyesuponwaking.com/
festivalscreenings
Anything you can tell us about audience and critical reception of Eyes Upon Waking?
So far, everyone that has seen Eyes Upon Waking has provided positive feedback. I have yet to view with an audience so I'm nervous and excited. When we first had our reading, there were about 100 people in attendance and it was really great to hear their reaction. That's when I realized that my film had humor in it and many could relate.
Any future projects you'd like to share?
I'm always thinking of new projects. Right now, I have two physiological thrillers on the pipeline (one of which I would like to direct).
Your/your movie's website, social media, whatever else?

Feeling lucky ?
Want to
search
any of my partnershops yourself
for more, better results ?

The links below
will take you
just there!!!


http://www.eyesuponwaking.com is a one-stop shop that lists everything. The only social media I am posting on right now is my LinkedIn page: https://www.linkedin.com/in/jennifer-scott-8bba50209/, and you can follow our progress on our IMDb page: https://www.imdb.com/title/tt5229896/
Anything else you're dying to mention and I have merely forgotten to ask?
It is imperative to find people who believe in the film and its purpose. The positive energy provided by a great cast, crew, and everyone supporting the film is a huge part of what made this project possible. Make the film you want to make. Listen to advice that works, ignore any that changes your intentions. When your project has a vision, others will join who share that vision. Never compromise artistic integrity.
Thanks for the interview!