Your new movie Slapface - in a few words, what is it about?
A boy deals with the loss of his parents by creating a dangerous relationship with a monster rumored to live in the woods. Once that happens, no one around them is safe...
What were your sources of inspiration when writing Slapface? And however remotely, is any of the movie based on personal experiences?
I grew up with my grandparents in rural Rhode Island, where the dense woods and abandoned houses were sources of excitement and adventure. Your imagination can really take off if you're in the middle of a forest thinking of monsters, and since my family was extremely lenient about my viewing habits I'd be watching Dawn of the Dead and The Texas Chainsaw Massacre. I made no distinct between those movies and Grimm's Fairy Tales, so in that way Slapface is directly informed by childhood memories.
My grandfather would tell me stories of growing up in rural poverty. His dad was a heavy drinker and would play the game of slapface with him, a ritualistic form of child abuse where you exchange slaps as a mutual punishment. My grandfather was also pursued after school by three female bullies who threw rocks at him, and one would be his secret girlfriend when no one else was looking.
So this family trauma found its way into the story, and indeed the older brother Tom is named after my grandfather. He passed away before seeing this feature but had characters based on him in my movies before and it always delighted him, whether or not he was portrayed as a "good" guy. He loved the arts and was flattered by his inclusion in stories, warts and all. Much like the characters Tom and Lucas, my grandfather was a first class weirdo...
A few years ago, you made a short of the same name - so how closely is Slapface related to the earlier movie, and did you always intend to expand the short to feature length, or did this come as an afterthought?
The feature length script preceded the short, but despite the attempts of various producers over the years we couldn't get the financing for this bleak dysfunctional family drama with a monster in it.
My dear friend and director of photography Dominick Sivilli tricked me into making the short by saying he wanted some fantasy material on his reel. "Do a five minute version of your story!" I'm indebted to him for that because the short functioned as a proof of concept revealing the tone of the story, a visualization of the monster and what the game of slapface might look like.
So the feature was not an expansion of the short. The short film was a truncation of the feature that essentially took a small section of the narrative and dramatized it. It functions as a stand-alone piece; maybe someday I'll release it online. It's because of the festival success of the short that we got the attention of the producers who made the feature, and they were fully committed to this story. Honestly it was the best possible scenario, producers who believed in Slapface and made it happen without compromise.
You just have to talk about the monster in your movie for a bit, and how closely were you involved with its creation?
Nobody hates the special effects department head of this movie more than I do. He basically didn't care about our film and abandoned us after cashing the checks. But his assistants Tony O'Brian and Sandy Washington cared a lot and gave the monster everything they had. I'm grateful to them for saving the day after we hired the wrong guy based on his impressive resume and ability to charm us during the interview process.
We didn't do any special effects tests, which meant the test was on Day One of principal photography, and none of that footage is in the movie. So I guess you could say it was the most expensive special effects test ever with an entire crew lighting and shooting scenes that we knew, if it went wrong, could be cut out of the movie, which they were. I'd warn all filmmakers to contractually obligate their special effects team to tests, otherwise you will be burning money on set figuring it out. Thankfully the feature I made right after Slapface, which is in post now, did many tests and the producers spent the money to save money. Also they baked effects tests into the contracts, which is the right way to get what you want.
I say all this because ultimately the monster did turn out the way we wanted it to, which is a classical storybook witch face atop a ten foot tall hulking bogeyman. We wanted to take the old fashioned legend and see how it would look in a realistic way.
Much credit for the characterization of the witch goes to wardrobe designer Anna Davis for that long hooded cloak that resembles the bark of trees, the many layers of sound design by Michael Odmark that ranged from insect and beast sounds to distorted child noises and even creaking ships, and finally the subtle physical performance of actor Lukas Hassel [Lukas Hassel interview - click here] who treated the witch like a character with wants, needs and desires. Without a great actor, all you have is rubber and paint, it's Lukas Hassel who gave the monster her soul and depth.
Do talk about your movie's approach to horror!
We wanted to create a permeating sense of dread and uncertainty, where the bad thing could happen at any time. Barry Neely's haunting score understood this in an immersive way.
I think your film also succeeds in its portrayal of rural small town life - so where was it filmed, and what was it like filming there? And did you write your script with that particular location already in mind, or did location scouting only come afterwards?
We scouted for two months ahead of principal photography and discovered that the town of Fishkill, NY had that particular quality. Filming in October into November gave us that melancholy and beautiful autumnal feeling. I wrote the script thinking of where I grew up, and the town of Fishkill couldn't have been more generous in supporting our movie. The local police and city council were great to work with and cared about helping us realize this vision.
A few words about your overall directorial approach to your story at hand?
We wanted to tell a fairy tale story grounded in social realism. Shot in widescreen with anamorphic lenses, we wanted the intimate small scale of the narrative to feel as large as the emotions of the characters, and to immerse the viewer in that world. I love monsters and hope audiences care for our creature as well as be afraid of her, which is how our main character Lucas feels too.
What can you tell us about Slapface's cast, and why exactly these people?
Lukas Hassel played the monster in the short film and continued to hone the role of the monster in the feature. It was great having a long term friend and collaborator in the cast because I'd never worked with anyone else in the ensemble before. The cast was crucially important to this film, to ground this fantastical story in realism.
Mike Manning played Tom and was the main creative producer on Slapface. Originally this was a father and son story, and Mike proposed making it about brothers. At first I was very resistant to the idea; I had memories of hating the remake of The Fog where all the actors were cast younger and more Hollywood, or those 1990s thrillers where the slasher victims looked Iike models even if playing lower income families. Mike assured me he wanted to retain the harsh realities of our story and pitched me his notion of Tom as a boy thrust into a parental role and not able to handle the responsibilities at all; a guy holding on to his good looks as life is beating the shit out of him doing non union construction work and drinking away the pain.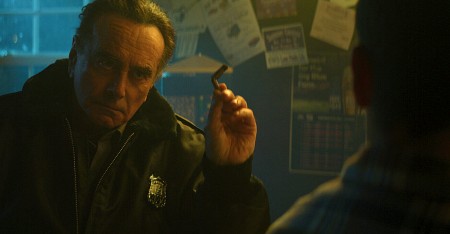 His powerful interpretation of the character only made the role more interesting; you felt his abusive father hanging over him like a ghost. And Mike is a wonderful actor so even as Tom is doing terrible things you feel him doing it out of love for his brother, who is all he has left.
The rest of the cast were honestly a dream come true, since I loved Libe Barer's work from independent films and the TV show Sneaky Pete. She understood the Sam Shepard-like world of our movie. Dan Hedaya is one of our legendary character actors who brings his entire history with him in his face as the Sheriff. I loved him so much in Blood Simple and Clueless and so many other movies, so that was a privilege.
Mirabelle Lee was chosen out of a hundred child actors who auditioned for Moriah and immediately understood this character's trapped situation and desire to be liked and loved and seen. Finally Bianca and Chiara D'Ambrosio who play the twin bullies were trained Disney actors who wanted to go to the dark side and invest that with truth; they reminded me of Kurt Russell in that way. I'd love to work with them again on a bigger canvas.
Do talk about the shoot as such, and the on-set atmosphere!
Everyone looks to the lead actor to see how to behave. August Maturo was 12 when we shot Slapface, and his work ethic is beyond anyone. He's been on television for years and years, so he understands the filmmaking process and probably will direct his own films one day. More than that, August was there for the movie, fully emotionally available and present. He can exact the grief and rage and trauma without giving off that brutalizing energy. And he cared so much; he loves to act and was there every morning before the coffee. His passion and mine set the tone for everyone; the movie is bleak and hard, but the atmosphere on set was compassionate and enthusiastic.
The cast and crew were there for us; many of the behind the scenes team were crew I've known for years, and they wanted to see the dream fulfilled. They also liked the story, which doesn't always happen. When the key grip Paul Wallace is complimenting actors after a great take or the 1st assistant cameraman Nathan Rodan is gently whispering for everyone to be sensitive because we're making a quiet scene, your heart grows bigger. That's the kind of company I like to keep around me as we do the work.
Anything you can tell us about audience and critical reception of Slapface?
We were honored to receive an audience award at Cinequest, where we started hearing that our film moved people to tears as a rich emotional experience. Reviews out of FrightFest from influential, great writers such as Anton Bitel at Sight & Sound, Kim Newman at Empire, Michael Gingold at Rue Morgue... I'm indebted to the extraordinary queer journalist, critic and filmmaker Jennie Kermode who gave our film a context that allowed a lot of access and opened doors. That mattered so much to me personally and professionally. Horror films have a long history of being gay coded in a specific meaningful way, and I'm grateful that some audiences and critics lean all the way into that.
Any future projects you'd like to share?

Feeling lucky ?
Want to
search
any of my partnershops yourself
for more, better results ?

The links below
will take you
just there!!!


We are in post on a horror feature called The Boo Hag about a very different kind of monster. We shot in Savannah, Georgia within the Gullah Geechee community, and that movie is steeped in an eerie folklore. I loved making that movie so much and can't wait to share it with everyone. The writer-producers Phoenix Higgins, J. Craig Gordon and Jason Short were remarkable collaborators who approached their story with such passion and allowed me the opportunity to listen, learn and create within a dynamic sandbox.
Your/your movie's website, social media, whatever else?
The best way to follow our movie is on social media, on Twitter and Instagram and Facebook:
https://instagram.com/slapfacefilm/
https://www.facebook.com/slapfacefilm/
Thanks for the interview!