Your segment 187 Times in the anthology Doomsday Stories - in a few words, what is it about?
I never do a few words J A man, James Kirk - no not that one - travels back in time to prevent a virus from happening but at the same time wants to save his wife from being murdered. Also ends up trying to fix the timeline by correcting things he has caused trying to do the right thing. It really is more complicated than that. There are two movies of Phil Herman's called Wrong Side of Town and Hell on Earth: Arena of Death, and I worked both these movies into 187 Times storyline, I put a lot of thought into it and did it for a surprise for Phil. It was NOT my original story but I saw an opportunity to go the extra mile and make this a pretty cool short to tie together my world and Phil's world at the same time. Also I created a time paradox and a alternate timeline to add to the already complex storyline. I actually spent nights having conversations with myself that went like this "Okay if James goes back in time to try and prevent the virus and stops it will that create a new problem along the way?" "When he saves his wife he will alter the timeline, he could make things worse, maybe his wife needs to die for the world to be okay..." "Originally Brad (Phil Herman) dies and that is what causes his mom and dad to make time travel so they can go back in time and save him so he grows up to be president of the Bradster Time Phase Corporation. However for this to happen Brad needs to die so they can save him thru the timeline. BUT someone else has corrupted the timeline making sure he dies again so the bad guy can create time travel instead." "Even if he saves his wife there is a chance that thru the course of time she could meet someone else and not be with her husband, she could be hit by a car, she could change direction off into a new timeline." So it wasn't like I just said "I'll do this, then that..." I wanted it to make some kind of sense out of time travel, there are consequences to going back and changing the timeline, your trying to do the right thing but you can still screw it up, you fix one thing and because you fixed that one little thing it caused 9 other people to choose different paths in life, a guy that was a police captain is now a thug in jail because you went back in time trying to make things better for him. So it is all about James Kirk (my character) to go back in time and stop the virus from happening, stop his wife's murder and make some other changes along the way, he is trying to do the right thing but he cannot change the outcome no matter how hard he tries.
With 187 Times being a time travel story, is that a genre at all dear to you, and some of your genre favourites?
Yes I am a HUGE fan of Star Trek, all of them. When Kirk goes back in time to the military base and gets caught the commanding officer says "Kirk I'm gonna lock you up for 300 years" and Kirk says "That'll be just about right." I love the humor of that, I love the story of going back in time, I love all time travel movies. Paris and Tuvac were on Earth, Earth of the past and when Paris and Tuvok are in an office Paris picks up the Hot Wheel car and says "Wow this is so cool I had these." Tuvac snaps "Mr. Paris put that back exactly as you found it." and Paris says"Tuvok it's no big deal, how is that going to change history." "Put it back exactly as you found it." What if the guy came in the next day and saw it moved, yeah whatever but "Why is it there? I never leave it there!" and he starts searching around his office for the reason it was moved, "Did someone come in here? Maybe it was Sam in accounting, maybe he moved my Hot Wheel, I'm going to confront him about it, maybe he is trying to come in here and steal plans from me, he's out to get me that son of a bitch!! I'm gonna kill him, he is probably trying to kill me, that's why he was in here snooping around." The time line was just changed. I love that stuff. What this from? "Say you could go back in time, knew what Hitler was going to do, would you kill him before he came to power?" I being a man of science and healing I would have no choice but to kill the son of a bitch." Dead Zone! LOVE IT! Writing this I took a lot from Star Trek.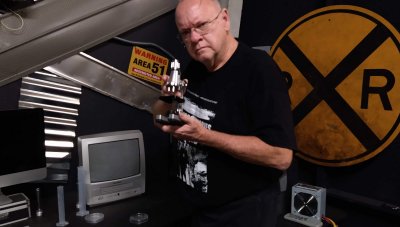 (Other) sources of inspiration when writing 187 Times?

Star Trek, Back to the Future, Time After Time, Planet of the Apes, The Time Machine, anything to do with time travel I looked at or reflected back on. Before Picard said it I had already written my line for 187 Times "to fix the future I must travel to the past." I think Picard said "To fix the future we must go to the past" or something like that. Humor, I like my stories to have humor. Easter eggs, I love my stories to have Easter eggs - like when Anthony Wayne says "Say Jim that's a badddddd outfit!!" That is straight from Superman! TV shows that I love like Supernatural... in one scene I had the girl say to my character "Short Bus" that is straight form Supernatural. I reference TV shows from my past Battlestar Galactica, Hill Street Blues, anything to make it funny. I mean not just funny I want a cool story, a serious thing the hero is trying to do but funny things happen along the way. I hate when people say "It's a comedy?" NO! Is Iron Man a comedy? NO! But it has very funny scenes in it between Tony and his A.I. when he is testing his armor. To write this or anything else for that matter I draw on my life experience. Of course like I said lots of time travel stuff.

Do talk about 187 Times' approach to sience fiction!

Time travel in general. He borrows a suit from the place he works, takes technology that he doesn't know a lot about but was in on the concept of time travel. He decides on his own to use the suit to travel back in time to save his wife, stop a virus from happening and trying to correct things he thinks he can make better. I guess just like any other time travel movie or TV show it is going back in time to make something better in the future. The science fiction is this guy made a time travel suit and is going to use it to help humanity.

What can you tell us about your overall directorial approach to your story at hand?

I love directing and I don't have to take anyone's orders on how to do it. I see it in my mind and I try to relay that to the actors. A lot of times at the last second I'll say "Oh no this will be great say this instead." Knowing the entire story in my head, storyboard, script and all my notes. Get the actors attention let them know what I am trying to convey in my story and how I want them to play their role. I want to make sure they know what the story is about and why they are doing what they are doing. Knowing camera angles. In this I had to shoot around the other sets that were right next to the one I was shooting. I try to come up with interesting angles to make the story better. I mean you have your actors doing great but, well, what I used to say and do is the Batman Angle, where the camera is crooked and you shoot the scene that way, so it is all about being creative. I explain everything I am doing with the scene, I'll say to the actors "Okay this is right after you were in jail and now you are a police captain in this new timeline, you don't remember the old timeline ..." I want to make all my actors comfortable with their role before we start shooting, I talk the entire scene over with them ask if they have any questions and then we shoot it.

You also appear in front of the camera in 187 Times - so what can you tell us about your character, what did you draw upon to bring him to life, and have you written him with yourself in mind from the get-go?

Yes I was always going to play Thomas Kirk which turned to James Kirk in the most recent version. I didn't want to do a Karate guy like a lot of my other flicks, I wanted to make a guy that wants to save his wife, he wants to fix things in the timeline, he wants to stop the virus from happening. To begin with I try make every character I play different from the last one, Steve Nekoda is different from Angus Lynch, Dan Hess is different from Gus Kimble, Cope Ransom is different then Nick Hazzard, so with my James Kirk I wanted to make him maybe a regular guy that has the technology to make a difference. He is not trying to be a hero, he just knows he can make a difference or at least he thinks he can. I think my James Kirk is maybe closest to Steve Nekoda as far as being a regular guy stuck in a hard place that he needs or wants to fix. Instead of martial arts or guns or superpowers this time it is technology.

Do talk about the rest of 187 Times's cast, and why exactly these people?

Anthony Wayne has been with me in my movies since 2003, he is my go-to guy for actors, he also appeared in my TV show Joel D. Wynkoop's The Other Side and several of my movies.

Thomas Antalek I met a few years back when I was a guest at a comic convention, we struck up a friendship right away and I gave him a part in my movies The Craiglon Incident 1, 2 and 3 as well as 187 Times - the short as well as the movie version.

Jose A. Roldan jr was a guy I met online, Facebook, he saw I was making the movie and asked if he could be in it, I told him I will put in - it was dream of his and I am him all about making people's dreams come true.

Speaking of go-to guys: Phil Herman and I have worked together for over 35 years. Lately we teamed up to make Horrortales.666 Part 2 and 3, The Craiglon Incident Trilogy and now Doomsday Stories AND 187 Times the Movie!! Phil and I have the same mind set when we go into these productions, he knows what I want and I know what he wants so when we team up like this it is pretty cool.

My wife Cathy is a heck of an actor, she is in the movie playing Dana, my character's wife but also the voice of the AISTDA (Artificial Intelligent Space Time Distortion Array) unit. Man they are all great!!

Ken Waters from LA, Brooks Bailey who plays the main bad guy Lax, Jake Estrada who plays the bank robber who starts the virus, Isaac Dipacal, Ken Anthony II, Lindsay Geraldina, all of them are great at what they do. Some of these people were hand-picked by me that I have worked a lot with in the past and I can always count on them, the others reached out to me and asked if they could be in the movie and I am all about saying yes I will give you a shot.

A few words about the shoot as such, and the on-set atmosphere?

The studio was awesome, the cast was great and everyone got along. Most of the shoot was done at Studio Lot Orlando, Beth the manager was supercool with us, she would help with lighting, costumes, set design anything and everything to help us finish this movie. On set was great!!! Aside from Cathy and I paying everyone, we made sure there was plenty of water, soda, chips and snacks so everyone was well taken care of. Everyone was happy as well, they were having fun doing what they do and that is important, you don't want some actor complaining about his part or he or she is too hot or they're tired or they're hungry or they want their girlfriend or boyfriend there, they are there to do their part. Great cast and great crew, that is mostly my wife and I, but some took pictures on set for me, others helped delegate food and move equipment, it is definitely a team effort.
With 187 Times being part of the anthology Doomsday Stories - how did you get involved with that project to begin with, and was your segment shot for the anthology to begin with or did it start out as a separate entity?
Right after we finished up The Craiglon Incident III: Annihilaton and Horrortales.666 Part 3, Phil put a post on Facebook about Doomsday Stories, I said what's that? He told me he wanted to do stories about the end of the world: Apocalypse. I said "Okay". He told me "We will have our team of moviemakers all do some more stories like Horrortales.666 but these will be about DOOMSDAY!!" We put our same team together we had Marcelo Fabani [Marcelo Fabani interview - click here] in Uruguay, Derek Braasch [Derek Braasch interview - click here], Debbie D [Debbie D interview - click here] and James Panetta, Phil Herman and myself to round out the team. Phil asked me to do a story and I told him I would love to do 187 Times, a story I wrote years ago and now I could finally do it. It was written for a movie challenge and went thru a couple changes through the years, but now I would make it for Doomsday Stories. I changed some of the story to make it fit Doomsday Stories but it was basically the same concept, a guy with a time suit that could go back in time. I doctored the script to make it fit Doomsday Stories and added in things to include Phil Herman's Hell on Earth: Arena of Death and Wrong Side of Town, it was well thought out. Also a big part was including the Meanies, which were twisted creatures in Hell on Earth: Arena of Death.
Do talk about Doomsday Stories' creator/showrunner Phil Herman [Phil Herman interview - click here], and what was your collaboration like?
Collaboration with Phil is always cool! We work very well together. He knows what I want and I know what he wants. Phil and I have been taking care of each other in both our movies for over 35 years now, starting with Jacker 2: Descent to Hell. We have done so much together. Tales 'til the End, The Craiglon Incident Trilogy, Horrortales Part 1, 2 and 3, Before I Die, The Bite, Always Midnight, Into the Woods, Tales for the Midnight Hour 1 and 2 - oh man and so many more! Lately I have driven Phil crazy with phone calls "Hey brother, can you go out and shoot this scene..." "Hey buddy can you re-shoot that scene for me?" "Phil I need a shot of you in the cab of the truck talking on a phone." No one does as much for me as Phil does, I ask him to shoot a scene and it is like I almost have it 5 minutes later. He is the best and we make a GREAT team!
Since Doomsday Stories isn't the first time you've worked with Phil Herman, how did the two of you first meet even?
Wow I think way back when I did Lost Faith, a magazine covered it called Independent Video, and as I was looking thru it I saw an add for a movie called Burglar from Hell, there was a phone number so I called right away and this guy answered and I said "Is Phil Herman there?" and he said "This is he." and I told him who I was and he was excited because he read about me in magazines as well. Phil and I talked for hours about our moviemaking endeavors and the rest is history, right away we started making plans to work together.
From what I know, you're planning to expand 187 Times - so what can you tell us about that project ... and/or any other future projects of yours for that matter?

Feeling lucky ?
Want to
search
any of my partnershops yourself
for more, better results ?

The links below
will take you
just there!!!


I shot too much footage at Studio Lot Orlando, and when I put it all together and cut the movie I ended up with 51 minutes, too long for a short, to short for a movie. I went there with all intent to make, well it was supposed to be a 15 minute movie but ended up 51 minutes, I told Phil "Don't worry I can cut it down to maybe 20 minutes. It came in at 27 minutes I think but I had to cut out a lot of the other actors, and I said that wasn't fair to them, so I started making plans to shoot more footage and make a movie out of the 51 minutes. So not only is 187 Times in Doomsday Stories but now it will be a full feature as well. Other projects are I just finished Phil Herman's Doomsday Stories Cast and Crew Confidential, and I will be working with Phil on I Slay on Christmas, you can guess what that is about. I will get out When I Was Young: The Super 8 Films of Joel D. Wynkoop, Beast Mode, and I need to write a story for my wife called Onslaught and then I need a break from shooting and editing and need to get back to my book Stay Hungry: The Joel D. Wynkoop Story.
Your/your movie's website, social media, whatever else? And anything else you're dying to mention and I have merely forgotten to ask?
Thanks for the interview! People can get in touch with me or buy my movies by looking me up on Facebook - Joel D. Wynkoop. I have many for my movies but this is the one I use the most. Thank you so much for your interest in this old aging actor.
Thanks for the interview!