Your new movie Johnny - in a few words, what is it about?
Johnny is about the consequences of child abuse in adulthood and how devastating that can be to the mind of the victim.
What were your sources of inspiration when writing Johnny?
The story is inspired by true abusive events that I lived in my own childhood. It was a terrible thing to go through as a child. Staring at true innocence in flesh and bone (watching my son sleep with his blanket in a cold night) was what pushed me to make the film because I thougth ďHow can someone possibly hurt an innocent child?Ē I have artistic inspirations as well, like Donnie Darko and The Machinist just to name a few.
Basic question, why a ventriloquist dummy?
The ventriloquist puppet reflects an escape or unlocked door (in Floydís mind) for him to find the answers of his mental state. It represents the pulling of the strings from the master puppeteer which is Floyd. He is the puppeteer of his own mind. My film has a lot of subtext including some numeric code that most people don't see at first because its hidden in a subliminal way. Thatís the wonderful thing about this film; when you watch it more than once, youíll discover new things. Itís one of those films.
From what I've read, you've built the ventriloquist dummy used in Johnny yourself - so what can you tell us about its creation?
Before making the film, I built the ventriloquist dummy for a music video of a song that I had made a couple years back where the beginning of the song had a few words of dialogue that sounded like a puppet talking. The music video was too complicated to make, but the ventriloquist puppet I built was fascinating enough to make a film. Then one thing led to the other.
Johnny doesn't exactly follow a strictly linear storyline and seems somewhat associative in approach - so why is that, and how easy or hard was it not to (literally) lose your plot in telling your story that way?
To me, the best films are the non-linear films that take you back-and-forth and through different doors, eventually leading you to the final door where the conclusion can be found (or not). A film is just like a painting, you can have ten people standing in front of the Mona Lisa and every single person will have their own interpretation. Non-linear films are a little bit harder to make because you canít lose track of the characterís path or goal. So it's more challenging in that regard.
What can you tell us about your overall directorial approach to your story at hand?
My directional approach was a combination of a theatrical and naturalistic style. It was a hybrid mise en scŤne of those two. It worked out perfectly and served as a balance to the disturbing subject. I used some classical cinema techniques when selecting angles and transitions, and used vivid color as an ironic approach despite the darkness of the characters ecosystem in order to ease the tension a bit.
You also play the lead in Johnny - so do talk about your character, what did you draw upon to bring him to life? And have you written him with yourself in mind from the get-go?
Floyd is a troubled man who suffered an abusive childhood that led to traumatic unhealable scars. Those traumatic events are devastating enough for the character to hallucinate in a constant and tormenting pool of confusion where his damaged mental equilibrium floats. All this is based on true events. Floyd was not in my mind at first because I was sort of hesitant to spill my personal bucket shit in the canvas.
What can you tell us about the rest of Johnny's cast, and why exactly these people?
I carefully selected each castmember for the role, and even though it was really hard for me to cast people for such a disturbing script, I would have not selected the actors if they didnít have some sort of connection to the characters I had in mind. For instance, Gary had to be intimidating, young Floyd had to look like Floyd, Henry Aldo had to have that disaster scent to him, Josh - wellÖ he had to be just like Josh the neighbor, and the Bus Stop Man had to be a completely morphed version of Floyd with a creepy sort of lifeless look.
From what I've read, it took you six and a half years to make this film - so what were some of the main issues during production?
The reason why it took me that long to make the film is because it was my first film, I had recently moved to California from the east, so I had no equipment and no financing, because the subject was so dark for a filmmakerĎs first that it was very difficult to gather cast and crew, location issues, etc. Iím in a different boat right now but Iím definitely not the first to have spent that long making a film, as I have read, for example, it took Tarantino about eight years to get his first film off the ground.
Do talk about the shoot as such, and the on-set atmosphere?
The on-set atmosphere was fun and relaxing, but the shoot and the logistics of it were very difficult; in fact, Iíve never heard of a film director that enjoys the filming process, itís very stressful, complicated and a daily problem solving nightmare. But thatís not why we do what we do. We do it for the end result, an immortalized masterpiece with life of its own that can be enjoyed or hated by generations to come, each with their own interpretation.
Anything you can tell us about audience and critical reception of Johnny?
This is a very interesting question because Iíve read and watched many filmmaker interviews where they say that they just make films for themselves and donít care about the audience, whoever follows their work is welcomed, and it kinda just stops there. I donít have that approach. I do think about the audience because thatís the whole point of making a film; youíre not going to make a film and lock yourself in a room and watch it by yourself forever. You need the audience as part of the experience, you need to send a message across. We are messengers as filmmakers, and we have a huge responsibility to communicate one word across an ocean and reach as many people as we can with that message. Itís early for me to discern which kind of audience is going to gravitate towards Johnny, but I am sure some people will love it and some people will hate it. Those people that will love it will be identified with the story, the cinematic approach, and with the characters. They will start to follow my work like a film cult that identifies with its creator. I do want them to know that I thought about them (the audience) every single step of the journey. I want to give my audience a fascinating and mysterious journey with clues and secrets. I want to challenge their brain for two hours with hidden messages and numeric calculations. I want to give them a strange ending that can be interpreted differently by each viewer. I care deeply about my audience. It's why I do what I do.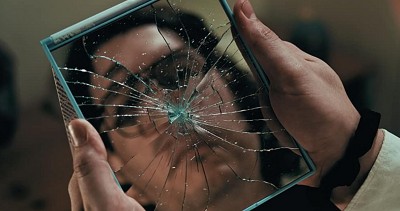 Any future projects you'd like to share?
I want to continue to explore the damaged human mind in conjunction with the spiritual reasons behind it. I have amazing ideas in the back burner, and the pencil has already touched the paper in one of those, but I donít want to say anything about it right now. I like being mysterious about whatís cooking in the oven, especially because somebody could steal my ideas. An artist is the king of thieves, and thereís a lot of artists out there right now.
From what I've read, before getting into filmmaking you had a career as a recording artist - so do talk about that for a bit?
I was a recording artist for many years and earned an audio engineering degree from Full Sail University. This was the best thing that couldíve happened to me in order to enhance my filmmaking career. I said in another interview a while ago that every filmmaker brings something to the table, something they were doing before films. I can safely say that I bring really good sound because of my background In audio engineering. Iím proud to say that my film earned a Best Sound in a Feature Film award recently in a festival in Chicago. Johnnyís soundtrack was written, composed, recorded , engineered and performed by myself.
What got you into making movies eventually, and did you receive any formal training on the subject?
As I said in another interview, I was born to be a filmmaker, and I didnít even know it. All the audio engineering years were just the fundamental preparation to the overall filmmaking, because without sound a film is incomplete, or at least in this modern era. Sound is a key element to the storytelling process. Iíve always wanted to be an actor when I was a little kid, and my mom enrolled me in acting classes at a very young age. I dreamt of being on the big screen someday but I never imagined that I would be in my own film. As I got older, I developed a much deeper interest for the filmmaking process. I got my training from my own film. It's the best way to do it.
What can you tell us about your filmwork prior to Johnny?
Johnny is my first feature film, but it doesnít feel like that in my heart. I feel like Iíve been doing this for a while in another life prior to Johnny. I did a short film called Pounding Echoes which I then disintegrated and incorporated all the key pieces into Johnny. I did promotional videos for other artists and a music video for myself prior to the film. I studied photography for over 20 years, which is also why my lighting and color looks decent in Johnny. All those little pieces of the puzzle were needed to complement me as a filmmaker.
How would you describe yourself as a director, and how as an actor?
I describe myself as a director that pays a lot of attention to detail, likes to put clues in the story for the audience to decipher and lots of hidden messages. I like to play with the audienceís mind and love stories based on true events. I like to be very clear and concise with the messages Iím trying to deliver to the audience.
As an actor, I like to play difficult roles and love characters that are mentally disturbed (without limiting to just that), and of course I like physical transformation.
Filmmakers, actors, whoever else who inspire you?
My biggest inspirations are: George Lucas for his perseverance and vision with Star Wars, Alejandro GonzŠlez IŮŠrritu for his impressive storytelling skills, Alfonso Cuarůn and David Fincher for their outstanding broad range of technical skills, Stanley Kubrick for his mastery in composition and elaborate innuendos, David Lynch for his unique style and sound design involvement, and Darren Aronofsky for his brilliant execution of dark psychological subjects that often torment his characters. Paul Thomas Anderson is also among my favorite directors.
I like actors such as Christian Bale and Jared Leto for their physical transformation. I like Robert De Niro and Joaquin Phoenix among others.
Your favourite movies?
I like hundreds of films but I will mention only a few: Babel, Biutiful, Magnolia, The Wrestler, Taxi Driver, The Predator, Enemy, Mr Brooks, The Shining, The Empire Strikes Back, Ghost, Sleeping With The Enemy, The Elephant Man, etc.

Feeling lucky ?
Want to
search
any of my partnershops yourself
for more, better results ?

The links below
will take you
just there!!!


... and of course, films you really deplore?
There are tons of bad films. Too manyÖ this is an endless answer.
Your/your movie's website, social media, whatever else?
You can find me at Urbantunnelfilms.com and @urbantunnelfilms everywhere else.
Anything else you're dying to mention and I have merely forgotten to ask?
Johnny has transitions such as ďThree Hundred and Thirty Three Minutes LaterĒ which are all numerical coding leading to the same three digit number implemented in the entire film over and over in a hidden way. For instance, ask Google how many hours are in 333 minutes. Try it!
Thanks for the interview!