Your new movie Country of Hotels - in a few words, what is it about?
It's about room 508, a mysterious room in an anonymous, decaying hotel, somewhere in the Midwest of America. Strange and sinister things happen in this room. People enter, but they never seem to leave; they go mad; they go missing; they meet unfortunate ends. Always within earshot down the lonely corridors are the hotel staff, a seemingly nefarious group of people.
How did the project fall together in the first place?
The writer, David Hauptschein, and I have done many plays together over the years. I had been nudging David that we should work on a film together. I would often send David bits of found material, just things that I thought he would find interesting, because who knows what spark might light the fire. One of these sparks led to him writing the screenplay. We wanted to collaborate on a project which would endure longer than the run of a play and which could be discovered/re-discovered by someone years later.
What can you tell us about Country of Hotels' screenwriter David Hauptschein, and what was your collaboration like?
David is the writer and I am the director. But we work in a spirit of continual collaboration and artistic contamination. We influence each other's side of the work, pushing each other to come up with new ideas, suggesting stuff, constantly trying to up each other's game. Originally we discussed making a short film set in a hotel room, but one idea led to another idea which led to even more ideas and before we knew it was a feature. David was on set during the shoot and we carried on collaborating right through the edit and post-production, which took several years.
Country of Hotels is quite a bit on the bizarre to surreal side - so how easy or hard was it to not (literally) lose your plot telling your story?
I like making work that "bends reality". Something both David and I agree on, is that work which is "surreal" has to be anchored in a concrete, tangible reality. Dreams and hallucinations can be terrifying because they often depart from what appears to be a consensus reality. David coined the phrase "kitchen sink surrealism" which we use to describe the work. It's a play on the theatrical term "kitchen sink realism" which was a way to describe a style of stage naturalism which appeared in the 1950s, whereby gritty and unvarnished real life would be depicted on stage. You'd go to a play and it would no longer
be witty, drawing room comedies, instead you'd see a guy shave in a sink or cook eggs on a kitchen hob whilst scratching his armpit. Kitchen sink surrealism uses this style as a jumping off point for a voyage into the surreal. The important thing about this voyage, what makes it credible, is that it takes place in a recognisable consensus reality.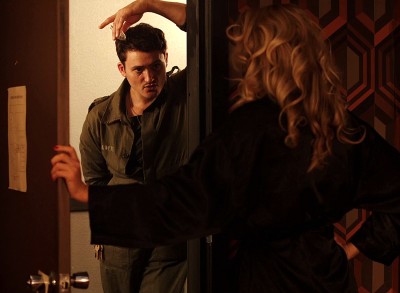 So a lot of our work was about how we made such strange things appear as if they were actually happening, concretely. For example, the voice which talks to Pauly through the heating vent really does have to sound like a "physical voice" coming out of the device (at least at the start); it's not just a voice in Pauly's head - there's something speaking out of the vent! A lot of focus is placed on the actors who had to make their performances credible and grounded in a physical and recogniseable emotional reality. Also I spent a lot of time with our cinematographer Stefano Slovovich, developing a visual language which gave weight to the physical reality of the room and the objects in it; the actor's bodies as well as inanimate objects. When Roger and Brenda were having sex, I wanted to see the sweat and the visceral meshing of their flesh as their bodies pressed into each other; when Pauly was lying in bed, shivering, I wanted to see his toes shivering in macro lensed close-up.
Similarly, I worked with our editor Peter Allinson and sound designer Ed Rousseau to create an atmosphere throughout that felt physical, concrete and real, and then we used that "ground level reality" as a springboard into the surreal. We spent a lot of time editing the picture to get to that "higher plane" of the surreal in a way that felt seamless, organic and credible.
At least to me, Country of Hotels is at times also wickedly funny - would you at all agree, and if so, what can you tell us about your movie's brand of humour?
I'm very pleased to hear you found the film funny. I think that an absurd, offbeat, black sense of humour is crucial to the success of the film. In order to enjoy and appreciate the film I think you have to be open to this.
For me, there is a great dividing line in film (and theatre) between people like yourself who have a sense of humour and the absurd; and those who seem to think that humour isn't somehow fundamental, or is perhaps of lesser importance in dramatic art. Almost all the major film directors and playwrights of the 20th century had a rich vein of humour in the work: Samuel Beckett, Harold Pinter, Alfred Hitchcock, Fellini, Bergman, Lynch. It's almost impossible to find someone without it. Yet, I think there is a huge subset of critics who are totally without humour.
The way Pauly cleans the glass in Country of Hotels is funny to me; every scene in the film has something funny if you are open to it. In this respect the film is better appreciated with an audience, but that's very difficult to achieve these days when the culture is telling you that you don't need to leave your living room to experience the world.
Everything I do in life and art is infused with a sense of humour, often absurd, black humour. David and I are exactly the same in this regard. Like all serious artists we have an obsession with toilets and toilet humour. You will have noticed that toilets are very important in Country of Hotels, how they flush, the water level etc. Pauly even eats his dinner sitting on the toilet, and uses the toilet paper as a napkin.
A few words about your overall directorial approach to your story at hand?
There's lots to say about this. One of the very obvious, but very important things I did was work very hard with the cinematographer Stefano Slocovich to keep telling the story visually. We spent hundreds of hours planning (and replanning) shots. Given that so much of the film is set in a handful of locations this was especially important. Cinema is a language. Coming from theatre and making a "limited location film" I didn't want to fall into the trap of making a filmed play.
Do talk about Country of Hotels' key cast, and why exactly these people?
I like collaborating with people I already know. For me a good cast is made up of a mix of familiar faces and new faces. There are a number of reasons for this, some of which are very practical and are about "survival" as a director as much as they are about art. Filmmaking can be an incredibly stressful experience. If you are stepping into "enemy territory" you need a crack team of soldiers with you, whom you can rely on, and who aren't going to shoot you in the back of the head when things get tough. So, it's always good to have at least a few people on the team who have your back. Another good reason to have people you know on your team is that the bond of "trust" between actor and director is something that is very fundamental and cannot be faked. In my experience actors can only fully release themselves into the work when they trust the director they are working with. For example the first scene we shot for Country of Hotels were those of the standup comedian who appears on the television in the hotel room. The actor was a guy called Colm Gormley, someone I did plays with at university and who continues to work as a professional actor to this day (mostly in the theatre). I knew that he'd be perfect for the role. The first few takes we used to cover all of the dialogue in the script. Then, for subsequent takes, I encouraged him to improvise and he started coming up with crazier and crazier stuff, surreal trains of thought, about taking himself on a date and making love to himself. A great deal of these improvisations ended up in the film. The first set-up in a feature film, helmed by a novice director, can be a very fraught and nerve-wracking experience. The crew might reasonably be wondering what the next few weeks are going to be like. But as Colm and I pushed each other further and further you could feel the energy in the room changing and the nerves lifting a little. That said, at least half the cast are actors whom I met through auditions and recommendations from our executive producer Emily Corcoran (who was incredibly good at finding people). I'd be delighted to work with any and all of them again. It's important to have new people around you as well, who will challenge you and help pull you in new directions.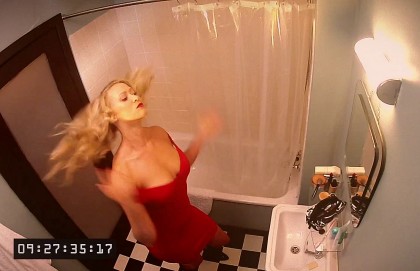 You of course also have to talk about Country of Hotels' hotel and especially room 508 - was this actually an existing location or sets constructed for your movie, and how much creative input did you have in terms of set design?
The entire film (except for a few locations shown on the TV playing in the room) was filmed on sets. They were all built for the film. So we could remove walls, shoot through walls, shoot from above etc, and it allowed us much greater control over the lighting. This kind of thing is really important for a film which takes place mostly within a couple of locations. We worked very hard to make the space on camera "breathe". You can't really do this if you are using a real location and you have solid walls. Suddenly the shooting space would start to feel very cramped and the audience would feel this. And you choice of shots would become very limited.
Although I wanted the film to have a "realistic" look, using sets allowed us to create more of an abstract and "eternal" feel to the setting as well. The hotel and room 508 is as much a metaphorical space as it is a real place. The sets were designed and built by our production designer Mike McLoughlin. I had a lot of input, but I'm not a designer. He sourced all the materials and created the look. It's thanks to his art and creativity that we had such an amazing environment to film.
What can you tell us about the shoot as such, and the on-set atmosphere?
We filmed in a warehouse in Essex about an hour's drive out of London, which our producer Saba Kia found. All the sets were built there by Mike McgLouhlin who was incredibly inventive with the space we were given. We didn't actually have the whole warehouse to ourselves. Just a section of about 200 square metres on a platform. There were other people using the rest of the warehouse, which was a clothing storage and repackaging facility. So, every time we were ready to shoot we would sound a horn and the warehouse would fall silent. The shoot was 19 days in total.
Anything you can tell us about audience and critical reception of your movie?
If you go into the film trying to anticipate what the movie will be like, I think there's a good chance you'll be frustrated by the experience. We deliberately made a film that played on genre conventions but continually subverted them and. the audience's expectations. If you go in expecting a straight horror or film which will follow a template set by other films or dramatic formula, it will be a confounding experience for you.
Any future projects you'd like to share?
David and I are working on another film project at the moment, turning one of his plays into a screenplay which we will hopefully film. It is loosely inspired by the Manson family murders. I've also written a screenplay myself called My Father Was Born on an Island. It's about a guy in his late 30s who travels with some friends to the wedding of a very rich friend on an unnamed island, somewhere off the British mainland. Instead of making it to the wedding, the friends get lost and end up at a very strange finishing school, which seems to have existed on the island for over a century. They repeatedly try to leave, but never seem to manage it. Little by little the central character begins to discover his own personal family history is woven into the history of the school. Then some really extraordinary things happen which I don't want to go into at this stage. I hope to make both these films in the next few years!
What got you into filmmaking in the first place, and did you receive any formal training on the subject?
I've always loved film and acting since I was very little. I saw a double bill of Star Wars and Empire Strikes Back when I was probably about 6 and I was hooked. I would spend entire summer holidays in the cinema. Later my father and uncle ran some video rental shops (in the days before Blockbuster's dominance destroyed the independent video rental market), and so I watched 1000s of films during that period. I also remember wanting to act at the age of three or four, and so I acted in plays throughout my time in school whenever I could. I was never a very gifted actor, but I was enthusiastic enough to always get some kind of part. This obsession with acting slowly matured into an interest in directing, and by the time I went to University of Manchester to study English Literature, this became my main focus. I was still a student when I saw a play called Trance by David Hauptschein at the Edinburgh Fringe. This experience blew my mind and I eventually contacted David a few years later and we began working together a few years after that.
I've never received any formal training in directing or acting, film or theatre, or anything like that. I tried to get on various directing courses when I was younger, but they wouldn't have me. This turned out to be quite fortunate as I realised that I'm a bad student and operate much better as an enthusiast who explores his own obsessions and passions. I've learned a lot from artistic mentors like David Hauptschein and friends who run a theatre in Milan, Italy called Teatro Della Contraddizione. Working as collaborators with these people has been my education.
What can you tell us about your filmwork prior to Country of Hotels?
Country of Hotels is my first film really. I made a short film years ago, but that's it.
How would you describe yourself as a director?
If you meet me I don't think I come across like someone who could lead a group across enemy lines and pull off a mission. But oddly, when the time comes, and I am directing, I feel like I am in my element. On a good day, my enthusiasm and unwillingness to quit carries us all along.
Filmmakers who inspire you?
- Polanski at a technical level was a significant inspiration for Country of Hotels. No one has been better at filming that passage between being awake and being asleep as he did in Rosemary's Baby and The Tenant. Also the way he films the amorphous, shifting interiors of rooms, peepholes etc; and his appreciation of characters with exotic accents!
- David Lynch is a huge inspiration, but in terms of how his movies "feel" I try not to copy him.
- Lars Von Trier: A director lacking funds, and complaining they can't get their movie made, can watch Dogville and feel slightly ashamed they didn't come up with something as inventive and brilliant. That idea could have been made on a miniscule budget and it still would have worked. There are brilliant ideas out there which can be made for peanuts.
- And a hundred other directors.
Your favourite movies?
I don't really have any "favourite" movies. There are too many unseen movies for me to discover and watch. But I can mention some movies I love which I am always recommending to people:
Scorsese: Mean Streets and Taxi Driver. I think Taxi Driver is one of those rare films that has a dangerous alchemical power to it. Recently, I recorded a podcast on the film's novelisation by a great New York poet called Richard Elman, where I also talk a lot about the movie's unusual power.
Bergman: Almost anything he made. But I would always recommend anyone intimidated by the idea of Bergman watch the longer TV version of Fanny and Alexander - hold off on that next "series binge watch" you planned and watch this.
If you think you like political cinema (and even if you don't) I urge you to watch Elio Petri's Investigation of a Citizen Above Suspicion starring Gian Maria Volonte (one of the greatest actors who ever lived). And Gillo Pontecorvo's Battle of Algiers. The Italians made the greatest political cinema in my opinion.
A great Russian film that no one talks about enough is Larisa Sheptiko's The Ascent. This film completely pulls you inside its moral and spiritual dilemma and projects you out the other side in a transcendent blaze.
Segio Leone's The Good, The Bad and the Ugly, Once Upon a Time in the West and Once Upon a Time in America are totemic films in my life. I watched all of them when I was very young (too young in some cases) and had very different reactions to them. They will be with me until I die, I think.
I also watch a lot of silent films. I would recommend anyone reading this to go to as many silent film cinema screenings as they can. Especially if they have live musical accompaniment. I live in London and we are really well served by this kind of event; especially by an organisation called the Kennington Bioscope who show silent films with live piano accompaniment at the Cinema Museum. That's an experience you can't get in your living room!
One of the greatest artistic experiences I ever had was seeing Carl Th. Dreyer's Passion Jean D'Arc at The Globe Theatre in London with a live score by Will Gregory and Adrian Utley.
[Dreyer's Ordet is also an amazing film. A huge well of inspiration for Lars Von Trier that film.]
... and of course, films you really deplore?
I feel like I have to be very careful to mention any film I "deplore". I watch all types of cinema, and I am constantly searching for something that will surprise me, take me out of myself, blow my mind. As I get older I find that films which manipulate the audience artificially, but in a really slick way, can really upset me. Any film which is pornographic in the way it manipulates my emotions is generally something I despise…
But it's also the case that I am an extremely emotional person, and the older I get the more I find it difficult to watch any films where young children suffer for some reason, or where parents witness their child's suffering or death. So, for example Lars Von Trier is one of the greatest filmmakers alive, but I can't watch The House That Jack Built without feeling extremely agitated and ultimately depressed. The experience of watching that film feels like having Satan squatting inside your brain for two and half hours. Breaking the Waves, Dogville and other films he made are the works of an artist of the first rank in my opinion. Who am I to say whether The House That Jack Built is good or not - some of it is clearly amazing. I can't (re)watch Killing of a Sacred Deer (by Yorgos Lanthimos) for similar reasons, although I love Dogtooth and The Lobster (even the second half of that film, which many people seem to object to).

Feeling lucky ?
Want to
search
any of my partnershops yourself
for more, better results ?

The links below
will take you
just there!!!


Your/your movie's website, social media, whatever else?
You can find me on Twitter at @juliommartino
David Hauptschein has a website: hauptschein.com
Anything else you're dying to mention and I have merely forgotten to ask?
One thing: I just want to mention what an amazing job Christos Fanaras did on the score for Country of Hotels. This was his first film score and it's perfect for the film. It has a very individual and unique voice, very unlike anything you would normally hear in a "low budget" film. It is an "electronic score" but almost exclusively played and produced with analogue (i.e. non-digital) instruments, giving it a very warm familiar/unfamiliar sound. It is a fundamental part of the film's identity.
Thanks for the interview!