Your new movie Montréal Girls - in a few words, what is it about?
At it's core, Montréal Girls is really about the experience of being completely out of your element and trying to get your bearings. In this particular case, it's expressed within the classic immigrant story; The proverbial fish-out-of water experience as lived by the lead character, Ramy, a medical student coming from a conservative background in the Middle East to Montreal, a very cosmopolitan city. As he navigates through meeting new people, specifically the titular "girls" Desiree and Yaz, his world turns upside down, his original plans go out the window, and his more bohemian instincts rise to the surface.
What were your sources of inspiration when writing Montréal Girls, and is any of it based on personal experiences?
There is a rich tradition in cinema of the so called "coming of age" narrative. I grew up with the John Hughes movies in the US which had a tendency to treat young adulthood with a kind of candidness that revealed all the trials and tribulations of being that age, warts and all. There is also a long history of such films from the international scene. Quebec, where this story takes place, has produced a long line of award winning films with this kind of narrative. Jean-Marc Valee's Crazy comes to mind along with so many others. Recent work from Xavier Dolan, whose father Manuel Tadros plays Uncle Hani in our movie, are particularly inspiring for their boldness and creativity. As far as personal experience, I would say this is more Patricia Chica's (our director) experience than mine [Patricia Chica interview - click here]. I grew up in Southern California, so my experience was more about skateboards and punk rock growing up. I did immigrate to the states with my parents when I was very young, but they were supportive and fairly liberal about my crazy artistic pursuits. Patricia, on the other hand, had a coming-of-age experience much closer to the lead character, Ramy. I think a lot of people have had that experience of coming from a hardcore conservative background and having to make difficult choices about how they want to live the rest of their lives, for better or for worse.
What can you tell us about your co-writer/director Patricia Chica, and what was the writing process like?
Patricia is a very patient and dilligent collaborator, and I consider our process on this to be MY coming of age as a writer. She was instrumental in helping me build the confidence to make bold leaps in my own career as a writer, which gave me the runway to find and develop my "voice". We talked about this idea from the very beginning when all we had was a nifty title. We knew we wanted to make a movie called Montréal Girls. The question was what was it going to be? In the end it's an amalgam of both her cultural experience at that age and mine. The process of developing the script was a very long rollercoaster ride, fraught with tension at times, long stretches of non-activity in others. It was also enormously challenging to try to get this kind of story produced. A lot of producers and financiers are looking for low-hanging fruit. Something they can sell easily. That means dumbed-down and easily digestible. And a Middle Eastern progatonist? Hah, good luck with that. We had to put up our dukes and fight for the integrity of the movie, and when you have very little resources, that can be a David and Goliath kind of experience. But we found supportive producers in Objectif 9's Samuel Gagnon and Bahija Soussi-Gagnon, and further developed the story to bring it to market. I stepped away at some point to go work on other material for other producers, and Patricia took up the reins alone and shaped the script into its final form. The end result is a kind of shimmering document of all of our hard work and sleepless nights chiseling at words on the page to become the movie it is now.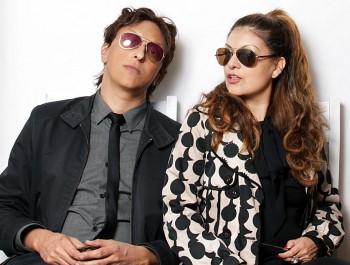 with Patricia Chica
Montréal Girls wasn't the first time you've worked with Patricia Chica [Patricia Chica interview - click here] - so what can you tell us about your previous collaborations, and how did you two first meet even?
We met in 2010 at the Worldfest Houston Film Festival. She had a short film in competition called Day Before Yesterday and I had one called Jesus Comes to Town. We kept running into each other at film festivals, and eventually that turned into talk of collaboration. We started talking about Montréal Girls at the Oaxaca FilmFest in 2011, but a few years later, Patricia asked me if I had a short horror script for the Women in Film Blood Drive run by the Soska Sisters of American Mary fame [Soska Sisters interview - click here]. I had a short script I'd written as a teenager that I thought I would do as a claymation piece back then but did nothing with it. I blew the dust off of it and gave it to her, and that turned into A Tricky Treat, which did a healthy festival run and can now be seen on CryptTV.
To what extent were you involved with the actual shoot of Montréal Girls, and what can you tell us about the experience?
I had no involvement in the shoot of Montréal Girls, because it was shot right smack-dab in the middle of Covid, when nobody was going anywhere and air travel was at a stand-still. Patricia put together a crew and shot the movie within something like a two week window that opened up in the late summer during lockdown, when everyone thought the coast was clear. Of course that wasn' t the case, and Montreal went under lockdown again soon thereafter. She literally slipped the production between the cracks and the movie was heavily affected by Covid protocols and restrictions. I'm really in awe of what she was able to put together under those conditions, the extreme duress and uncertainty of 2020, when the virus was raging and nobody knew what was going to happen. It's a miracle that the movie was made, really, which is a testament to her unwavering tenacity.
Any future projects you'd like to share?
I optioned a horror-comedy script called Curse of the Octopus to a company in Atlanta, Georgia called Rumination Road. It will be produced by Chayah Masters and Prime-Time Emmy winning production designer Aaron Osborne, who will also direct the movie.
What got you into the filmworld in the first place, and did you receive any formal training on the subject?
I thought I wanted to become an animator for Walt Disney Studios, but when I was 13 years old I saw A Clockwork Orange for the first time. It was obviously horrifying. But with subsequent viewings I began to see it as a dark comedy about the futility of human systems that try to change our inherent primal instincts and behaviors. In it I also discovered how a director can impose their own personality on a story through a film's aesthetics i.e. editing, camera movement, tone, composition, and music choice. That, along with the Coen Brothers' Raising Arizona and Martin Scorsese's contribution to New York Stories, Life Lessons, represented a kind of grand epiphany for me. I wanted to make films and be able to do what these directors were doing. So I went to film school at Chapman University in southern California and subsequently embarked on a career in production.
Going through your filmography, it seems you've worked in pretty much every position both in front of and behind the camera. So what are some of the jobs you enjoy the most, what could you do without?
I've worked on hundreds of movie and television sets in many capacities. But the one position that really took was working in the sound department. I became a sound mixer and worked in the field for just about every company in media, including National Geographic, History Channel, and Discovery, which allowed me to travel the world and go to places I probably would never have gone to on my own. I've lived in huts in the Amazon jungle, got picked apart by mosquitos in the Yukon, climbed mountains in Ethiopia to see the source of the Nile, and rode gondolas in Venice. It's been a wild ride and has allowed me to finance my creative endeavors. In terms of what I could do without, I'm sure I grumbled and groused when I was up to my waist in anaconda infested swampwater in the Peruvian jungle, but who doesn't complain about their job?
What can you tell us about your filmwork prior to Montréal Girls, in whatever position?
When I started out as a teenager, I was very interested in stop-motion animation and hoped to have a career doing that sort of thing, but around that time Jurassic Park came out and all but wiped out practical effects in movies. Sure it's done now and again, but it's a cottage industry. I went to film school and became completely engrossed in live-action filmmaking. I shot several projects on film, edited them, composed music for them, and travelled to festivals with them. The most notable one was a short film called Jesus Comes to Town, written by a dear friend of mine James Seitz, who I went to high school with. I thought he'd writen such a lovely and clever little story that I ponied up my own money to shoot it on film. We scored a Panavision camera package and shot it in super 16mm with Hollywood actors Claudia Christian (Babylon 5), Steve Eastin (Con Air, Killers of the Flower Moon) and Alex Veadov (We Own the Night, The Equalizer). I directed it and produced it with my colleague, Michael Silberman, cut it myself on Avid, and composed some music for it. It went on to screen internationally with 30 official selections and won 7 awards. Silberman also hired me to direct a promo piece in 35mm for a historic novel trilogy called The Exile. In both cases I had to command a crew of over 45 people, and in the latter case, manage some intensive green screen and digital matte painting work.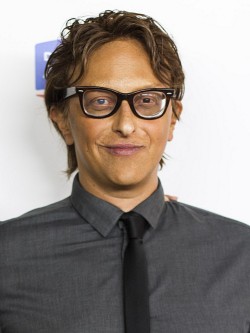 How would you describe yourself as a writer?
I like writing stories about flawed characters who have to overcome obstacles that they don't necessarily triumph over, or maybe they do in a kind of darkly ironic way. Life is messy, and that's the context for the sort of stuff I'm interested in exploring.
Writers, screenwriters, filmmakers, whoever else who inspire you?
I love the work of classic Hollywood screenwriters like Ben Hecht, Paddy Chayevsky, and Billy Wilder. I'm particularly attracted to alot of the work that came out of the so-called New Hollywood from writer/directors like Peter Bogdanovitch, Sidney Lumet, and Hal Ashby. I think as a writer, I'd love to do the kind of work those writer/directors did. My favorite writer/director of all time is the Italian filmmaker Lina Wertmuller, who just passed recently. She was the first-ever woman to be nominated for a directing Oscar. What she does with tone, politics, and comedy as well as drama is miraculous to me. I can't think of any director who can do what she did when she made her seminal work in the 70's. I'm just in awe of her movies Seven Beauties, The Seduction of Mimi and Swept Away. Let me see, Spike Lee's Do the Right Thing was a head-splitting moment, and anything by Stanley Kubrick gives me the tingles. Recent work by Damian Szifron (Wild Tales), Ruben Ostlund (Force Majeure), and Panos Cosmatos (Mandy) are also particularly inspiring. Anyway, I can go on and on with the name-dropping cuz I live in Hollywood baby, that's what we do!
Your favourite movies?
My favorite of all time is Nights of Cabiria by Federico Fellini. Although his 8 1/2 is nipping at the heels of that one. The above-named movies, of course. Dog Day Afternoon, The Last Detail, Paper Moon, Wild Tales, Billy Wilder's Sabrina, Herzog's Fitzcarraldo, Friedkin's The Exorcist... I mean, the list goes on and on and changes all the time, like with most people, I imagine, who love movies. I'd be remiss if I didn't mention Raiders of the Lost Ark. Who doesn't love that one? John Hughes' Planes, Trains and Automobiles and Howard Hawk's Twentieth Century are probably my favorite comedies of all time. Coppola's Apocalypse Now, etc.
... and of course, films you really deplore?
Well, you can get into trouble these days mentioning a disdain for certain "market product". There is an army of fans ready to have you drawn and quartered. Without naming names, I'll just say that movies that have to dumb-down because they don't trust the audience's intelligence in any way are the ones I find deplorable. I dread a future where algorithms tell stories instead of humans. But A.I. and the singularity are upon us.

Feeling lucky ?
Want to
search
any of my partnershops yourself
for more, better results ?

The links below
will take you
just there!!!


Your/your movie's website, social media, whatever else?
Anything else you're dying to mention and I have merely forgotten to ask?
I can talk about movies all day long, what a privilege. But I'll put a cork in it and let you get on with your day.
Thanks for the interview!
Thanks for the opportunity!