Your film Shades of a Killer - in a few words, what is it about?
Hi and firstly thanks for this interview and your interest in the film.
Shades of a Killer for me is about one man (Jaan) searching for his own way in the dark bloody and violent world of contract killers and organised crime with themes of paternal angst and brotherhood loyalty while touching on how our own destiny is pre determined and thus we must face it head on. I have also mixed Cultural influences of my own Turkish heritage to try and give the film a different flavour.
Shades of a Killer was quite obviously inspired by heroic bloodshed and martial arts movies from Hong Kong. What do you find appealing about these movies, and your genre favourites?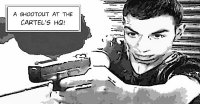 I grew up watching the Hong Kong/Japanese films of the 70's, 80's & 90's, but my first inspiration was Bruce Lee. I first saw The Big Boss when I was 5 and I was blown away by Bruce Lee, he had an energy that exploded from the screen while still having a sense of reality in his performance, and he was obvisously the real thing in terms of his fighting ability. I am a massive fan of Hong Kong cinema from its use of balletic action sequences to its use of long action set pieces - but I'm influenced more by Japanese cinema for visual photography and themes of honour, betrayal and place within society. The Jaan Character was heavily influenced by Ken Takakura's Outlaw portrayal seen in the Toei films as well as Turkish cinema of the 60's and 70's which had the feared hero with a heart character personified by Cuneyt Arkin, a popular Turkish actor.
Favourites are too many to mention so a limited list:
All Bruce Lee films.
Jackie Chan's Young Master, Police Story, Project 'A'.
Sammo Hung's Wheels on Meals, Dragons Forever, Heart of the Dragon and Pedicab Driver.
John Woo's The Killer & Hard Boiled.
Donnie Yen's Tiger Cage, In the Line of Duty.
Crying Freeman The Manga.
Lone Wolf & The Baby Cart-series.
Toei Studio films - the Jaan Character was heavily influenced by Ken Takakura's Outlaw portrayal.
Other sources of inspiration?
I also got inspiration from Japanese Anime and comic books for the film in its use of story structure and use of colour texture within the film and Crying Freeman was a massive inspiration as well as Jean Claude Van Damme for my own fighting style
How would you describe your directorial approach?
That's always a difficult question as I feel it's up to others to make those kind of comments about me. I would like to think I have my own style that is unique and individual. I feel my style is evolving all the time with more life experience so I guess if I had three words they would be Individual, Cinematic, Entertaining. Ask me in ten years
How were the action scenes in Shades of a Killer actually achieved, and were any of your cast including yourself actually trained in martial arts and the like?
With Shades of a Killer I wanted to make the biggest action film I could within my limited budget, so I knew the action had to hold up. I wanted to make a film where you could see the actors actually doing the fighting rather than cutting the camera every few moves, so I kept the camera away as much as possible to show that actually it's us doing the fighting. Both myself and Mohammad Amar are trained martial artists so we handled the majority of the fight choreography and Mohammad is a weapons specialist so he handled the fire arms, as we we're using live ammunition for the majority of the gun fights. We only had one actor who wasn't a trained fighter, the actor who played Jem, so we trained him in screen fighting and by and large he does a great job. We managed to get this amount of action through sheer hard work and a great team who followed my lead and we all wanted to make it the best we could.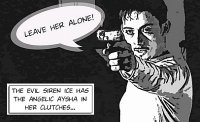 You also play the lead in Shades of a Killer. Why, and how would you describe yourself as an actor?
I have always loved the movies ever since I was a quiet unconfident kid growing up. I always wanted to act and thats how I started out having a passion for performing. I didn't know how to get into it so one day my dad bought the family a camera and I began making films.
I would describe myself as an "In the moment actor" - I love the work of Sanford Meisner and his approach to acting. I like to feel I am open to the actor in front of me so I can bounce off their creativity and I am profoundly committed to what I do, be it acting Producing/Directing or making a cup of tea - and I do that well too.
What can you tell us about your cast and crew?
I can tell you that they're all fantastic for sticking with the project as it was a long and extremely tough shoot - it was an ambitious film I was trying to make and they all worked hard to achieve this, so without creative talent a filmmaker has nothing but his imagination and that alone is not enough to make a film a reality.
As far as I know, Shades of a Killer was your debut feature. How did that project get off the ground to begin with, why did you choose such an ambitious project with quite a high level of action - and was there ever a point where you were thinking about just giving up?
I chose Shades of a Killer as my debut because it was a story I was comfortable with, I wanted to make something I wanted to watch myself, and also one I could show all my inspirations in, it's my fan boy film to the films I loved growing up. It is ambitious to make an action film when you're first starting out, but I have always been ambitious and looked to do things out of the box. I thought about giving up frequently as independent filmmaking is tough and seems to be getting tougher, but something keeps me going and I feel this is what I am meant to do - sounds cheesy but its my calling.
As far as I know, your film was shot in 1999 but not released until 2010. To put it bluntly, why?
I originally did a version of Shades of a Killer back in 1999 while in college which I completely shot on Super VHS with no budget whatsoever, but I was never happy with it and felt it didn't reflect my ability so once I left college and set up a company Knight Productions with my partner Saima Yildirim I decided to remake it and make it the film I wanted to make.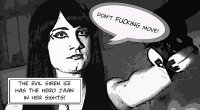 We went into production in late 2002 and shot on weekends till the end of 2003, by which point I had run out of money and my cast had moved on to other things. The problem was we still hadn't shot all our script, so I decided at that point I had to shelve the project in order to regroup. I then spent the next few years learning my craft fully working on other projects and building my networks, so in 2009 I was working with Ali Yildirim, my uncle who is a great writer, we got to talking about Shades of a Killer and over a series of conversations we developed the story structure we needed to complete the film. So the non-narrative approach was a device we used in order to make the film work. We shot additional material to meld the story together - so a massive thanks to Ali Yildirim who came onboard on the 11th Hour to help me structure the film, and he also worked with me on post production.
What can you tell us about critical and audience reception of Shades of a Killer?
So far so good it has been received well and getting positive reviews. Its release is due March 6th 2012, so let's hope it makes its budget back.
Looking back at Shades of a Killer from the distance of more than a decade, what are the lessons learned from it for you as a director?
I have learned so much from when I first began this film, I have learned how to really tell a story with conviction. I have learned that film is a collaborative effort of a big number of people and I have learned a lot about myself from this journey, it has been a great experience for me.
What got you into filmmaking in the first place, and did you recieve any formal training on the subject?
I was a shy kid that felt when I was watching films I could be the hero. I wasn't great at school and was a bit of a troublemaker. I was making films since I was 14 but never thought I could do anything with that skill. I was studying for a business qualification in college and one of my lecturers announced a project that would involve telling a story by using film as a tool. I took on the challenge and made a film and got a distinction and that set me off on my journey. After my business course I realised that my passion lay in film production so I went back to college to study film. After college I did an additional course at the New York Film Academy which was a fantastic insight into film and a grass roots approach to film making which has benefitted me in my career so far.
What can you tell us about your filmwork since Shades of a Killer, and how do you think you have evolved as a director?
I have been building up momentum as a film maker for a while since Shades of a Killer, I have gone on to win awards and released another film called Tales of the Dead, an anthology horror film. In 2010 I completed a feature film called Secrets, which was a great project to work on as it was a very collaborative effort as we had no script and just a structured story. Secrets for me was a change in direction as it allowed me to trust my instinctive directing skills more than just relying on a script. Secrets screened at Cannes 2010 and received a great response.
I feel as I have grown as a director I would describe myself as an actors' director and a more accomplished story teller with an eye for detail. I just love telling stories in the most cinematic way possible and in my own way.

Over the years, you have returned to the horror genre time and again. A genre at all dear to you, and why (not)?
I love the horror genre, it's the first kind of film I look for in a store or online to buy. I have been a horror fan since I was a kid. As well as the martial arts films I loved it was also horror that inspired me to become a film maker I love the feeling you get when you watch a good horror film, and it's one genre that will be always be popular as it taps into a raw human emotion and that is powerful.
A constant collaborator on almost all of your films is indie filmmaker Jason Impey. What can you tell us about him, and how did you two first hook up?
I first Jason back in 2007 when he put an online post out looking for collaborators. I replied as I too was looking to work with like-minded people. It was a great meeting, we just talked about horror and all our favourite films. We knew straight away we we're going to work together. Since then we haven't stopped and have become very close friends. He is a talented award-winning filmmaker in his own right, he is my Director of Photography (DOP) on a lot of my films and I produce, DOP and act in his productions also. Our wives say we're joined at the hip - which is true.
Your upcoming film Rose - you just have to talk about that one for a bit!
Rose is my latest feature film that is due for release 2012/2013, it is my biggest film to date and a powerful true story about one woman's fight to reclaim her life. It's based on the life of a close friend of mine who was trapped in a dark world that many woman and children around the world find themselves in. The film started out as a short film that went to Cannes on completion in 2008. It went onto receive a special mention, I received a lot of interest after this to turn it into a feature film, and it spent three years in development.
Rose is about The most gritty urban drama story of our time, set in Hellville, an unspoken world that exists near you.
Rose is a hopeful woman broken by drugs, prostitution and Blondie, the Czar of Hellville. Struggling to support her habit, Rose finds herself and her six year old daughter at Hellville's mercy. When Rose betrays Blondie turning tricks behind his back, she and her daughter endure many hardships, including the fight to protect themselves from Blondie's brutal iron grip, in pursuit of her dream to reclaim their lives.
After waiting what seemed a lifetime and attending meetings that lead to me still feeling like I was no closer to making my film, I decided I would make the film independently, so in 2010 I began raising finance on my own. By the end of 2010 I had raised enough to shoot the film so began pre production in early 2011. Principal photography began in July 2011 with a shooting schedule of 21 days, and post production ended in January 2012. We are now in the exhibition and Distribution stage and I am very excited about this film as I feel this is the beginning of my own style of directing and the message behind the film needs to be seen.
Any future projects you'd like to talk about?
The future is looking good I have a slate of 7 feature films in various stages of development, one of which a horror film that will commence principal photography in April 2012. The film is called Silent Cradle, so look out for that, it will be a very dark tale.
Directors who inspire you?
I have so many I will name a few:
William Friedkin, Lars Von Trier, Nuri Bilge Ceylan, John Carpenter, Mike Leigh, John Cassavetes, Mario Bava [Mario Bava bio - click here], Martin Scorcese, Roman Polanski, Sam Peckinpah, David Cronenberg, I could go on and on ...
Your favourite movies?

Feeling lucky ?
Want to
search
any of my partnershops yourself
for more, better results ?

The links below
will take you
just there!!!

Find Kemal Yildirim
at the amazons ...

amazon.com

amazon.co.uk

amazon.de
Looking for imports ?
Find Kemal Yildirim here ...
Something naughty ?
(Must be over 18 to go there !)

The Exorcist, Three Monkeys, Antichrist, Secrets & Lies, Straw Dogs, Nine Songs, Death of a Chinese Bookie, Taxi Driver, Crash (Cronenberg) and any Bruce Lee film.
I could seriously go on and on as I have top twenties in all genres ...
... and of course, films you really deplore?
Titanic!
The Psycho-REMAKE
Any modern day remake that hasn't got heart or is just a rehash of other people's work, I can't stand unoriginal films that don't try and tell their own story.
Your website, Facebook, whatever else?
you can find out more about me at
www.facebook.com/kemal.filmmaker
#KemalYildirim
Anything else you are dying to mention and I have merely forgotten to ask?
I want to thank you for taking the time to watch the film but also support indie filmmakers like me who are trying to carve out a career in a difficult industry. We need support from film lovers who are are interested in low budget Independent films. Thanks a lot!
Thanks for the interview!