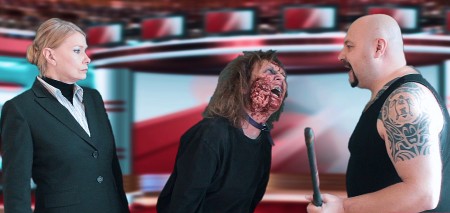 Paul with Lynn Lowry and Martina McClements
Your new movie Talk of the Dead - in a few words, what is it about, and what can you tell us about your character in it?
Talk of the Dead is a short comedy horror looking at how a supposed 'wonder drug', Troxadil, appears to be having some quite spectacular side effects! It's very tongue in cheek, with several commercials and infomercials around the main 'news programme' showing life in the post-Troxadil world!
What did you draw upon to bring your character to life, and how much Paul Sutton can we actually find in Jake Reynolds?
Well Jake is from Doncaster, which is my home town of course! It's strange, because I teach accents and dialects for Northern Star Acting - http://www.northernstaracting.co.uk/ - I've almost lost my broad Yorkshire accent and had to re-learn how to speak my native tongue! Jake's a bit of a starstruck idiot to be honest (not at all like me!), he's so happy to be on TV he doesn't realise how silly he looks – the bit that is definitely me is the short fuse when things don't go his way!
You are not exactly a stranger to the zombie genre - how come, and what can you tell us about your previous zombie outings?
It all started when I stumbled onto the set of a micro budget horror film called The Eschatrilogy – Book of the Dead about 4 years ago! I played a zombie in that and since then have appeared in Zombie Hood, the award-winning short Ascension (playing a zombie naturally!) and have even worked with Alice Cooper on his Halloween show at Wembley Arena as a zombie. This is actually a nice change for me to be a zombie hunter, I'm normally the flesh eating monster!
To what extent could you identify with the Talk of the Dead's brand of comedy?
It's very tongue in cheek – like everyone KNOWS there's a zombie problem but the media and corporations are in denial even in the face of overwhelming evidence. The mock insurance commercial and the Troxadil ad itself are very funny, but I have to mention Layla Randle-Conde [Layla Randle-Conde interview - click here] for this bit as the humour of her 'Hi honey I'm home' ad had me crying with laughter. Never has a taser been used so funnily!
How did you get involved with Talk of the Dead in the first place?
I'm blessed to have worked with Eirian Cohen [Eirian Cohen interview - click here] before on many occasions – she's my acting guru and the person I go to for advice in this crazy acting world we live in. Eirian asked if I'd be interested in auditioning for the zombie initially but I also asked if I could read for the part of Jake Reynolds because he sounded such an awesome character. I did a self tape and got a call saying 'A lot of good people auditioned for this role….and they're all going to be really annoyed because you nailed it!'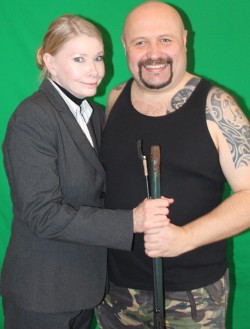 with Lynn Lowry
On Talk of the Dead you worked with horror icon Lynn Lowry - so what was it like acting opposite her?
I am so proud and honoured to call Lynn a friend. She's such a lovely, quiet and polite lady you'd barely know she was around on set, but wow when that red light goes on she transforms! Lynn's character in Talk of the Dead is a real bitch – a power hungry, ballsy woman with no fear and a big mouth – which is amazing coming from such a delicate lady like Lynn. As an actress she gives so much – there's no diva, no 'I'm famous you're not', she's a true collaborator and made my job so much easier. We go face to face, toe to toe in Talk of the Dead and we just totally verbally crucified each other, ad libs and random insults and the hard part was not laughing because some of it was so over the top ridiculous I had to bite my lip. I love working with Lynn and have done so twice now – and if all I'm remembered for is being 'that guy who stars in Lynn Lowry movies' I'm more than happy with that.
Do talk about Talk of the Dead's director Eddie Bammeke [Eddie Bammeke interview - click here], and what was your collaboration like?
Eddie is an energy whirlwind, as soon as he bounces onto set his mouth is running ten to the dozen with ideas and directions – he OWNS that set. He's a funny guy but when it's time for business he's got serious tunnel vision and a director needs that – there's no crossing the boss when he's making a movie! He's also very smart, he knew exactly what he wanted, how he wanted it but gave us space to try ideas out – if it worked, it stayed – if it didn't then we started again and did it another way but the end result is a damn good film and a large part of that is Eddie's drive and commitment.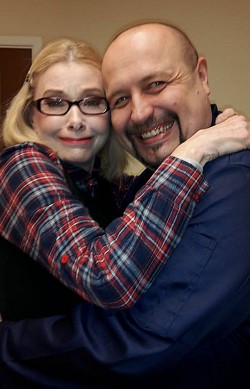 behind the scenes with Lynn Lowry on the set of First Impressions Can Kill
A few words about the shoot as such, and the on-set atmosphere?
I've worked with some of the cast and crew before so for me it was a family reunion! The atmosphere was always hyper positive and creative – we all chipped in to get things done including the cooking and coffee making, between takes everyone was super chatty and while I'll admit to be a little bit of a fanboy at first with Lynn she was so down to Earth we got on like a house on fire straight away as did everyone else. Hey, you can judge a shoot sometimes by how many people you ask to be friends on Facebook with right? From the lovely Rachel Betteridge (makeup) to Lynn herself, everyone got added and we're all still in touch – and I wouldn't stay friends just out of politeness you know?
You have since Talk of the Dead shot another film, First Impressions Can Kill, with pretty much the same team - so do talk about that one for a bit, and how did that shoot compare to Talk of the Dead?
First Impressions Can Kill is my second outing with Lynn, and this time we're on the same side! We're basically a bit of a Bonnie and Clyde couple, I don't want to say too much because we're still in the editing stage but let's just say we ramp up the body count and blood levels and I am definitely NOT a nice guy! Shoot-wise it was much harder as we filmed overnight, so didn't start until about 7pm and finished at 6am. Once again the energy of the cast and crew got us through and Eirian [Eirian Cohen interview - click here] provided enough food to feed a small army! Any time I felt like I was flagging, Lynn would put her arm round my waist and give me a little kiss on the cheek and ask how I was doing. It's the little things that keep you going.
Any other current/future projects you'd like to share?
I've written a short and a full length film in the past year, that I'm hoping to get filmed in 2017. The Pact (my short) is first to do, with Eirian Cohen [Eirian Cohen interview - click here], Jessica Messenger [Jessica Messenger interview - click here] and Eloise Daye starring as 3 downtrodden housewives who decide on a pact that will give them some freedom from their husbands. Clue: it isn't a spa weekend in the Lake District! Choices is next, with Kate Buckley as the female lead and some bloke called Paul Sutton as the male lead. Yeah I wrote a film and cast myself as the lead, why the Hell not? At the moment I'm location scouting for The Pact and can be seen in A Monster Calls with Liam Neeson
Your website, Facebook, whatever else?

Feeling lucky ?
Want to
search
any of my partnershops yourself
for more, better results ?

The links below
will take you
just there!!!


If you search for Paul Sutton – Actor on Facebook you'll get all the latest news, same goes for my Twitter @realpaulsutton. I'm also on IMDb (Paul Sutton VII) and available for hire any time after January J
Anything else you're trying to mention and I have merely forgotten to ask?
Yes, you forgot to mention that Talk of the Dead won 8 out of 13 nominations at the FANtastic Horror Film Festival in San Diego recently! I didn't win the Best Actor gong this time but MY TIME WILL COME!!!!!!!!!!!! (Mwahahahahahahahahaaaaaaaaa!)
Thanks for the interview!