Your new movie This Land - in a few words, what is it about?
This Land is about overcoming and putting aside the petty trivial differences to confront the true enemy pulling all the strings. However, the focus of the film is Avaís journey of reclaiming control of her life and finding fullness and wholeness again passing the gift of life along to the next generation.
Now how did the project come into being in the first place?
Collin Watts and I started our collaborations on a teaser for a feature he wrote called The Wretched back in 2013. After producing a very successful short together we continued working on a multitude of projects over the years. Many frustrating years later of seeking funding and trying to get a feature project up and off the ground, Collin came to me with the This Land script, having made the decision to put it all on the line and fund the film himself. After a multitude of notes and script revisions we went into preproduction on the script and assembled a great team and cast to bring it all to life.
What can you tell us about This Land's writers Collin Watts and Leon Langford, and what was your collaboration like?
As stated in my previous answer, Collin and I have a lengthly and fantastic working relationship. This script was my first time working with Leon in the development process, which was also very positive as well. Once we decided to move forward on the project we spent more than a year tweaking and shaping the script. The script work was a great process as everyone really just wanted to make the best thing we could together. The majority of the focus being heavily on the characters - it was very important to really flesh them out and make them very three dimensional, relatable and believable. There were things that were cut from the script for budgetary reasons, like a dog and the Prius sinking in a lake. I canít recommend to people enough to really take the time developing the script before jumping into production - if the script isnít good, none of it matters.
Do talk about This Land's approach to horror, and it that a genre at all dear to you?
I am a huge fan of classic horror. Movies like The Exorcist, Poltergeist, Nightmare on Elm Street, Hellraiser, Texas Chainsaw Massacre, The Shining, amongst many others. I prefer character-led movies, regardless of the genre. If your audience doesnít care about the characters it makes it really hard for them to go on the journey and put themselves into the situation, which I feel is especially important in horror. Iím also a big fan of practical effects - the more you can do in camera the better it looks in my opinion and I think it makes it easier for the actors to really get into the situation as well. As far as the horror in This Land, it was very important to make it feel real and visceral in a way that the audience can see themselves doing if they were put in that situation. I also really wanted to pay attention to the transitional elements cutting inside and outside the cabin - itís essential to keep the energy consistent from one to the other.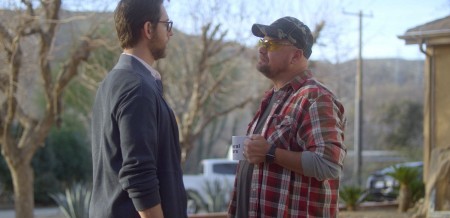 A few words about your directorial approach to your story at hand?
I really wanted to do justice to Collin and Leonís great script. Growing up in art and being a cinematographer myself, I always gravitate to and find the visual elements to come rather naturally. With that in mind I wanted to pay particular attention to world building, telling the story and bringing the characters to life honestly and vividly. I spent a lot of time in preproduction doing meetings and rehearsals with the actors to really collaborate in building their characters so that they were more living the characters rather than portraying something without honesty.
What can you tell us about This Land's key cast, and why exactly these people?
We went through a very long and arduous process of casting sessions to build our wonderful cast as it was extremely important to find the ďrightĒ people for ALL the roles. If we want people to go on the journey with us they need to relate to and believe in all the characters. Although all roles were very important, Ava needed to be our shining star as the entire story revolves around her and she quite frankly carries the film. Natalie Whittle took on the role of Ava in glorious fashion as she truly embraced and brought the character to life with grace, depth, power, and compassion. She earned the role in every way possible as did the entirety of our cast - our long and dedicated search really paid off in spades.
Where was This Land actually filmed, and what was it like filming there?
We filmed in the greater Los Angeles area beginning in December 2020 continuing into January 2021. Iím sure it will surprise most people to find out that even though in the film it seems like a single location we actually had to use three different locations to play as the one. The inside of the cabin was shot in San Pedro CA, the exterior however was in Santa Clarita CA, and the woods and surrounding areas of the cabin were shot in Thousand Oaks CA, all locations being forty miles apart from each other. The shooting schedule was insane as we literally broke every independent filmmaking role imaginable, having a very large principle cast, stunts, effects and locations. To say the shoot was ambitious would be a gross understatement, but we made it through with a lot of blood, sweat, and tears.
Do talk about the shoot as such, and the on-set atmosphere!
As stated above, the shooting schedule was insane, but we were lucky enough to put together a really solid cast and crew that were all dedicated to the greater goal. I think we all got really close and were able to have a very healthy tight family-like camaraderie during and after production.
The $64 question of course, where can This Land be seen?
This Land is currently available for VOD on Amazon, AppleTV, GooglePlay, YouTube Movies, and Tubi.
Anything you can tell us about audience and critical reception of This Land?
Now that the film is out and available to the public the reviews will soon be pouring in Iím sure. So far, the reviews weíve received have all been rather positive with most praising the actors' performances as well as the overall look and quality of the film. I am eagerly awaiting more, positive and negative alike.
Any future projects you'd like to share?
Collin and I have a few scripts out there in the ether trying to get some eyes on including a script I wrote called The Grid. The Grid is a sci-fi horror film in the vein of Aliens, The Mist, and Reign of Fire. Iíve been eagerly seeking funding to move forward on that one as itís going to be super fun building sets and designing the insane creatures.
What got you into filmmaking to begin with, and did you receive any formal training on the subject?
I grew up doing art and my upgrade was art as well - drawing, painting, sculpting and music. While I was finishing my BFA I started doing some video art work, making weird creepy little videos that would freak out most people. Once I got the chance to work with editing, creating and assembling my own work I was hooked. Iíve always been a huge fan of movies, and with my affinity and skill in art, it just seemed like the next logical step to go into movies as movies are all forms of art combined into one glossy package. I did my Masters in Filmmaking and Cinematography graduating from The New York Film Academy in December 2010. Since I have worked freelance as a director, cinematographer and writer as well becoming a teacher of directing and cinematography.
What can you tell us about your filmwork prior to This Land?
I have freelanced as a director, cinematographer, writer, producer and editor over the years on multiple short films, features, documentaries, music videos, commercials and interviews. I have a large portfolio in mostly horror, but have done drama, action, and comedies as well.
How would you describe yourself as a director?
I feel I am a very visual director, but I also put extra effort into working with my actors and building strong realistic characters and relationships. I tend to gravitate towards dark subject matter as I find it much more intriguing to delve deep into the psychosis of the melancholy, conflicted and morbid as no-one is perfect and we all have our faults and weaknesses. I also very much enjoy world building in all phases from production design, cinematography and characterization. As creative and particular as I am, I very much try to surround myself with like-minded creative individuals that can elevate all of my crazy thoughts and ideas to a whole new level. Filmmaking is all about collaboration and you really sell yourself short if you arenít open to the thoughts and input from the talented people around you.
Filmmakers who inspire you?


Feeling lucky ?
Want to
search
any of my partnershops yourself
for more, better results ?

The links below
will take you
just there!!!


Some of my favorite directors are Stanley Kubrick, Martin Scorsese, Steven Spielberg, Alfred Hitchcock, David Fincher, Billy Wilder, Frank Capra, Takashi Miike, and others. Horror - Steven King, Wes Craven, John Carpenter, Clive Barker, James Wan, Sam Raimi, Mike Flanagan [Mike Flanagan interview - click here], Kim Jee-woon and George A. Romero.
Your favourite movies?
Some of my all-time favorite films include Braveheart, Gladiator, The Crow, Exorcist, The Shining, Lord of the Rings trilogy, Jurassic Park, The Matrix, Indiana Jones (1-3), Star Wars (original trilogy) and many many others. Any film that I can rewatch over and over again and just lose myself in the journey. Last movie I recently enjoyed was Violent Night - just good ole fashioned fun.
... and of course, films you really deplore?
Honestly I have too many to list here with the greater majority being more recent films. Unfortunately I think Hollywood has lost its way and has forgotten what itís all about and have focused on the wrong things including unwanted, uninteresting and lazy remakes and reboots instead of entertaining and inspiring people like they used to.
Your/your movie's website, social media, whatever else?
The film has an Instagram page @thisland_film, my Instagram is @rickninofilms and my website is www.rickninofilms.net
Thanks for the interview!