Your new movie Montrťal Girls - in a few words, what is it about, and what can you tell us about your character in it?
Montrťal Girls is a coming of age story about a young poet who finds his true passion in MontrealÖ with the help of some lovely ladies! I played one of the ĎMontrťal Girlsí, Yaz, in the feature. Yaz is an intriguing, awe-inspiring character who captures the heart of Ramy (played by Hakim Brahimi) and teaches him a thing or two about the underground music scene in Montreal, as well as matters of the heart.
What did you draw upon to bring your character to life, and how much Sana Asad can we find in Yaz?
For many of my characters - thereís always a little bit of truth to each of these personalities. I always try to put myself in a lot of these situations and build a character from there. I had a lot of fun being this Ďall-consumingí feminine vixen who can be a little manipulative and mysterious. Thereís a lot of layers to who she is and why she does certain things throughout the narrative of the film.
How did you get involved with the project in the first place?
Director Patricia Chica [Patricia Chica interview - click here] had requested an audition, and after reading the script for the project I was ready to bring her story to life. Itís a collaborative process and it was an absolute joy getting to explore each scene during the rehearsal process for the project.
What can you tell us about Montrťal Girls' director Patricia Chica, and what was your collaboration like?
Director Patricia Chica is someone incredibly driven and is able to facilitate a space where artists can come together and collaborate. Earlier on in the process, I attended one of her workshops where she taught us ĎChi Energyí, which sort of created a language between director and actor. It dealt with the various chakras and as an actor who is in constant training - gave me more tools to pick and choose from during my process from script to camera.
Montrťal Girls is said to be the first film to be made with Chi Power - so how has this method informed your acting, and maybe you personally?
I took a lot away from the Chi Energy process. It was the first time I was able to connect to a script and to a character in a spiritual way, which was an interesting and unique process to explore. Iím extremely open-minded about exploring different ways of opening up the mind and body because as actors, our bodies, our voices, our experiences are our biggest assets. What we bring to the work is an authentic experience that stands alone. My interest in the artform starts from exploring my sense of self and building a personality, a character from there.
Do talk about the shoot as such, and the on-set atmosphere!
The shoot was fantastic. Being in the city of Montreal (since Iím a Toronto local) was amazing. Itís such a brilliant world over there and Iím glad I got to be part of a project that showcased that. We shot during the pandemic where lockdowns were being enforced, so of course there was a lot to work around. But everyone on set had such amazing energy that we were able to fluidly create what we needed to and get the tasks for the day done cohesively.
Any future projects you'd like to share?
Iíll be on set for a lead role in a series entitled Get up, Aisha very soon! Itís a comedy about a girl who strives to Ďcure her depressioní, and the theme alone was enough to grip me and see the narrative play out. Mental health is all encompassing and Iím so grateful and fortunate to be able to relate to, and bring my character Aishaís story to life. Being an artist and doing something impactful is honestly such a gift. Iím really excited to share this project when itís ready.
What got you into acting in the first place, and did you receive any formal training on the subject?
Middle school plays led to drama classes. Drama classes led to theater school. And from there I got scouted by an acting agency and have since been doing it - itís a passion that sort of has always been there for me. It was nothing that I intended on or set out to do. Itís just a part of my life that feels right and feels like a purpose. I love what I do.
What can you tell us about your filmwork prior to Montrťal Girls?
Iíve been working in the Canadian film market for the last 6 years. A lot of my work consists of Canadian features and roles on American TV shows. I love both cinema and television and have enjoyed both markets equally.
How would you describe yourself as an actress, and some of your techniques to bring your characters to life?
Again Iím extremely open-minded to a lot of processes that involve self-work and script-work. It depends on the writing and how Iím able to connect to and elevate these characters. Fundamentally, I always start with what I know and who I am as a person and how that translates to the character Iím cast as.
Actresses (and indeed actors) who inspire you?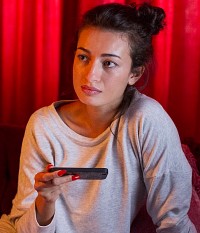 Feeling lucky ?
Want to
search
any of my partnershops yourself
for more, better results ?

The links below
will take you
just there!!!


Audrey Hepburn, Sophia Loren, Elizabeth Taylor - all the actors from old Hollywood are what made up for a lot of my childhood. They - unbeknownst to me - inspired what would become my passion!
Your favourite movies?
Thatís a hard question. I donít have one. I donít even have a favourite genre - mostly because I love all of it. I love comedy. I love horror. I love drama. I love romance and I love tragedy. I think thatís what is so special about film and TV in general - you get to be in and experience these different worlds at any time. Thatís magic to me.
... and of course, films you really deplore?
Donít have one. I donít think I could talk poorly about someone elseís art. I think what matters more is that inclusivity in casting is showcased more as that has not always been the case for North American film and TV. As a Pakistani-Irani actress, itís important that I am seen and heard and never tokenized.
Your website, social media, whatever else?
You can imdb me for recent work: www.imdb.me/sanaasad
Instagram for live updates: @_sanaasad
Thanks for the interview!