Hot Picks

Chatter


USA 2015
produced by
Stefan Jacobs, Matthew Solomon, Aaron Harvey (executive), Rachel Gardner (executive) for Kung Fu Man Films
directed by Matthew Solomon
starring Brady Smith, Sarena Khan, Richard Hatch, Alison Haislip, Tohoru Masamune, Laura Niles, Pete Capella, P.J. Marshall, Sadie Ella Solomon, Kyle Hardesty, Derrick Redford, James James, Ashley Palmer, Craig Blair, Rory Cosgrove, Austin Herring, Clementine Heath, Fiona Hardingham, Christina Alexandra, JC Cadena, Liana Delmar, Renita Gale, Lauren Hanawalt, Bo Lebo, Kathy Michelle Logan, Marietta Melrose, Eddy Robinson
written by Matthew Solomon, Jeremy Fox, Joshua Carl Allen, music by Fred Rapoport, Rick Butler, visual effects by Aaron Milus

review by
Mike Haberfelner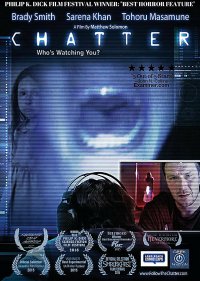 The Patriot's Act allows the NSA pretty much uninhibited access to private phonecalls, Skype conversations and the like - and NSA officer Takagi (Tohoru Masamune) makes very good use of that, spying in on a random couple, David (Brady Smith) and Laura (Serena Khan), who, with her being in England still waiting to come over, him being in LA already furnishing their dream home, have to rely on camsex for the time being. But waiting for the spicy bits, Takagi gets somehow sucked into their lives and starts witnessing first hand that David's house might be haunted by a little girl, Anna (Sadie Ella Solomon), who soon finds a way to scare the living shit out of him. But scaring people is one thing, but when two of his closest friends have terrible accidents after promising to help David in things concerning his new house, that's another thing altogether. And then Anna crosses over to England, seemingly via the internet, to become ... Laura's surrogate (ghost) daughter (she has lost her child only months before) - and she couldn't be happier. And now David's really freaked, especially when he finds out Anna's somehow linked to Alex (Laura Niles), his ex from way back but also the woman who got him the house. So one thing's for sure, things are going to get a lot worse before they will get better - if they ever will. And officer Takagi would have the means to help, but his hands are tied due to his work for the NSA. But who's to say that those who are merely watching aren't also affected by the spirits of the story?
Veteran actor Richard Hatch appears at the beginning of the movie as someone who has lived through a similar ordeal as David and Laura, setting up things rather beautifully.
Frankly, on paper it might not be such a good idea to tell a story primarily via Skype-conversations, but it actually really works with Chatter, as director Matthew Solomon never forgets he's making a movie here rather than documenting two people camming, and he uses the limitations of online communications as a tool to move his story rather than just simplify things or cheapen then - so there's really much tension and suspense in the on-cam goings on, even if the camwork and the angles are limited due to natural restrictions. Also, even if the two leads never actually meet face-to-face, there's actually quite a bit of chemistry between them so it's easy to get sucked into their story, and the narrative as such is rather brilliantly structured as well to make the most of its limiting approach.
Actually, really good genre entertainment!