Hot Picks

Lurking Fear


USA 1994
produced by
Oana Paunescu, Vlad Paunescu, Charles Band (executive) for Full Moon
directed by C. Courtney Joyner
starring Jon Finch, Blake Adams, Ashley Laurence, Jeffrey Combs, Allison Mackie, Paul Mantee, Vincent Schiavelli, Joseph Leavengood, Michael Todd, Cristina Stoica, Luana Stoica, Adrian Pintea, Ilinca Goia
screenplay by C. Courtney Joyner, based on the short story by H.P. Lovecraft, music by Jim Manzie, special makeup effects by Michael Deak, Göran Lundström

review by
Mike Haberfelner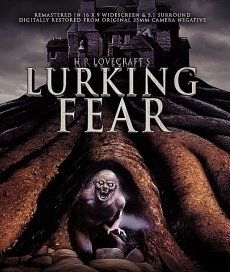 Years ago, young Cathryn (Ashley Laurence) had to see her own sister (Ilinca Goia) dragged away and being killed by demons ... and since then she has become a demon fighter ... if with little luck so far, her village has since been diminished by the demon brood living in the caverns below ... but since she has found out where the creatures live - under the cemetary -, and today, with the help of alcoholic doctor Haggis (Jeffrey Combs), pregnant Beth (Luana Stoica) and Father Poole (Paul Mantee), she's about to end the demon brood, blowing up the graveyard while hiding out in the adjoinging church to cut off the only exit the demons may have.
Too bad then that small frye crook Martense (Blake Adams) has picked just this day to dig up a corpse his big frye crook dad has stuffed with money ... and that's not even the problem, as Martense is a man to reason with - but an accomplice of his father, cold-blooded Bennett (Jon Finch) has brought two equally cold-blooded (if by far less intelligent) associates (Allison Mackie, Joseph Leavengood) with him to get the treasure of Martense's father at any price - and he won't let a few demon hunters stop him ... but he might not have takent he demons they are hunting into account ...
With its concept of bringing gangster and horror film mainstays together in a secluded setting, Lurking Fear (while hardly the first of its ilk) actually predates the much more prominent (and much higher budgeted) From Dusk Till Dawn by a couple of years - but while that latter movie scored better with mainsteam auiences for obvious reasons (that also have to do with marketing of course), Lurking Fear is a very decent little shocker in its own right, given its light-footed approach to its dark story at hand, its wilingness to let some humour drip into its dark tale, great (if sometimes suitably ham) key performances by Jeffrey Combs, Ashley Laurence in full bad-ass mode, Jon Finch, and Vincent Schiavelli as a mortician, nicely set shocks, a very economic use of its limited sets ... and then there's of course the monsers, who are really first rate.
Now true, Lurking Fear just cannot completely deny its rather low budget - but it gets great entertainment value out of it!