Your new movie The Tortured Soul - in a few words, what is it about?
The Tortured Soul is a short psychological thriller about a young woman who confronts the serial killer who murdered her husband a few years prior. Itís a dialogue driven film that examines issues like good vs. evil, mental health, depression, humanity, empathy and whether human beings can change for the worse if tragedy befalls them.
With The Tortured Soul being a revenge thriller, is that a genre you're at all fond of?
Itís definitely a genre Iím very fond of! Four of my short films (Just One Drink, The Twisted Doll, Queen of Hearts and The Tortured Soul are all revenge films. Iím also in development with a revenge horror feature which Iím hoping to get off the ground in the very near future! I am fascinated by the genre as I think that despite how futile revenge ultimately is, itís a powerful human emotion.
(Other) sources of inspiration when writing The Tortured Soul?
I would say many of the inspirations are Korean revenge films I grew up fascinated with. Films like Oldboy and I Saw the Devil immediately come to mind. I like to write material that questions the nature of good vs. evil and how deeply moral people can become immoral when tragedy befalls them.
What can you tell us about The Tortured Soul's approach to the thriller genre?
In terms of an approach, I would say that I tried to bring a lot of tragedy to the genre. There isnít too much suspense in the film (apart from the end) so it isnít a traditional thriller film per se but somewhat of a drama set within the context of a thriller. The film is partly a very lengthy monologue. However, in terms of the cinematography (low key dark lighting) and soundtrack, we tried to give it a thriller persona.
With the whole of movie set in just one room and being carried by monologue rather than action, what were some of your techniques to keep your movie visually interesting?
We tried to do a variety of shots to keep the film engaging. For example, there are some Dutch tilt shots that examine Tamaraís fractured psyche. Another way we tried to make it interesting visually was through red colors which youíll see often in the film. In the second half of the film, we also tried something with the cinematography in which Tamaraís face is lit differently!
A few words about your overall directorial approach to your story at hand?
Having started in the entertainment industry as an actor, I enjoy working extensively with actors in rehearsals beforehand. Before the shoot, I worked with Bianca Stam (our lead actress who plays Tamara) through Zoom calls going through all the dialogue with her as well as her characterís backstory and motivations in the film.
Do talk about The Tortured Soul's cast, and why exactly these people?
In terms of cast, our two actors are Bianca Stam and Nick Sidley. Bianca is quite well known in Hong Kong where she is in the TV show OCTB and has had a lot of overall experience as an actress! I looked at several video auditions of actresses for the role and although many were great, there was something about Bianca in which I could really see potential in terms of her playing Tamara. Nick Sidley plays our masked serial killer. Heís actually my father and although heís worked on some of my projects in the past as an assistant director, I gave him his acting debut in this film!
What can you tell us about the shoot as such, and the on-set atmosphere?
In terms of an on set atmosphere and the shoot, it was quite a rigorous shoot in all honesty. We had a very low budget and thus shot the entire film in just one day. It was quite challenging for Bianca who had to be on her feet all day reciting lengthy monologue after monologue. Our cinematographer Matt Fore, who Iíve worked with previously on my sci-fi feature film The Bestowal, was cinematographer on this shoot. We all got along really well which is always nice!
The $64-question of course, where can The Tortured Soul be seen?
Itís currently on the film festival circuit but the film will more than likely be released on our YouTube and Vimeo channels for Sacred Ember Commercials on Halloween!
Anything you can tell us about audience and critical reception of The Tortured Soul?
In terms of a reception, itís been well received by audiences and critics. Including yourself, so far itís been five out of five positive reviews from critics! Texas Chainsaw Massacre producer Shintaro Shimosawa called it ďfascinating and tragicĒ! It also screened on the big screen at the 2022 McMinnville Short Film Festival in Oregon. Although I couldnít attend, I was told it was well received.
Any future projects you'd like to share?
In between film projects, Iím fortunate to produce and direct commercials through my advertising agency Sacred Ember Commercials. Iím also currently in the process of launching a psychological thriller film called The Twisted Doll that Iím hoping to shoot by the end of the year!
What got you into filmmaking in the first place, and did you receive any formal education on the sbject?
I first got into filmmaking professionally in 2015 when I decided to produce and direct the short thriller film Just One Drink which I also acted in and wrote. After seeing how much I enjoyed directing it as well as how well it was received (it scored a 100% critic score on Rotten Tomatoes), I decided to focus more on producing, writing and directing! I didnít graduate from film school but when I was at Pepperdine University I took a few film theory and video production classes!
Besides writing, directing, producing and whatnot, you also appear in front of the camera every now and again - so what can you tell us about Andrew de Burgh, the actor? And which side of the camera do you enjoy more, actually?
I actually started out in the industry as an actor in 2012! My biggest role was in 2015 when I was cast as a series regular in the Emmy nominated web series Youthful Daze where I appeared opposite some famous faces including Chrishell Stause, who has become very well known in the Netflix show Selling Sunset! I also acted with the likes of soap opera legends like Melissa Archer, Sarah Joy Brown and Sean Kanan. I enjoy both sides of the camera but I would have to say I enjoy filmmaking more as it gives me the opportunity to shape the world of a film.
What can you tell us about your filmwork prior to The Tortured Soul, in whatever position?
Iíve been lucky to have had quite a bit of success over the years. In 2018, I wrote, produced and directed a science fiction feature film called The Bestowal. It scored a 78% critic score on Rotten Tomatoes, screened and won awards at film festivals globally and was released by the distributor Indie Rights on Amazon Prime, Tubi, Google Play and YouTube Movies! Another film highlight for me was the 2020 animated short film The Legend of Santa, which qualified for a BAFTA through DokuFest and screened at multiple other film festivals! Iíve also been very lucky to have produced and directed several other short films and commercials since 2015!
How would you describe yourself as a director?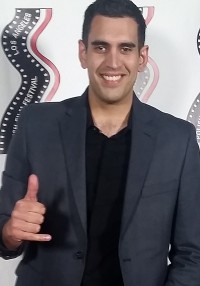 Feeling lucky ?
Want to
search
any of my partnershops yourself
for more, better results ?

The links below
will take you
just there!!!


Iím very passionate. I believe greatly in the power of cinematic storytelling to inspire and shape the human mind for the better. I prefer a collaborative approach with all actors and crew and if they have ideas, I am always eager to listen.
Filmmakers who inspire you?
Some of my favorite directors include Christopher Nolan, Peter Jackson, Matt Reeves, Akira Kurosawa, Nicolas Winding Refn, Georges MťliŤs and Orson Welles.
Your favourite movies?
These are some: The Lord of the Rings trilogy, Batman Begins, The Snowman, Drive, Interstellar, La La Land, The Dark Knight, The Batman, I Saw the Devil, The Wailing and Star Wars: Episode III - Revenge of the Sith!
... and of course, films you really deplore?
I wouldnít say I hate any films as I know how much effort goes into making them but my least favorite films are films with no soul and that were made purely to make money without any passion whatsoever!
Your/your movie's website, social media, whatever else?
Our commercial agency website is secommercials.com and our Instagram is @secommercials! The Tortured Soul is also on IMDb: imdb.com/title/tt14741044/
Anything else you're dying to mention and I have merely forgotten to ask?
Just want to say thanks for the interview, itís much appreciated!
Thanks for the interview!