To start this off, why don't you introduce yourself to those of us unfortunate enough to not already know you?
Ha! I love how you put that ! My name is August Kyss. I am a writer, actress.
What got you into acting in the first place, and did you receive any formal training on the subject?
I always wanted to try acting. I took it in high school but have only really taken it seriously in recent years. I had a bit of a revelation during the pandemic. I just donít want to take tomorrow for granted anymore. I have been trained by actor and acting coach Greg Bryk. You may recognize him from films such as Saw 3D, Book of Negroes and Rabid.
I'd like to pick out a few movies from your filmography and ask you to say a few words about them. So what can you tell us about Murdercise?
Murdercise was an eighties dream come true. My entire August Kyss persona is eighties-based so you can imagine how thrilled I was to be part of Murdercise. Paul Ragsdale and his wife Angie De Alba are wonderful people to work with. I was super excited to be in a film with Ginger Lynn Allen ( Rob Zombieís The Devil's Rejects).
Do talk about Wolf Hollow for a bit!
I absolutely love Mark and Liz Cantu. If anybody told that little girl that watched Sleepaway Camp during a slumber party in the eighties that she would be along side Felissa Rose [Felissa Rose interview - click here] in a horror film, she wouldnít believe it. It was a surreal moment for me. Still is! It was really cool to be in a film with the legendary Lynn Lowry ( George A. Romeroís The Crazies) as well.
A few words about Murderbot, and what was working with legendary Jim Wynorski [Jim Wynorski interview - click here] like?
Jim and I have become good friends since, and I couldnít be happier about that. He is tough. He demands the absolute best out of his actors, and I wouldnít have it any other way. It was really cool to work alongside Jimís muse, Rocky DeMarco (Demolition High).
Any other past or present films of yours you'd like to mention?
I was recently in an anthology, One Night In Lethargia. I was playing a bartender named Melanie in the Painkiller segment. It was great. Got along great with Skeeta Jenkins, my co-star. Itís about a retired championship boxer turned sports gambling addict who finds himself in the crosshairs of a Nazi gang after a bad bet. Stephen Beason is the writer/director and Sylvia Moore is the executive producer.
Any future projects you'd like to share?
I will be involved in horror hosting for NYX Television which will be ready to air in the United States summer 2024. As for film projects, I have a role in a dual American/Canadian action/thriller film named Death Bitch coming up. My segment will be directed by Mark Kiazyk. It also stars Bridget Powers (Bridgette the Midget from the Howard Stern Show), I love it. Itís exciting for me because itís right near my hometown of Winnipeg, Manitoba. I have a lead role in an Ontario based horror film named Massage Parlour Massacre, which is written and directed by Nigel Hartwell (Demented) who will feature Felissa Rose and Robert Mukes (Rob Zombieís House of 1000 Corpses). I have another film in pre-production I'm in from Wolf Hollow writer/director Mark Cantu called Grind with Felissa Rose and Lynn Lowry once again, Iím so blessed.
Going through your filmography, one can't help but notice you never stray too far from the horror genre - coincidence, or is horror a genre especially dear to you, and why (not)?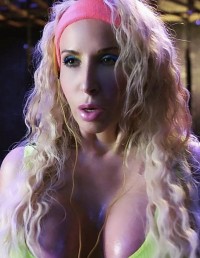 Feeling lucky ?
Want to
search
any of my partnershops yourself
for more, better results ?

The links below
will take you
just there!!!


I love how horror films can trigger that fight-or-flight in us. I read somewhere that horror movies boost endorphins. It forces you to pay attention and silences the mind. Horror movies are oddly peaceful to me.
How would you describe yourself as an actress, and some of your techniques to bring your characters to life?
I think I over-practice. I also try to forget Iím on set doing a job. I was really successful in that attempt during my segment Painkiller. It felt absolutely real.
Actresses (and indeed actors) who inspire you?
John Malchovich. His voice is so unique. You can tell itís just him by hearing his voice and not seeing him. Iím also inspired by Linnea Quigley. To me, she is the picture-perfect scream queen.
Your favourite movies?
I have so many. My absolute favourite horror film of all time is Return of the Living Dead. Itís my go-to film. Itís literally almost always in the background. I watched the Babadook recently, I enjoyed it. I am currently learning all about metaphor in film. Iím taking a course at Sundance, taught by Dennis Widmyer (Starry Eyes, Pet Semetary) called How to Craft a Suspenseful Horror Screenplay. Each week we are given film suggestions. Itís really expanding my horizons. Another treat of a film Iíve seen lately that I really enjoyed is Beneath Us All. The attention to details in that film are superb.
... and of course, films you really deplore?
I donít deplore any film.
Thanks for the interview!