Your new movie What I Meant to Say Was ... - in a few words, what is it about?
It's about a guy who must go on an adventure in Hell to try to correct the last text message he sent to his girlfriend just before dying.
What were your sources of inspiration when writing What I Meant to Say Was ...? And is any of the movie based on text messages you wish you would have sent?
Specific sources I don't think there were, but surely inspired by my love of great 1980s horror/comedies like Ghostbusters and things like that... No, not based on any text messages I wish I would have sent. I'm not really a texter. That's more my wife's department. She has complained before about wishing I would reply more through texts, lol. Not totally my style, I guess.
Do talk about What I Meant to Say Was ...'s very own depiction of Hell for a bit!
The depiction of Hell in the film carries a red tint over it. I just liked the look and thought it was a good idea for the budget.
What can you tell us about What I Meant to Say Was ...'s brand of humour?
The humor of the film is pretty over the top. Not for the easily offended, I guess you might say. However, if you find the humor in the film offensive in any way, it's probably only coming from my character, who's thought of as the idiot in the film anyway. And besides that, it's probably not a big deal in Hell to be offensive, disrespectful, or combative, I'd guess. I mean, it is Hell. ALso, if you let yourself get offended by an over-the-top goofy comedy that's obviously not meant to be taken seriously, then... hell, I don't know.
As far as I know, What I Meant to Say Was ... is your first film as a writer/director after having written several scripts for other filmmakers - so why did you pick exactly this screenplay for your directorial debut?
I actually didn't plan on making this film myself at first. I had a known horror director somewhat interested in doing it before deciding not to. At first I was bummed about that, but very quickly then thought, the film would be better if I made it myself anyway. That guy didn't have the same love for the story as I did, or know it better, or seen it like I did. There's no way he could. I wrote it. So, I figured, no one could probably tell it better than me anyway -- the way it should be told. So, I decided to direct.
A few words about your overall directorial approach to your story at hand?
Well, my approach to directing was simple. It's a very small budget. So, get 2 good takes and move on. That means, get really good actors who can pull that off. Casting is the most important thing in my opinion. A mistake I believe, other directors do is just stick anyone in a role to fill it. My film might be low budget, might not be your cup of tea, but at least the damn acting is good. You gotta give me that. I give most of that credit to Kelly Strom, the casting director. Great casting director and great lady.
You also appear in front of the camera in What I Meant to Say Was ... - so what can you tell us about your character, what did you draw upon to bring him to life, and have you written him with yourself in mind from the get-go?
I didn't write the script thinking I was gonna be in the film. I don't think of myself as an actor and I don't really have much interest in acting again. I do think I did a pretty good job. I knew what that character had to be and how he must act. If THAT character is played wrong, the entire movie is bad. And I didn't think another actor would get it. Not like that. That character couldn't just say his lines normally. He had to be over-the-top without being too much. That's not easy, and ultimately I came to the conclusion to do it myself.
Do talk about the rest of What I Meant to Say Was ...'s key cast, and why exactly these people?
Most of the cast was obtained by Kelly Strom. There were also some no-shows on the day of shooting, making us scramble for anyone, but you get that with these micro budget indies sometimes. Steve Wandling played the lead. He was just great in the role. I cold-messaged him on Facebook, I believe because the original actor intended to play Michael had to bail out about a week before shooting. So the fact that Steve did as well as he did is just crazy. His love interest, played by Zoe Scarborough, was also great. The chemistry between Steve and Zoe was VERY good. Zoe was the best in the entire film and Steve was right behind her. It felt very natural when you saw them on screen together. Jae Grace as Carmeletta also did really well, especially if you add in the fact that the actress that was supposed to play her part (like the 3rd lead of the whole film) bailed out the day before shooting. That was a major scramble. She had to learn all those lines in one night. Amazing job. And Sheri Davis as Satan/Horny of course steals the scene she's in. Not a huge screentime but an important one and an important character.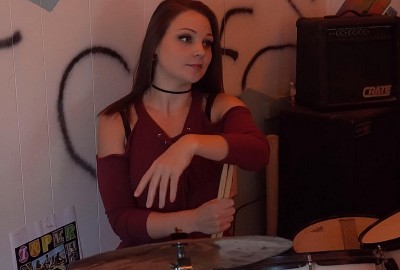 What can you tell us about the shoot as such, and the on-set atmosphere?
The shoot was easy-going. I'm a pretty easy guy to get along with. I don't discourage a little goofing around as long as it's not taken overboard. And there was a lot of that on set. Just a lot of actors who were happy to be there it seemed. At least, that's how I remember it. No issues to speak of.
The $64-question of course, where can What I Meant to Say Was ... be seen?
We're wanting a major streaming channel for this film, but we're also happy to be on the lesser known ones that are growing right now. It's currently live on Reveel. Tubi, Apple TV, Future Today and Herogo have also selected the film to be on their channels but the film is not on those outlets yet. And even after selecting the film and it being delivered to them, they can still decide to remove the film from selection even after showing prior interest.
Anything you can tell us about audience and critical reception of What I Meant to Say Was ...?
The film was never viewed by an audience. It's done okay with critics so far. But I never expected this to be a critical darling. This isn't the type of film that's gonna get outstanding critic reviews. This is more for audiences. This isn't a run-of-the-mill type of film that people are gonna kinda like. This is a love-it-or-hate-it type of film. You're either gonna hate it and gladly never give it a second thought or you're gonna really "get it" and love it and remember this thing.
Any future projects you'd like to share?
Future projects will hopefully be the slasher horror film Guard Shack 17 that I wanna direct. And also, there's a comedy script I'm looking to sell after winning a screenplay contest with it.
What got you into screenwriting to begin with, and did you receive any formal training on the subject?
I've always really liked writing. I was more of a sports guy when I was younger, but then I started writing. It comes pretty easy to me and I'm a fast writer. I often hear other writers talking about writer's block. I've never had that problem. My wife probably wishes I did, lol. It takes up a lot of time and I've never been good at doing two things at once. When I'm really into one thing, then THAT'S MY FOCUS. I gotta get better at that.
What can you tell us about your filmwork prior to What I Meant to Say Was ...?
Filmwork before this was pretty much strictly as a screenwriter, but the directing bug has definitely bitten. It's like you need more as a creator. Writing isn't enough now.
How would you describe yourself as a writer, and how as a director?
I think I'm a creative writer. Dialogue is my major strength. I usually finish an entire 90 page script in two weeks. As a director, I'd be different this time around. I would probably give my actors more and better direction this time around. I think as a director I'm good at researching and fixing issues on set quickly. I know what I want. And I'll get, but I'm definitely open to suggestions on set.
Writers, filmmakers, whoever else who inspire you?
Spielberg's a big deal to me. Although, actors usually inspire me the most. I'm more of a fan of actors than the creators. However, acting isn't something I wanna do now. I'd definitely want to if I were a younger man, but as the looks fade with age, I don't feel especially confident in jumping in front of the camera. If you'll notice, in this film, I had paint on my face.

Feeling lucky ?
Want to
search
any of my partnershops yourself
for more, better results ?

The links below
will take you
just there!!!


Your favourite movies?
My top 5 favorite movies in order:
1) The Secret of My Success
2) Rocky
3) Titanic
4) Ghostbusters
5) Top Gun
See, told ya I love the 80s.
... and of course, films you really deplore?
To me, the worst movie of all time is Dune (1984). I watch this film once every year to see if I can make it through the whole thing. I've never gotten close.
Anything else you're dying to mention and I have merely forgotten to ask?
No, nothing else to mention. You've pretty much covered it. Really great questions. Thanks a lot!
Thanks for the interview!