Your new movie Children of Sin - in a few words, what is it about, and what can you tell us about your character in it?
Well, Children of Sin centers around one of those creepy conversion places that teens who are considered 'troubled' are sometimes sent to. The viewer can decide who the truly troubled ones are in this story. My character runs the conversion house along with her nephew.
What did you draw upon to bring your character to life, and how much Jo-Ann Robinson can we find in Mary Esther?
I approached the character of Mary Esther as a person who truly believes, at least most of the time, that what she is doing is for the greater good. The audience may judge her behavior, but I tried not to. I wouldn't say that there's a lot of 'me' in the character, because our belief systems are pretty much polar opposites, but I thoroughly enjoyed playing her!! I love playing people who are flawed to the point of making others gasp at their choices. That kind of thing tickles me!!
How did you get involved with the project in the first place, and what drew you to the movie's subject matter?
Director Chris Moore [Chris Moore interview - click here] drew me to the project. I had watched his work and decided that I really wanted to work with him. About a year ago, I saw a posting about his newest script Children of Sin with a character breakdown asking for actors to audition. I contacted Chris and asked if he thought I might be right for Mary Esther. He sent me the sides, I taped an audition for him, and was fortunate enough to be cast! Chris is very prolific and can do amazing things on a limited budget!! I can't tell you how impressed with him I am.
What can you tell us about Children of Sin's director Chris Moore, and what was your collaboration like?
Oops! I think I answered this in the previous question. What else can I say? My collaboration with Chris Moore was absolutely wonderful! I felt like we were on the same page most of the time, but if he wanted something different in a scene, his direction made sense and was easy to incorporate. He was always very organized and focused, and made the set a comfortable, enjoyable place to work.
What can you tell us about the shoot as such, and the on-set atmosphere?
The set in general was great! I thoroughly enjoyed everyone in the cast and crew!! Chris set the tone, and everyone worked together as a team. There were no out-of-control egos anywhere in sight.
Any future projects you'd like to share?
I have a Netflix film being released in the next few months called We Have A Ghost. My scenes are with Anthony Mackie and David Harbour. I'm also in a an episode of a new TV series called Long Slow Exhale that will be released on Spectrum TV this month - April, 2022. My scene is opposite Josh Lucas, and was shot outside next to the Atlanta airport. There's a story to tell about that experience regarding sound, but I'll save that for another time.
What got you into acting in the first place, and did you receive any formal training on the subject?
I first started doing plays and competing in speech tournaments in high school. I had a wonderful theatre teacher that really pushed us to excel. I went to college on a theatre scholarship and majored in theatre. I went to Los Angeles when I was 20 and stayed there for eleven years. Then, for family reasons, I moved back to Jackson, MS, and started doing regional theatre here at New Stage Theatre and at regional theatres around the country. Since Hollywood-South started up, I've also been doing more TV and film work. My resume, particularly theatre wise, spans about forty years.
What can you tell us about your filmwork prior to Children of Sin?
Well, one interesting fact about my filmwork is that the first film I ever worked on I also starred inm and it was a horror film as well. It was director Fred Olen Ray's first feature film titled Scalps. We shot over I don't remember how many weekends, in the desert outside of Los Angeles. I think I was about 23 years old at the time. Fred is now an Emmy Award winner and has directed 200 or so feature films. His son Chris, who was about 5 years old during the filming of Scalps and who was regularly on set, is now a director and producer himself. I guess in some circles Scalps has become a bit of a cult film. I am usually contacted by fans of the film two or three times a year. One of the last people that reached out lives in Germany.
Having been working on movies and TV since the 1980s, how has the whole industry changed over time?
Oh my, has the industry ever changed!! In the 80s, you would get a call from your agent to go pick up some sides at one of the major studios or casting offices. You'd go by, pick up your sides and hopefully have more than a few hours to look them over before going back to read for the casting director. When you went back to the studio to read, you'd walk into a waiting room filled with other women that looked just like you. After waiting for forever, you'd go into the casting room and usually read opposite the casting director who often times never looked up from their script. Sometimes you'd also be reading for the director and producer. The good thing about it was it was live, and if the casting person or director wanted to give you some direction, you could make the adjustment on the spot and show them that you could take direction. Nowadays, everything is done remotely, and if you don't have computer skills you'd better get some! You get your sides through a site on the computer. You self tape your audition, which requires your having recording equipment, a mic, a backdrop, lights, a camera person, and a reader to read all lines in the sides other than your lines. You then look through your audition takes. Lots of casting directors ask for 2 takes of each scene. (One particular casting director asked for 2 takes of each scene and asked me to read for 8 different characters in the film. I believe the turn-around time was a day and a half.) Once you decide which takes to submit, you do any necessary editing, label each file according to the casting directors specs, upload all files and send them to the casting director before their deadline. WHEW, it's a lot!!
How would you describe yourself as an actress?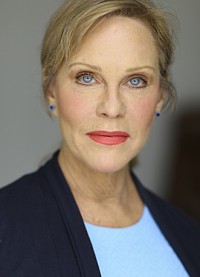 Feeling lucky ?
Want to
search
any of my partnershops yourself
for more, better results ?

The links below
will take you
just there!!!


I've dedicated my life to this profession. I don't mean that in a dramatic way, just as a matter of fact. I know I could have made more money in most any other profession, but I don't think I would have been as happy. I think this is what I'm hard wired to do. I wouldn't suggest going into acting professionally unless you feel the same way. My way of working is a form of method acting, but that 'method' changes depending on the character and script.
Actresses (and indeed actors) who inspire you?
Maggie Smith, Frances McDormand, Sam Rockwell. I really love watching actors who are off-beat and can make me laugh even during serious moments.
Your favourite movies?
Harold and Maude, The Color Purple, Shawshank Redemption, Fargo.
... and of course, films you really deplore?
I'm not a fan of The Exorcist. Not that it's a bad film. The subject matter just creeps me out.
Your website, social media, whatever else?
I'm too old to have those things! I'm kidding, sort of. I would like to put together a website. It's on my to do list.
Anything else you're dying to mention and I have merely forgotten to ask?
Nothing I'm dying to add other than thank you for covering Children of Sin.
Thanks for the interview!