Your new movie Hey Bro - in a few words, what is it about?
Hey Bro is actually just one scene from a feature which is currently in production. In essence, Hey Bro is about repercussions and how there are consequences for our actions. Nobody rides for free.
What inspired you to make Hey Bro in the first place, and what are the inspirations behind the story?
Well the main character, Clownie, is someone relatable to all, whether we admit it or not. If you look past the clown make up and costume, we've all known someone like Clownie or have been him ourselves. By that I mean the narcissism, the judgement, the thinking "we're always right"-attitude. We're all guilty of that in varying degrees.
Hey Bro is only a snippet of a feature film called The HARD Life and Times of Clownie - so how does Hey Bro fit into the bigger picture, and how far along is the feature yet?
Hey Bro exhibits a common behavior we see in today's society. People judge and lash out at others, but certainly don't want anyone to judge or lash out at them. Oftentimes mankind is a giant walking contradiction, and one we don't like to acknowledge. The film is actually a collection of footage of Clownie spanning back over the past decade with a lot of the content in post-production and the remaining portion still currently in production. It certainly hasn't been an overnight process.
What can you tell us about your directorial approach to your story at hand?
Well, there's not much to say because all I've done is document the real life and times of Clownie just like the title implies – the guy truly is one of a kind. Our genre is comedy, drama, but in some ways, it's much closer to a documentary about Clownie's life. There was a producer out in Hollywood by the name of Arthur Steinberg who initially was going to produce a big budget film about Clownie's life, but I think the more he got to know Clownie and discovered how Clownie has been subjected to cancel culture and isn't your typical type of birthday clown, he got scared to touch it. It was then that Clownie started to lose hope that the film would ever be produced, but thankfully people video the guy everywhere he goes, so we collaborated with the idea of a $0 budget premise filmed entirely on cell phones. That part was Clownie's idea because he wanted to take the "down with the man" approach to show that big budgets and corporate approval is no longer required to produce films, or as Clownie says "stifle art". Granted, the production quality is what it is, but that's the way it needs to be, because honestly an attempt at telling the Clownie story on a big budget set just wouldn't be an accurate portrayal of his life. So, it's very liberating in the regard that going in, we already know that just like Clownie himself, there will be judgement, shortcomings, and people who do not approve. Clownie has never let that stop him from living his life, so it made sense to adhere to that same mantra in terms of producing the film about his life. It's authentic.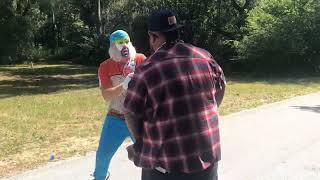 What can you tell us about Clownie?
Without giving away spoilers, Clownie is known as The World's Only Bonafide Hype Clown, and he started doing so well over ten years ago with live performances with musicians. Clownie is not at all what one envisions when you say Clown. He's not doing kids birthday parties, his makeup isn't flawless, his language isn't family friendly. He drinks, cusses, smokes cigars, has opinions, etc. No different than any of us except of course… well he's a clown. Nowadays when you see clowns they're typically in the horror genre or they are portrayed in a demeaning type of manner. Clownie is a lot different whereas he despises the horror clown genre, he's not a Juggalo, he's not making balloon animals, he's not Homey The Clown, There's honestly no comparison. He's completely unique and not something accurately describable without just seeing it for yourself.
Clownie has actually been in other productions before Hey Bro, right? So what can you tell us about the character's previous exploits?
Yes, Clownie has been on The Mediation Files, had small roles in some of Arthur Steinberg's films, made worldwide headlines on various different news stations, performed at Circus Circus in Las Vegas, been invited to Tromadance at The Mahoning Drive In and a ton of other stuff. It's really pretty crazy all the different places he's been and the things he's done over the years.
Back to Hey Bro: Do talk about the rest of your cast, and why exactly these people?
I absolutely love our cast for Hey Bro. They are as genuine as they come.
Terry "Polar Bear" Blackburn (retired professional MMA fighter) who played Quan, is someone I've been very close to for the past 15 years or more. I produced a weekly cable television show back in the good ole days of Comcast public access, and Terry was a recurring season regular for the better part of 5 years. He brings a ton of creativity to any production he's involved in. I don't know that I've ever seen him without a smile and a laugh. He's just an all-around good dude and someone who I have spent a considerable amount of time with socially over the years. We've watched one another's children grow to adults, seen each other in good and bad times, the whole 9 yards.
Lauren Lehosky who played Daisy, is an absolutely amazingly skilled actress who unfortunately I only first met for the purpose of this film which she was cast in. If I'm not mistaken, this was Lauren's film debut, coming from a very strong background of education and experience in theater. I absolutely love her theater style of acting which she portrayed in this film as it was very fitting not only for the production in general, but no one could have played Daisy better than her. She and Clownie spent a lot of time together and had great natural chemistry, especially with all the improv.
Hey Bro was pretty much entirely improvisational and Clownie, Daisy and Quan just truly clicked together for that in pretty much any and every situation they were put in. While some scenes for the bigger feature film were scripted, they are the minority of what was filmed. It goes the same way with the writing – yes, some scenes were fictionally written, but they also are the minority of the content. As you will see when you watch the feature, a lot of the scenes were filmed in real life situations not using "actors". Aaron Mark McMorris who played Skeeter (among additional characters) really didn't act much at all – he's just a natural and although he certainly does and can act, just like the greater majority of all involved in the feature – he's been cast in a role where he can truly just be himself. Aaron is another chip of the ole block – when together, the laughter never stops.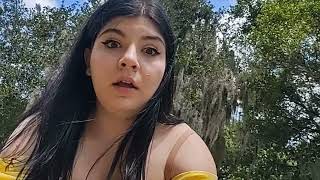 From what I know, Hey Bro was entirely improvised between the three of you - so why was that then, and how easy or hard is it to bring across Clownie's story that way?
Well in staying true to the life of Clownie – improv was the only way to keep it authentic. Clownie pretty much lives his life flying by the seat of his pants in real life, so why change it for a project where the goal is to tell his story? Rather than take actors with little to no experience and try to put them in a box, it's more appealing to work with what we got, accentuate the positives, allow and encourage creative control, and just let it rip. When you've got the awesome natural chemistry and comfort levels that Clownie, Quan and Daisy all have between one another, why would you interfere? Decide what story needs to be told, roll the camera and let it rip. Again, we have no expectation of perfection, nor should a viewer because life isn't perfect.
A few words about the shoot as such, and the on-set atmosphere?
It was a ton of laughter, but an editing nightmare because of it being all improv, but that's what makes it fun.
The $64-question, where can Hey Bro be seen?
That's the easiest to answer of all. YouTube, where else? Clownie never wanted to do this to make a buck. It needs to be given to the world for free. If you go to Clownie's website www.Clownie.net, there's a link to his YouTube page which is just simply Clownie.
Anything you can tell us about audience and critical reception of Hey Bro yet?
Surprisingly, thus far the feedback is much more positive than negative. The cool thing about this is that it's not made to please others. It's purely made to share the real deal story of Clownie. So many filmmakers get caught up in trying to figure out what viewers want to see, and maybe that guides the direction of what should have just been expression of art and life. The question being does life imitate art or does art imitate life? It's all in the eye of the beholder. Without the pressures of trying to recoup a budget by selling a movie or pleasing others, it allows for true expression which is quite liberating.
Any future projects beyond Hey Bro you'd like to share?
Actually, yes. Clownie has filmed a very relevant role with an A list actor household name who unfortunately I am not at liberty to disclose the name of until the production is released. This was a contract which I was tasked with negotiating, which was a feat in itself. I can't wait until it hits because it's definitely going to be a shocker to a lot of people who follow Clownie and those who are first introduced to him as well. There's another unrelated production Clownie was cast on that has quite a large following that will also be pretty entertaining once it's released as well. It sucks I can't talk about that one either, however – aren't surprises awesome?! As for what we CAN disclose – by all means I don't see Clownie stopping anytime soon. Regardless of if it's his own homemade subpar production quality content or more legitimate studio work for those of us weirdos who follow him – don't worry, there's a million things coming down the pipe. We always laugh and say if the guy had a budget, he'd be dangerous.
What got you into acting in the first place, and did you receive any formal training on the subject?
Believe it or not, out of the blue one day, I got a phone call in regard to an offer to be in the Warner Brothers film Malignant by director James Wan. That kinda' stopped me in my tracks and made me take notice of acting, which I had previously just dabbled in. After that awesome blessing, I started doing community theater, attending acting training classes, and auditioning for different film, television and theater productions.
From what I've read, you've got a background in MMA - so what can you tell us about that aspect of your career, and to what extent has this influenced your acting?
Well I started in 1996, and by 1999 had my first professional fight and competed in both MMA and Boxing from 1999-2009. I own the longest running boxing & MMA gym in Jacksonville, which we've had for 20 years now. I also consistently referee professional MMA. As a fighter, I was mediocre at best and had to work twice as hard as the next guy just to be that. The lessons I learned from the fight game have served me quite well in acting. An actor prepares – plain and simple. Just like a fighter. It takes dedication, work ethic and coaching. The parallels between the path of an actor and a fighter are so close, it's amazing. No one just shows up great. It takes work ethic, grit and sacrifice. Just like a fighter, when you spar or compete with those who are better than you, you get what we call "that rub". It's the same thing with acting – when I'm cast in a production with those who are better than me, it's such a blessing because it elevates me. I'm convinced that the student will rise to the level of expectation. But first, you have to have that student mindset and accept that we are always learning. Too many people believe their own hype thinking they know it all. As far as I'm concerned, if you get to that point, you're useless not only to a sport or a production, but more importantly to yourself. So, I push hard. I embrace training, performing, auditioning, rehearsing, and studying. In the fight game, we refer to "ring rust", meaning you're only as good as the last time you fought. I feel the same with acting – if I'm lazy and not constantly acting, not only am I not getting better, but I'm actually getting worse. I refuse to allow periods of inactivity.
Hey Bro is your first effort as writer and director, right? So what prompted that move?
In a sense, yes. I previously produced a cable television show for 5 years, but it was a fight show which covered events we promoted. Other than that, yes – this was my first endeavor into a film production. What prompted it was Clownie. The character and the story is one which writes itself and needed to be shared. There's too much funny stuff to not open it to the world.
What can you tell us about your filmwork prior to Hey Bro?
I was involved in the promotion of independent professional wrestling for many years. Pro wrestling gets a bad rap sometimes, but I think people overlook the theater aspect of it. In the business of pro wrestling, to improv is called to "shoot". There's no script, and while you have ideas of what you want to communicate, and the outcome is likely predetermined, there are still so many unforeseen events which occur, especially on the lower level of the independent circuit. It's always amazing to me when a guy/girl just has "it" and can get thrust into any situation and know exactly what to do, what to say, how to react, etc. That is a natural skill which not everyone possesses. I'm also a fan of the over-the-top theater style of acting, which really is pretty much how Clownie operates on a daily basis, whether the camera is rolling or not.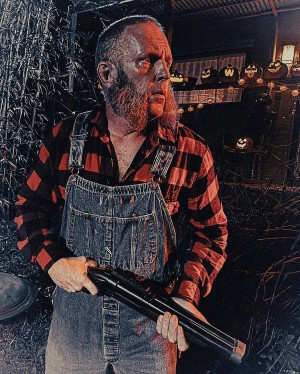 The Pumpkin Man
How would you describe yourself as an actor?
I'm a character actor. I'm typecast pretty much, which I have no complaints about. The first time I went to a theater audition, I only found out about it the night before and just showed up. I was really excited thinking I was about to nail it. Then in the waiting room, I was overhearing the conversations from the others who were auditioning as they were discussing their formal training, theater degrees, previous performances etc. I immediately started to think I was way out of my element. I was handed a script for a cold read (which I had no idea what that was) and started purposely looking for a role which had very few lines, thinking maybe they would trust me with such a role. There was a bailiff who literally had only one line in one scene. I got hopeful about that one. Then there was a judge who only had about a half a dozen lines in one scene. That was another one I was thinking maybe I could convince them to trust me with. Then literally 2 minutes before being called on stage I get made aware that a British accent is required. I am a North Florida native with an undeniable southern drawl. This was getting comical, and I started to lose hope of being the judge, the bailiff or anything else. I figured if anything, I'd be lucky if they'd ask me to volunteer to be an usher or something, which I probably also would have done just to be involved. When they called me out on stage and directed me to read from a certain page, I noticed the assistant director smiling and laughing. It appeared to be the "laughing at me" rather than "laughing with me", but I just kept doing my deal, pretending not to notice. Then when I was done reading, I was just standing on stage in silence while the assistant director held up a book to cover her mouth while she excitedly whispered to the director. As I was leaving the stage, I was seeing some of the others who were about to walk out next obviously very nervous. These were the same people I had earlier heard talking about how much experience and training they had. I found that odd. Nerves about walking on stage has never been a thing to me. In fact, even though I felt I had totally bombed the audition, I had a blast up there and couldn't wait to do it again. I called my wife before I even made it to the car excitedly telling her how I knew I didn't get a role, but how much fun it was. The next day, they called and offered me a role, which of course I immediately accepted without question. Then after accepting it, I start looking up who the character was, only to discover he was the bad guy in the play, the only criminal, and he had a substantial role in the production. I didn't know if I should be offended or not because there were like 60 people there who auditioned and here I was hoping to be a judge or a bailiff, but yet out of everyone there, they saw me as the scoundrel. At the same time though, it was a perfect role for me, which other than the accent (which I later enlisted training for) was effortless. I totally sandbagged when I auditioned too and never once told them I had professional wrestling experience, and throughout all the rehearsals, the director would keep coming up and asking "Man are you SURE you never acted before?" I always just stayed humble and said "No Sir." Admittedly, that was probably a little dishonest on my part. It all made sense to me though because due to my prior experience in pro wrestling, I completely understood the role of being "the bad guy", and how to put the others over. I was also blessed because some trust and creative control was allotted to me from the directors and gratefully, the main characters I had scenes with were very willing to suggestions of things which really helped to establish my character.
It really was a blessing, and from that day forward, no matter what I would apply or audition for, I would end up cast in either some type of antagonist role or a comedy type role. While those are definitely my "go to" areas, I consistently work to expand my range by stepping out of my comfort zone in attempts at more dramatic challenging roles. Either way, I can't speak enough about all the different people I've worked with who have been so instrumental in my development as an actor. Relationship building is huge to me, and I maintain good on-going relationships with almost every single producer/director I've ever had the blessing of working with. There are very few in which that is not the case. It's really an honor to be able to pick up the phone at any time and reach out for a silly question or advice from so many established professionals in the industry who are sincerely glad to help. I know beyond a shadow of a doubt, that is a luxury which not all actors are awarded with, and I never take it for granted.
Actors, filmmakers, whoever else who inspire you?
Actors – first and foremost, Mark Rolston. No doubt, my all time favorite. He's the guy we all have seen in film, but likely don't remember his name. Trust me, you've seen him. He was likely the bad guy and probably ended up dying. That guy is awesome. He comes from a theater background and when it comes to acting, he is very disciplined. He played "Bogs" in The Shawshank Redemption movie. I was cast as "Bogs Diamond" in the stage play of Shawshank, and man talk about a dream come true?! That role meant so much to me because although I couldn't ever be the Bogs that Mark Rolston was, I leaned heavily on so much of his influence, but no matter what I did or tried, I just couldn't do it the way he did it. In reality, I did it BETTER – my Bogs was way better than his, so if you end up reading this Mark – sorry sir! Lol
Filmmakers – Lloyd Kaufman: The guy who truly has succeeded at failing by design.
Your favourite movies?
Point Break from the 1980's, The Departed, The Town, Heat, the Young Guns franchise, the Clint Eastwood spaghetti westerns.
... and of course, films you really deplore?
Interestingly, after spending so much time with Clownie, I have really grown to despise any horror movie involving a clown. The clownscrimination thing is real. It's sad that Hollywood has taken something which was previously regarded as family entertainment (clowns) and heeled them out, using them to evoke fear in people, especially children. Coulrophobia is a legit thing, and while being involved with Clownie, I have witnessed how fearful some people get at the mere sight of a clown. Clownie isn't the scary type of clown and even with him, without him saying a word, I've seen countless times how just his presence distresses people and that's not cool. So, I guess Clownie has rubbed off on me because for his many shortcomings, he's always very aware of how he is received and does everything he can to be respectful and sensitive to other's fears of clowns.
Your/your movie's website, social media, whatever else?
www.JoshRutgers.com is my site. I abhor social media and other than LinkedIn, don't really have any. Clownie has a site www.Clownie.net, and he has a YouTube channel under the name Clownie. As far as I know, Clownie is still banned from social media, so no telling where the future for that lies. Clownie being allowed to say anything he wants at anytime on the internet doesn't always work out for the best. What he really needs is a PR guy/girl, so anyone reading this up for the challenge, reach out for sure! lol
Anything else you're dying to mention and I have merely forgotten to ask?
I'd love to give some cheap shameless plugs to some people in the business that mean a lot to me:
1. Steve Oakley, my acting coach, and dear friend who turns out tasteless movie after tasteless movie on Vimeo which have to be seen to truly comprehend just how bad they really are. They're so bad, Clownie has actually been in several of them and Steve has done quite a bit to help Clownie.
2. Ryan Keith – The Mediation Files on YouTube are bizarre, comedic, and absolutely worth a watch! I've been cast on an episode there and Clownie has done some things there as well. Ryan has also been extremely instrumental in the development of Clownie.
3. Salty Quill Studios – Rebecca & Ashley Wilson. These are my people who I really love. I've been cast in two of their productions (Camp Agony & one more which I'm not so sure I'm authorized to discuss, so I won't, but keep your eyes on them), and they raise the bar with each film they produce. They are an absolute pleasure to work with and they mean the world to me.
4. New Zealand Son Films – Check out Moving Valentine on Amazon Prime, a film I was SO GRATEFUL to be a part of. I can't say enough about the King family and their well-oiled perpetual motion machine of film productions. Filming with New Zealand Son is insanely efficient. Seeing what they do and how they do it is very impressive. Beyond just casting me in their production, Sean King has been HUGE to me in terms of guidance within the industry and someone who's opinion I greatly value.

Feeling lucky ?
Want to
search
any of my partnershops yourself
for more, better results ?

The links below
will take you
just there!!!


5. South Ridge Films – you've GOT to see The Pumpkin Man feature film. This is the first feature film from South Ridge Films and was based on a series of award-winning shorts. I won't give away spoilers, but I have a scene to be remembered no doubt! If you like horror and don't know about The Pumpkin Man – you're late to the game. Ryan Sheets and Janae Muchmore (soon to be Sheets) live and breathe this and it shows in their professionalism. Even though they're a bunch of Disney nerds, I don't hold that against them.
There's a ton of others who I wish I could plug, but due to confidentiality agreements, I'm just not capable of doing so. I have my first lead role in a feature film coming up which I am extremely grateful for as well as a lead role in an unrelated VERY IMPACTFUL short film coming up. I've been doing quite a bit of training and rehearsing for both of these productions and can't wait to share them on my website when I'm authorized to do so.
Lastly, I've GOT to thank you Mike for the interest in our silly production here. On behalf of Clownie – thank you! Search My Trash is the perfect place for a Clownie production to end up!
Thanks for the interview!