Your upcoming movie Aftermath - in a few words, what's it going to be about?
József Gallai: Aftermath is centered around a young woman named Kate who wakes up in a foggy forest with no memories, bruises and wounds on her body and without any idea how she got there, but soon becomes the target of masked soldiers. She is forced to race against time if she wants to get out alive.
Only in 2020 you've made a short also called Aftermath - so are that movie and your current feature related in any way, and if so, what inspired you to extend it into a feature?
Gergö Elekes: When we shot the short back in 2020, we agreed almost immediately after we finished the film that if we would have the budget in the future for a feature version, we would definitely go for it. This world had so much potential, it would have been a shame to let it go. We called back basically each and every cast and crewmember from the short film but still we cannot say that the 2023 feature version is the same as the short only longer. József created a completely new story with new characters, new locations and more sci-fi elements than in the short. In 2020 the male character was the protagonist, this time we flipped the whole thing and made the female character the center of the events. You can expect more mystery, more action and more drama.
With Aftermath being a post-apocalyptic movie of sorts, is that a genre at all dear to you, and some of your genre favourites?
GE: For me yes, because it puts the characters in uncharted territories and such situations where they have never been before so you don't know exactly what their next move will be. In addition to that you can mix the elements of several genres in a post-apocalyptic setting, so in one scene you can shoot an action sequence while in another one you can tell a tragic story of a character. All in all the post-apocalyptic genre can evoke several emotions in the audience, and that's what I like to do in our films.
(Other) sources of inspiration when writing Aftermath?
JG: Of course I had the short film in mind as a starting point, but as Gergö mentioned, I intended to expand the universe, work with more characters and in the end, from six characters in the short film, the number went up to over twenty-five. If I had to name any inspiration, I would mention Starfish, directed by an almost completely unknown British writer-director, A.T. White. His movie tells an incredibly beautiful, almost lyrical story of an empty, desolate world into which its protagonist is forced, one I had never seen before. I tried to achieve something similar with my story.
József, you've written the script for Aftermath together with Derek C. Block - so what can you tell us about him, and what was your collaboration like?
JG: Derek first joined as a producer, but then he mentioned to me that he had written a few scripts and if there was a way he would work with me in that way, and I said why not. He mainly helped me at the end of the story and had some very good ideas and insights. I look forward to working with him again.
What can you tell us about your directorial approach to your story at hand? And do talk about your collaboration with one another on Aftermath?
GE: With Aftermath we wanted to create a film that is not just mysterious but also thought-provoking and emotional. We always try to create an atmosphere that immediately grabs the attention of the audience. That's why we start working on a project like this almost a year before shooting to find the best locations, the best possible cast and crew and camera gear. And we try to share the work between us: József is the soul of the film being the screenwriter, producer and co-director while I try to master the best possible way of capturing a scene or composing the perfect music for a situation.
Aftermath isn't the first time you've worked together on a movie - so what can you tell us about your previous collaborations, and how did the two of you first meet even?
GE: I've been working together with József for a decade now on several projects. You can't do that if you don't like somebody. I think I can say we share the same dreams in terms of filmmaking, have the same sense of humor and concept of storytelling. We met at the University of Pannonia in Veszprém, Hungary back in 2009, of course during a film premiere of József's work. I am very proud of every motion picture we made since then and looking forward to seeing what the future holds for us.
Back to Aftermath - do talk about your key cast, and why exactly these people?
JG: Once the second wave of the pandemic in Hungary subsided, we met Fruzsina Nagy who was the lead actress in the short and talked about the possibility of a feature-length film. Suffice it to say that she would have filmed the next day if there had been an opportunity to do it. She was very happy and on top of that she suggested Edward Apeagyei for the role of Bubba, who agreed to take the part a few hours after I sent the script. It was amazing to see the chemistry between them. Péter Inoka was given a completely different role from the short film and we brought back the guys who played the soldiers (László Némethy, Zoltán Eőry, Péter József Szabó) along with Dániel Vince and our longtime collaborator and friend Bálint Szántó. I myself had wanted to work with Sally Kirkland for a long time, and we were able to come to an agreement very quickly and were very happy to have the opportunity to work with Eric Roberts once more. And seeing James Duval in our film was a dream come true for me. After Project Skyquake, it was great to see Simon Bamford and Shawn Michael Clankie on board again, but we also had the very talented Karolina Szabó making her feature film debut, not to mention that my daughter Zsófia has a small role in the movie too. However, the film couldn't have been made without the support and trust of executive producer Roy McClurg (McClurg Productions), co-executive producers Kevin Nguyen and Malachy Fergus Godfrey as well as producers Chuck Harding and Reginald Welkin.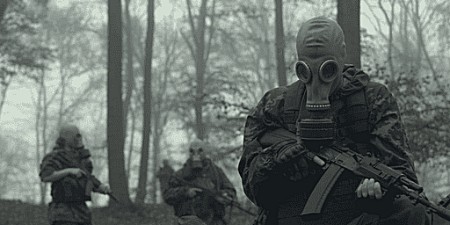 A few words about the shoot as such, and the on-set atmosphere?
GE: I think I'm not exaggerating when I say it was the most challenging film shoot we have ever had. We worked in difficult weather situations, in cold, abandoned places, beautiful dark forests and shot the film in 11 days between November 2022 and March 2023. Even in these harsh conditions we had the time to laugh a lot, work with fantastic people and make lifelong friendships. I will never forget this experience.
Any idea when and where Aftermath will be released yet?
GE: The film is currently in the post production process, our fantastic friends Kaizad Patel and Firoze Patel are currently working on the sfx and 5.1 mixing of the film. If all goes well, Aftermath will be ready this month and we will try to find a distributor soon so the audience can expect a release date around this fall. Until then you can bump into our film at festivals as we are planning to send it as much as we can.
Any future projects you'd like to share?
JG: My next film A Stranger in the Woods with horror legends Bill Oberst jr [Bill Oberst jr interview - click here] and Lynn Lowry is currently in pre-production and marks the fourth time I will work with Laura Ellen Wilson. We're talking about a film set practically in one location, with very few characters, but with a heavy dose of mystery and a suffocating atmosphere. Its campaign is live (https://gogetfunding.com/a-stranger-in-the-woods-horror-movie-starring-bill-oberst-jr/), the film is scheduled to start shooting in October and, with any luck, will be released by early next year.
Your/your movie's website, social media, whatever else?

Feeling lucky ?
Want to
search
any of my partnershops yourself
for more, better results ?

The links below
will take you
just there!!!

Find Aftermath
at the amazons ...

amazon.com

amazon.co.uk

amazon.de
Looking for imports ?
Find Aftermath here ...
Something naughty ?
(Must be over 18 to go there !)

GE: For the latest news you can follow our film on Facebook (https://www.facebook.com/aftermathfeaturefilm) and on Instagram (https://www.instagram.com/aftermath.movie/). If somebody is interested in my music portfolio, they can check my website (https://www.gergoelekes.com/), follow me on Facebook (https://www.facebook.com/MusicByGergoElekes) and Twitter (@elgergo) or find me on every major music streaming platforms such as Spotify, Apple Music, Deezer, etc.
Thanks for the interview!