Your new movie The Second Age of Aquarius - in a few words, what is it about, and what can you tell us about your character in it?
The Second Age of Aquarius is about a sweet, nerdy programmer who accidentally brings a dead rockstar from the 70s back to life through coding. FAR OUT!
What did you draw upon to bring Russell Aquarius to life, and how much Michael Ursu can we find in him?
I studied a lot of late 60s/early 70s interviews on YouTube, listening to the way people spoke. It's very melodic and almost soft-spoken, kinda like poetry. I then took that and added a level of arrogance that usually comes with being a rockstar. I was in a band in my mid-20s, so I definitely lived that life! And as for the amount of Michael Ursu in him... I'd say I'm all there, sans the casual misogyny my character has trouble with.
How did you get attached to the project in the first place, and what drew you to it?
I usually book all my own jobs, and I saw this ad on Backstage. I knew immediately that this role was for me - sometimes when you read roles on casting sites, you just know and you try even harder to get it. But you can't try too hard, because then that reeks of desperation! Like I said above, I lived a rockstar life and have the stories to tell, so I was really drawn to this character. Plus I actually play music and sing, I don't act it!
Quite honestly, if you could, which deceased rockstar would you bring back to life?
I was 5, visiting family in Romania, when my uncle changed the channel to MTV (back when, you know, they actually played music videos). I saw this longhaired dude in a sweater rocking out so hard! He was thrashing about with what I came to learn was a guitar. I picked up the closest thing near me, a tennis racket, and started mimicking him, strumming like a madman. Turns out that long haired dude was Kurt Cobain, and he was really my main inspiration to start playing guitar. So I'd have to bring him back. I'm sure he'd have a kick with what's going on in the world of streaming and NFTs.
What can you tell us about The Second Age of Aquarius' director Staci Layne Wilson [Staci Layne Wilson interview - click here], and what was your collaboration like?
Staci's great and very easy to work with. I had a lot of creative freedom with the character, and the collaboration definitely felt like a two-way street.
Do talk about the shoot as such, and the on-set atmosphere?
Not gonna lie, it was a challenging shoot. We shot this film in 6 days. That's like, 12-14 pages a day. That's A LOT. We only had time for 1-2 takes. That's fine with me, I like doing things in as few takes as possible. I remember Christina Calph [Christina Jacquelyn Calph interview - click here] wanting more, but she still did such a great job with her character. There was a minor incident with a DP, but Richard (our sound guy) stepped up and took over. I have immense respect for everyone who made this film possible.
Any future projects you'd like to share?
I recently booked an exciting animated pilot being pitched to Adult Swim. I also have a big film shoot coming up this summer, taking place on a boat for the entire movie. I don't get motion sick so I should be good! I think...
As far as I know, you've gotten into acting via making music - now how did that happen, and what can you tell us about your musical career?
Back when I was in the band, my two bandmates convinced me to try acting. I found an extras gig on Craigslist, it paid $60 for 6ish hours plus lunch. When I got there, I couldn't believe it - I just have to sit here and pretend laugh, and you PAY ME? And FEED ME? I knew immediately that this was what I wanted to do. 5 years later, I'm now a full-time actor and voice-over artists, VO work being my main source of income. I'm living the dream.
What can you tell us about your training as an actor?
My first two years of acting was all over the place. I finally got into a class and refined my talent. My first real teacher was Bernard Hiller, who really gave me some well-needed inspiration. Through him, I worked with Dimiter Marinov (Green Book), who is just such a force of nature. Originally from Bulgaria, he's got this Eastern-European 'mystic' school of thought when it comes to acting, which I really resonate with since my family is from Transylvania. Plus he's such a funny and inspirational guy. Commercially, I worked with Mike Pointer, who is THE man. It's because of him I kick so much ass in the commercial world. He's very succinct and no-nonsense, just tells it like it is.
What can you tell us about your filmwork prior to The Second Age of Aquarius?
I had a lot of supporting and principal roles in other productions, but The Second Age of Aquarius was my first serious lead role.
How would you describe yourself as an actor, and some of your techniques to bring your characters to life?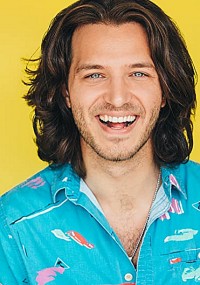 Feeling lucky ?
Want to
search
any of my partnershops yourself
for more, better results ?

The links below
will take you
just there!!!


I am natural, authentic, and charming. I use techniques I've learned through my teachers, as well as studying acting favorites like Chubbuck. My favorite techniques are "What's happening in this scene beforehand?" and the art of substitution. When I first started acting, I always thought it was about being a good liar. That couldn't be farther from the truth. These emotions we feel, they are real. We bring them back from the past. Maybe I've never had a loved one die in a tragic way in my life, but if I think about how my girlfriend's dog Harley passed away at 12, all alone in his house, perhaps confused about what's happening, and how no was there to comfort him...[Michael Ursu interview - click here][Michael Ursu interview - click here] yeah, the waterworks get flowing. That's just one example.
Actors, musicians, whoever else who inspire you?
Robert Pattinson in Good Time was a BEAST. Big fan of Cody Fern in American Horror Story: Apocalypse. Tom Hardy in Venom was a wild ride too, love that guy. Honestly I could write pages about my inspirations. Musically, I think John Mayer is one of the best. I'm also really into this band Spiritbox right now, but that might be too heavy for some.
Your favourite movies?
The Place Beyond The Pines, Good Time, The Wolf of Wall Street. Those are top 3.
... and of course, films you really deplore?
I don't really hate on movies, but I did remember when I was 16, I wanted to walk out of the first Twilight movie.
Your website, social media, whatever else?
www.michaelursu.com, on Instagram my handle is @makumusic, and on TikTok you can find me under @michael.ursu
Anything else you're dying to mention and I have merely forgotten to ask?
Check out the film!!
Thanks for the interview!