Your new movie The Second Age of Aquarius - in a few words, what is it about?
It's about Alberta Stevens, a computer programmer and AI creator, who brings back a 1960s rock star, Russell Aquarius, from the afterlife as a very lifelike avatar. Think: The Odd Couple meets This is Spinal Tap!
The Second Age of Aquarius is based on a short story of yours - so how closely did you stick to that story, and was it always intended to be adapted to the screen?
My co-screenwriter and longtime friend Darren Smith and I collaborated on a book of rock music-related short stories in 2015 called Sex Death Rock N Roll. The story is called Fandom/Phantom, and we tag-teamed it—I wrote the chapters from Alberta's point of view and Darren wrote Russell's. I always thought it was a fun story but it was written just to "be"… with nothing else in mind. A few years later, I got to think how it could be a fun, fairly easy-and-cheap film to make. I followed the same formula as my other features—limited locations, seven-day shoot—and we made it happen.
Now we have another book: Sex Death Rock N Roll 2: The Russell Aquarius Edition. It delves into the backstories of all the characters in the movie. We are blessed with some actors who are also writers, so Helen's story is written by Nancy Long, Sid's story is written by Martin Olson, and Brooke Lewis Bellas [Brooke Lewis Bellas interview - click here] and I collaborated on Tawny's tale.
What were your sources of inspiration for The Second Age of Aquarius as well as for the story it's based on?
I've always been a huge fan of guitar-driven classic rock and singer-songwriters of the 60s and 70s. I also like quirky 80s comedies like Weird Science and Mannequin—but both of those movies center on guys bringing their crushes to life so I wanted to flip the genders.
Do talk about your writing partner Darren Smith, and what was your collaboration like?
He's a great collaborator. I first met him in 2008 on the set of his film, Repo! The Genetic Opera and we hit it off immediately. He and his wife, Nancy Long, became good friends of mine. Darren and I have collaborated on several projects, including a short film (Not With My Daughter) and other books (the Rock & Roll Nightmares series), but The Second Age of Aquarius is the first time I've worked with Nancy and it won't be the last—she's such an asset to have on the set. She's up for anything… she even took on the role of the kooky landlady, Helen, after the actress originally cast had to drop out.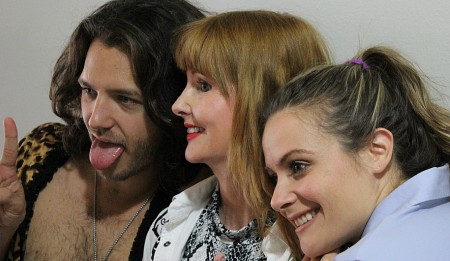 Staci (center) with Michael Ursu and Christina Jacquelyn Calph
Quite honestly, if you could, which deceased rockstar would you bring back to life?
While I am more a fan of Jim Morrison, I think he might be a little too much like Russell! So, I'll opt for Jimi Hendrix. He was, by all accounts, a really nice person in addition to being insanely talented and innovative.
What can you tell us about The Second Age of Aquarius' brand of humour?
It's irreverent, dark humor with a lot of inside stuff for rock music fans.
A few words about your overall directorial approach to your story at hand?
Since time is money and we didn't have a lot of both, I had to rely on the cast to already be close to the characters naturally—therefore, not a lot of constant "directing" was necessary. So, a lot of the directing was in the casting. Since the story does take place mainly inside Alberta's apartment, it was important to at least keep the actors moving around.
You of course also have to talk about the music in your movie for a bit!
I absolutely love what Darren did in writing period-correct songs for Russell Aquarius—and of course, Michael Ursu's vocals are spot-on [Michael Ursu interview - click here]. Darren is a fantastic songwriter and lyricist. He co-wrote all of the songs in Repo! The Genetic Opera and I loved that soundtrack… I played the hell out of it when it came out. I hope his fans will do the same with The Second Age of Aquarius EP (which is called Lysergic Astrologies). The songs are not only funny and lively, but they really do feel like they could have come out in the swinging 60s—Darren even used period instruments and recording techniques to capture the feel of acid rock music.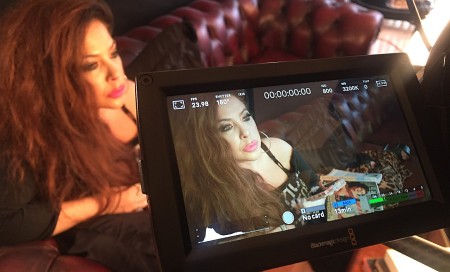 Brooke Lewis Bellas
Do talk about The Second Age of Aquarius' cast, and why exactly these people?
As I mentioned above, casting is key. Christina Calph [Christina Jacquelyn Calph interview - click here], who plays Alberta, is beautiful but it's easy to believe she could be an indoorsy computer programmer. She brings intelligence and emotional reality to the character, who is mourning the loss of her grandmother and grappling with agoraphobia.
Michael Ursu is what I call a unicorn… he's not only believable as a 60s-era rock star (no tattoos… they didn't have any back then), he sings and plays guitar, and is an excellent comedic actor who is up for absolutely anything (his wardrobe mostly consisted of tie-dye underwear).
Brooke Lewis Bellas' role was originally written as a voiceover but after she was cast we had fun bringing her to life onscreen as Alberta's rocker mom who is stuck in the 80s and is from New Jersey (the home of Bon Jovi). Martin Olson is famous in the animation world (he won an Emmy for Phinneas and Ferb), and I just happened to meet him at a party when I was casting… he's a hilarious and such a larger-than-life personality. Even though he's not an actor, I thought he'd be perfect as Russell's manager, Sid… and he is! Keeshan Giles is an excellent comedic actor and he brought so much to a small role and made it his own. Richard Trejo, our DP, is multi-talented and I'd seen his acting in a horror short before, so he was perfect as Julio. And Nancy Long was awesome as Helen—the pink hair curlers are the icing on the cake!
What can you tell us about the shoot as such, and the on-set atmosphere?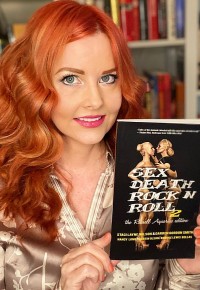 Feeling lucky ?
Want to
search
any of my partnershops yourself
for more, better results ?

The links below
will take you
just there!!!


It was a weeklong whirlwind! Thank goodness for my first AD, Jacob Rachinski, line producer Nancy Long, and DP Richard Trejo—they all understood the timeframe and helped keep everything on track. The actors all came with their A-games and we got it done. We had a couple of extra days to shoot the end-credits montage scenes.
The $64-question of course, where can The Second Age of Aquarius be seen?
It is on Amazon Prime, iTunes, AppleTV, YouTube, Vimeo, Xbox, and Vudu.
Anything you can tell us about audience and critical reception of The Second Age of Aquarius yet?
It's only been seen by relatively few people—it did win some awards at the ZedFest Film Festival—so I'm looking to see if audiences get it or not. It's not for everyone, but I think people who love the same things that Darren and I do will really "dig it" (as Russell would say).
Any future projects you'd like to share?
I'm currently writing the non-fiction edition of Rock & Roll Nightmares. The series has three fiction books right now, so this is a bit of a departure. It's basically a true crime book even though there are also stories of plane crashes, suicides, overdoses, and of course, the famous 27 Club. The research is fascinating! It's like the infamous Kenneth Anger book Hollywood Babylon but for rock music fans.
Your/your movie's website, social media, whatever else?
www.SecondAgeOfAquarius.com – we have the trailer and music videos there, but a lot of other fun tidbits and links to the social media.
Thanks for the interview!
Thanks for the great questions and review!