Your new movie Zapper! - in a few words, what is it about?
In a nutshell, Zapper! is a crime-comedy set in an alternate dimension where everything is colorful and cartoony. Several hired criminals, known as zappers, set out to retrieve a longboard that holds mystical powers. Little do they know they are pawns in a deadly game set up by a trio of elites.
What were your sources of inspiration when writing Zapper!?
Well I've made a few short films that took place in the same universe as Zapper! where the colors constantly change, and always wanted to make a feature in this colorful world. My main inspiration was a failed film project I was working on called The Trip House that was set in the same universe. Unfortunately the movie fell apart and I only finished half the movie, but I took a lot of ideas and scenes from the film and put them all into this one. My main inspiration was my girlfriend Skye Armenta (plays Lucy/Alice and was also cinematographer) who is a wonderful actress and film partner who always fuels me with great ideas and endless creativity. Another main influence was Pulp Fiction, and that's what gave us the footing to develop a gangster film that revolves around several main characters. Yellow Submarine and Son Of The White Mare are influences on the look and wackiness of the film.
With Zapper! following dream logic and being full of absurd to surreal ideas, how easy or hard was it to not just go off the deep end and literally lose the plot in the process?
It really wasn't hard at all. We wanted to create a universe with no rules, and just go balls to the wall with this one. I think at its core the main character of Zapper! is creativity, and it was important for us to really embrace our creative juices in every aspect. I understand the wackiness might be too much for some viewers, and not every movie needs to be as out there as ours, but I really believe filmmakers taking a more transcendental approach to their work can give a good kickstart to a format stale with stories and ideas we've all seen a million times.
At least for me, Zapper!'s also wickedly funny - so what can you tell us about your movie's brand of humour?
The humor was important to the movie, because it would be a sin for a movie about banana guns to take itself too seriously. We wanted this universe to feel like the cartoons of the 90s and 2000s that we grew up with on Cartoon Network and Nickelodeon. The brand we went with was something very goofy and even childish, which I know annoys some people, but that brand of comedy was essential in developing the universe and culture of the film.
You also have to talk about Zapper!'s very own visual language for a bit!
Absolutely! It's definitely the element that makes or breaks the movie for most people. However, the awesome thing is I think Zapper! is the very first feature in human history to utilize this specific visual language for the entirety of it's runtime. The endlessly strobing hues weren't really even a stylistic choice, but the way this universe literally looks. It's a world building tool I utilized in some of my short films, as well as The Trip House, and was carried over to Zapper! I loved the look of this world so much that I had to make at least one feature film in this style. For me it represents creative freedom and endless possibilities the juxtaposes the bleak monochrome void that the three elites inhabit in the film. A lot of people have complained that they hate the look of the movie because it made them feel nauseous, which is regretful to hear, but I feel that would be an accurate side effect if we were to travel to this alien dimension, which is kind of cool for the movie to provoke that feeling. It makes the world of Zapper! more authentic!
A few words about your overall directorial approach to your story at hand?
The approach wasn't anything too specific. There was never a moment where I was indecisive about what I wanted. The movie was always in my mind so it gave us freedom to play around with the script and even improv at times. I just wanted to create a fun environment for the cast, because if we weren't having fun the audience was definitely not going to have fun. The fun element was also critical in developing this live-action cartoon. I also made sure to stay open to ideas and let Skye and the actors bring whatever they wanted to the table and let them express their creativity just as much as mine.
You also appear in front of the camera in Zapper! - so what can you tell us about your character, what did you draw upon to bring him to life, and have you written him with yourself in mind from the get-go?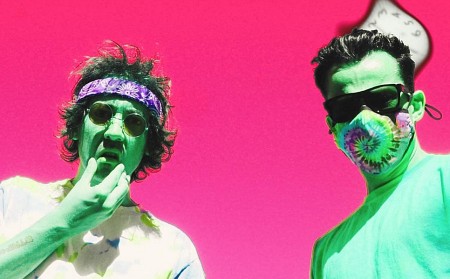 My character Daffy was an extension of a character I played in a short film Skye and I wrote called Close-Up: an odyssey. Just like the character in the short film, Daffy is a delinquent who rather do crime than an actual 9-5 job, but he's also lazy and not very reliable. He's the type of guy to get shitfaced drunk before setting off on a big heist. Daffy is drawn from some people I've known in real life, people I went to high school with but also based on hippies you see in 60's and 70's films. Daffy was going to be the sole character of Zapper! that we follow throughout the entirety of the film, but taking inspiration from Pulp Fiction it was decided to include a multitude of main characters. It was planned that I would play Daffy from the start. I would've loved someone else to play Daffy with me behind the camera, but I had to take on the role out of necessity. The Trip House fell apart because the main actor dropped out halfway through and I wasn't going to let that happen again.
Do talk about the rest of Zapper!'s cast, and why exactly these people?
We couldn't have asked for a better cast to work with. Skye Armenta is my soulmate and a phenomenal actress, and I feel like she is definitely the backbone of the film, that's why I wrote two characters for her to play and she did it so well that a lot of people don't even know that she plays both Alice and Lucy. A lot of the actors in the film were friends of ours and people we've worked with before. It was important to cast reliable people for the film, and they all really delivered and were highly dedicated to the project. Chris Taylor is someone who Skye and I collaborated with on a short film and he really dived in and literally became Owsley. There's this great outtake at the end of the film where his character gets shot and is screaming in pain. After I cut the scene he was still screaming as if he really got shot by a banana laser because he was so into character. Dana Moye, Irene Leonard and Evgueni Mlodik are friends of ours who did an amazing job and brought a lot of great humor to their performances. Evgueni transformed himself into an anime villain and gave Grey Shields a very necessary animated touch. Moye, who plays Haze, has a lot of stunts where he throws himself around, he really committed to the stunts and created his own character touches such as wardrobe and face paint that really brought the character to life. Some new faces to the Gatsmenta roster were Phyllis Ramie, Grifter Timber Wolf and Andrew Scott Dixon, who play the three monochrome elites and they were fantastic to work with. They worked off of each other so well you would think they've known each other for years. This was a very important factor and they performed it so beautifully. We would love to work with all these actors again and create a signature ensemble cast.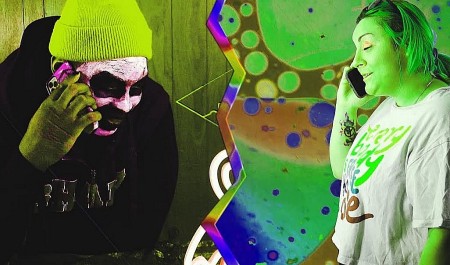 A few words about the shoot as such, and the on-set atmosphere?
The set had a very positive vibe, which is a blessing because I've worked on some sets where everything was a complete clusterfuck. Skye and I are very laid back and want to create the most comfortable environment possible, and I think we were successful with that. There were a few studio locations that were tiny in size and could have caused a lot of outrage among the cast, but everyone was on their A-game and handled it all like a champ. There was some days here and there where me and Skye bickered , and there was even an accident that occurred involving our camera smashing upon a boardwalk, but overall it was an amazing experience and I sure hope everyone involved feels the same.
The $64-question of course, where can Zapper! be seen?
The film is currently streaming on Tubi and Plex, and will be streaming on Amazon Prime, ThrilzTV and Nuclear Home Video in the coming months.
Anything you can tell us about audience and critical reception of Zapper! yet?
The critic reviews so far have been very positive - with the exception of one YouTuber who hates the film. It was a shock to me because my last feature My Neighbor Wants Me Dead received mostly negative reviews, so the critical reception has been so refreshing. The audience mostly seems to like it as well. It's definitely a love it or hate it movie, so there are so people on letterboxd and IMDb giving it 1 star scores, but we had a screening recently where the audience was responding very well to the film, laughing at a majority of the jokes and even cheering at some points. I don't know if they'll watch the movie again, but I'm sure it was an interesting change of pace from the soulless cash grabs they're used to watching on Disney+.
Any future projects you'd like to share?

Feeling lucky ?
Want to
search
any of my partnershops yourself
for more, better results ?

The links below
will take you
just there!!!


We're still in the writing phase as far as our next project, but we're planning on a horror-satire for our next project. We also have a little short film coming out soon that Skye directed and I starred in about a man's relationship with a walking stick.
Your/your movie's website, social media, whatever else?
Gatsmenta Films is on Youtube, Facebook and TikTok: @gatsmentafilms
Zapper! has its own pages on Facebook and Twitter: @ZapperFilm
Anything else you're dying to mention and I have merely forgotten to ask?
Just wanted to say thank you for the opportunity to talk about Zapper!. I've been a fan of searchmytrash.com for many years and it's always a pleasure to speak with you. You also ask the most thoughtful interview questions! Thank you so much, Mike!
Thanks for the interview!