Your new movie Frankenstein: Day of the Beast - in a few words, what is it about, and what can you tell us about your character in the film?
It's an old style Hammer House type of movie that is a period piece that deals with the "relationship" between Elizabeth and the monster.
How did you initially get involved in the film?
I was contacted and offered a smaller role but when I read the script I loved the new take on Elizabeth and I asked to audition for that role.
What do you think sets Frankenstein: Day of the Beast apart from earlier Frankenstein-adaptations?
Several things, Obviously the character of Elizabeth. She is not the timid throw away character that all the other stories have in common. Then we have the talents of Ricardo Islas [Ricardo Islas interview - click here], the very talented director and writer of this film. Then the amazing cast and crew that brought it all together.
What inspired your interpretation of your character, what did you draw upon?
I approach every character I play the same way. Being a psychology major I like to figure out exactly who the character is and how they would think. When it came to this character the time period really became important. Ricardo and I had talked at lengths about what kind of person she should be. He wanted her strong but at the same time women in that time period did not present themselves in that way. After reading the book, watching all the other interpretations of the character, knowing what Ricardo wanted, and my other research I felt I had a much greater understanding of who she was and how to play her.
What do you think about the representation of Elizabeth in Mary W.Shelley's original Frankenstein, and how closely have you followed her depiction of the character?
I think it was typical representation of how women were viewed in 1818, weak, vulnerable, promise off in marriage, which obviously worked great for the times. Mary Shelley created an amazing story with amazing characters, but after almost 200 years it's time to give Elizabeth a back bone without losing her femininity. So our depiction of the character is very different.
Over the years, there have been quite a few interpretations of Elizabeth, though usually as a mere supporting character. Any favourites among the women who have played your character so far?
Even though she was a vulnerable character it worked great in the original 1931 James Whale film [click here]. Mae Clarke did an amazing job.
Let's leave the present behind for the time being and head forward into your past: How did you get into acting in the first place, and did you receive any formal training on the subject?
Ever since I can remember I loved performing. There are home movies of me at three years singing and dancing around the living room with a microphone. I used to watch horror, superhero, and comedy films over and over until I would memorize the entire dialogue of the movie. One of my all time favorites was and still is Abbott and Costello Meet Frankenstein. Then from kindergarten on through college I was in all the productions and plays often landing the lead roles and ending with the lead in my college play Getting Out. I started to move into film while I received formal training from college professors and some very famous people.
What can you tell us about your very first experiences on a movie set and your very first time in front of a camera?
I remember being very aware of everything that was going on. I payed close attention to everything everyone said and was very prepared for my scenes. I also remember I hated standing around doing nothing so I tried to help the crew as much as I could if they needed it. I was very comfortable on a film set but at the same time I tried to stay as professional as I could. I loved the atmosphere and knew I was right where I was supposed to be.
Let's talk about a few films and your roles in them from your past, present and future:
A Voice from the Graves?
I play a teenage runaway hooker in this. First film I costarred with names like Linnea Quigley, Robert Z'Dar, Joe Estevez, and Mickey Rooney.
Working Title/Not Another B Movie?
I played a timid PA to a mean over-bearing film maker played by Larry Thomas.
Chasing Hollywood?
A documentary consisting of interviews of actors on independent film sets and how they made it to Hollywood or are working towards it. Many names in this one also like, Reggie Bannister, Joe Estevez, Antonio Fargas, David Faustino, Larry Thomas, Bruce Vilanch and many more.
Sister Mary?
A comedy about a serial killing Nun killing band members otherwise known as The Ex Choir Boys. I play Detective Emma Shark. I loved working with Ant, Judy Tenuta, and Bruce Vilanch on this one.
Post Mortem, America 2021?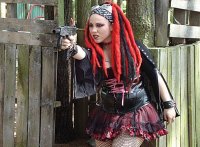 Post Mortem, America 2021
I play a hit woman Suzy, A cyber punk psycho. This film is a neo-western action thriller that is a throwback to the Grindhouse films of yesteryear. Set in the not too distant future where the end of the world is imminent, murder and death is commonplace, and the dead walk the Earth! I costar with Linnea Quigley. This is the second film we have been in together. She was so great to work with!
Divorced Dudes?
This is a dramatic, romantic comedy about three guys who go through breaks-ups, divorces and separations and ultimately launch a reality romance television show. My character is Medina.
Grave Robbers from Outer Space?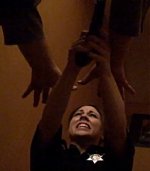 Grave Robbers from Outer Space
I play Officer Jamie in this retelling of Ed Wood's Plan 9 from Outer Space [Ed Wood bio - click here].
You have also been involved with the somewhat crazy Isle of the Damned, right?
Yes, here's the funny story on that. The film was already in the can and being put on DVD when the director of the film seen a comedy skit I had done about impersonating the Italian actress in the film doing an interview. He liked it so much he added it to the special features on the DVD. The skit can be seen here: http://www.youtube.com/user/TheMichelleShields?
feature=mhee#p/u/11/5qE30aSCenc
Besides these movies you have also made many an appearance in big budget pictures, most notably The Dark Knight. How does work on the set of a blockbuster differ from work on an indie film?
I have been on 3 big budget sets and everything moves very slow. It's a lot of "hurry up and wait". Indie films have a lot less money or none at all so they have to make every take count on their time.
Any other films you'd like to talk about, any future projects?
A lot of things happening but I'll mention a couple.
- I will be costarring in Night of the Living Dead (2012). It is a re-imagining of George A. Romero's Night of the Living Dead by the talented writer and director Matt Cloude. It will pay homage to the timeless classic while expanding upon its storyline to explore more of the night when the dead began to rise.
- I will be starring in Daniel Taylor's awesome 80s style slasher film Fat Chance.
- I will be starring in Zack Daggy's Dark Worlds: The Movie. I will be the slasher Allison Smith.
Not only Frankenstein: Day of the Beast but quite a few of your films are of the horror variety. Coincidence, or is horror a genre especially dear to you?
Yes, I love horror films! I've been watching them since I could crawl. I also love when dark humor and horror are combined! However I do love all genres. I love doing comedies as well as drama. It all depends on the project and role for me.
You are also a model for Comic Book Divas, right. What can you tell us about that aspect of your career?
I am an original core member/model of Comic Book Divas. I have been featured in several of their comic books, A Life Behind The Mask, Fangs, WANTED: Red Riding, to mention a few.
Actresses (or indeed actors) who inspire you?

Feeling lucky ?
Want to
search
any of my partnershops yourself
for more, better results ?

The links below
will take you
just there!!!

Find Michelle Shields
at the amazons ...

amazon.com

amazon.co.uk

amazon.de
Looking for imports ?
Find Michelle Shields here ...
Something naughty ?
(Must be over 18 to go there !)

So many... I'll just mention a few but not in any specific order, Fairuza Balk, Madeline Kahn, Mae West [Mae West bio - click here]. I love actresses that do their own thing and are interesting to watch. I'm not a fan of cookie cutters.
Your favourite movies?
Again, to many to list. Here are a few. Return of The Living Dead, The Texas Chainsaw Massacre 2, May, anything Batman... lots of comedy and horror really :)
... and of course, films you really deplore?
The Notebook, The Last Kiss, and other chick flicks, lol!
How can everyone keep up with your current and new projects?
I'm mostly on FaceBook, it's the best way to see what's going on with me, but also check out my Youtube channel and IMDB.
www.facebook.com/MichelleShieldsActress
www.youtube.com/theMichelleShields
Thanks for the interview!
My pleasure! Thank you for your interest :)